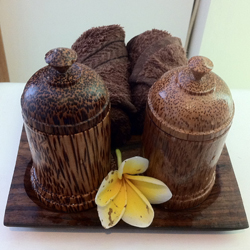 De Nyuh Spa and Beauty Salon, is a small spa above the Seminyak budget hotel "Grandma's Hotel". Being above a budget hotel probably makes it obvious that the prices are very reasonable, but the surprise is, the atmosphere of this budget spa, is quite nice.
Upon arriving for your appointment, you are greeted with a smile, a warm towel and a cup of tea in a small wood cup served on a platter. A very nice way to start relaxing. Then you are offered to choose your scent of massage oil, we chose jasmine. After changing into slippers, you are brought down a stone filled corridor to the treatment area that is complete with a small fish spa station, showers, and separate treatment rooms and a couple room.
They offer a selection of different massage treatments including the Traditional Massage, a soft and soothing massage, the Revitalizing Massage, a stronger massage that you can feel, the Twins Massage with two masseuse, and a hot stone massage. With massage prices starting at 85,000 rp for a 60 minute massage, we came back often.
Besides massages, this spa also offers body scrubs and wraps, face treatments, fish spa, foot reflexology, manicure, pedicure and hair services. And yes, all treatments are equally well priced, so make sure to add this spa to your to do list for your next trip to Bali.
De Nyuh Spa
5th floor Grama's Hotel Seminyak
Jl. Camplung Tanduk 99
Seminyak, Bali Indonesia