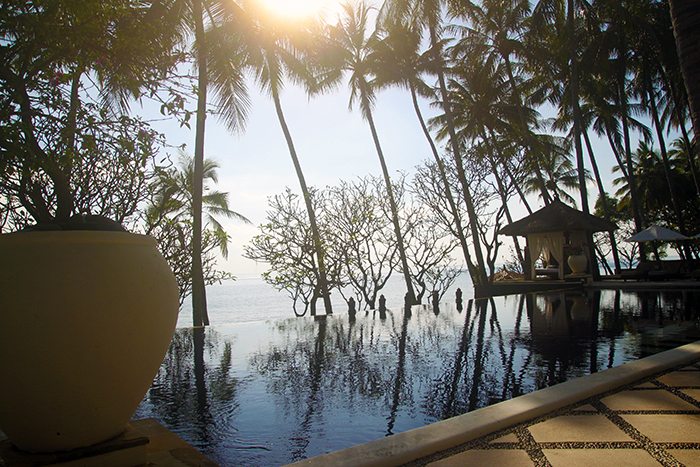 My husband Tom and I are looking forward to our last vacation that doesn't involve water slides and kids pools. I am in my third trimester of pregnancy and we are hoping to get in some peace and quite before screaming and crying becomes part of our daily lives. In search of tranquility and pampering in the form of spa treatments, yoga, and doing nothing at all, we think Spa Village Resort Tembok might be just what we are looking for.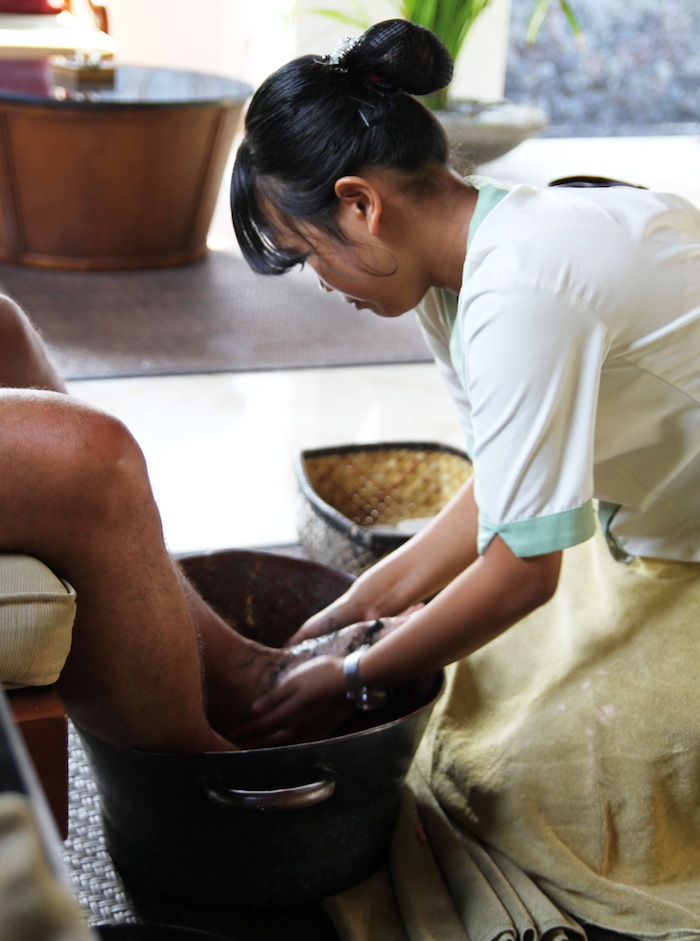 Upon arrival we are greeted with Balinese hospitality and the resort's welcome ritual. Our bags are taken off of our shoulders and we are asked to have a seat while our feet are soaked in warm water. The little tension I have left is melted away as a masseuse starts on a back and shoulder massage followed by a foot scrub. What a way to start a spa retreat.
Our room is true to the retreat's theme with wood furniture, an abundance of candles, a soaking tub and the purposeful absence of a TV and internet access. Just to remove any unnecessary temptations. The balcony with views over the grounds and ocean proves to be one of our favourite places to read and relax at night.
Laid out on the desk is our suggested itinerary of activities based on our personal preferences, as well as a full list of daily activities. Each day can be filled with yoga, crafts, painting, snorkelling, cooking classes, spa treatments, or nothing at all.
For our first night we choose to start out slowly enjoying a three course dinner at their Wantilan restaurant followed by starlight gazing. The resort's version of starlight gazing is more than just looking up at the stars. Here, we are laid out on an inflatable mattress floating in the pool as we are gently turned around to take in the different constellations. Zen music playing from their provided iPod perfectly sets the tone. We start pointing out the different clusters of stars and our conversation changes to childhood memories of star gazing. Magical is the best word to describe the experience.
The next morning I awake to the sounds of birds chirping and the occasional rooster. The sun starts to creep through the patio shutters as I wake Tom up with a nudge "Let's head down for Yoga". Tom's idea of relaxing is sleeping-in and the occasional dip in the pool, but luckily for me he agrees to a sunrise session of Hatha Yoga. Our yoga instruction Luh Manis is a Balinese priestess who leads us through gentle yoga poses with the occasional alternate prenatal pose for me. Her voice is soothing and incorporates singing into her routine. A very relaxing start the morning.
After breakfast we stop by the studio to meet with the in-residence guest artist Cherie MurrayLee. Cherie is a Melbourne based visual artist that gives daily painting classes to guests looking to explore their artistic side. When we stop by she is working on a piece for the gym that is a collaboration between herself and staff. Today a cleaner is helping to paint the piece. A look around the painting nook and I see pieces by past resident artists as well as some very talented guests.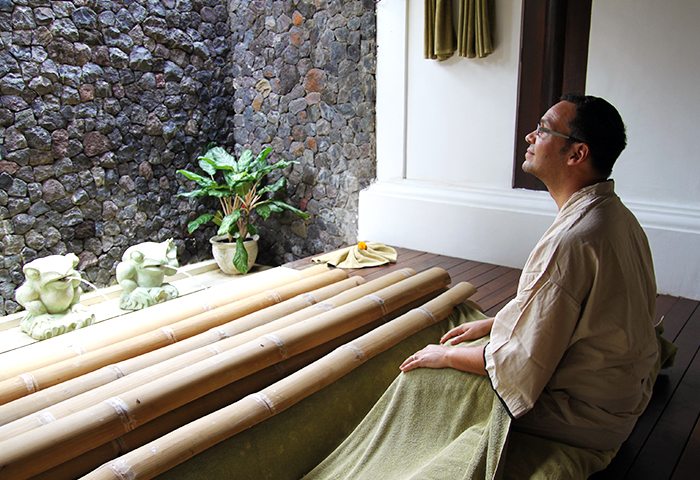 Finally it is time for us to try out the spa treatments. Tom is treated to the Spa Village Signature Experience: Penganten Melukat, while I receive a Malay massage modified for my current oversized state. Tom starts out with a 30 minute Segara Giri Pre Treatment where he sits feet submerged in hot sand, a Balinese cleansing ritual that prepares him for his massage. I have to give the pre treatment a pass as the heat might not be good for pregnant ladies. That's okay, I will be starting with a massage followed by a facial. Still lots of pampering.
We head to a couples room with side by side massage tables and soothing Balinese music playing in the background. Tom's treatment is an Indonesian experience traditionally conducted in the villages three days before a wedding day. It might be a few years late, but Tom enjoys a deep relaxing massage followed by a black sand body scrub. While Tom is being scrubbed down, wrapped up, and worked over I start my Malay massage. The therapist knows to lie me on my side while she works out my pregnancy related pains. Throughout the treatment the room is filled with varying sweet smells of local ingredients. It smells like dessert and is making me hungry. Coconut, cloves, floral scents, it's a all very appetising.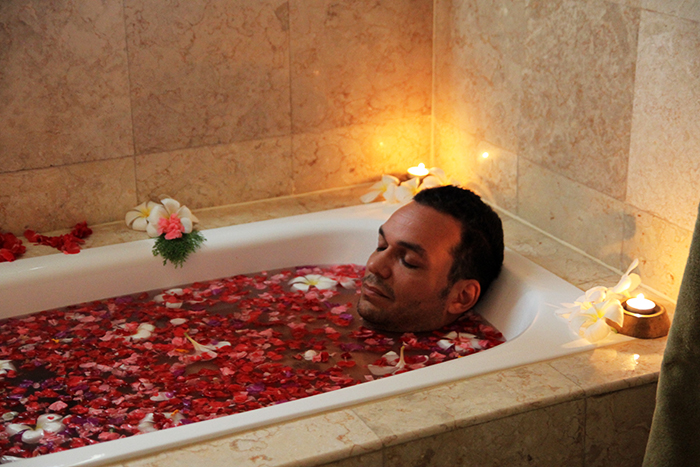 Seated, my facial varies from warm to cool products and produce. The use of varying compresses are swirled around my face alternating with cucumbers on my eyes. While my treatment continues Tom heads to a soaking tub filled with rose petals. Yes, he is man enough to soak in red and pink petals surrounded by candles. Who says men's treatments have to be all about intense massage and manly scents? Let the men enjoy some pampering too!
To finish our treatments we sit on the patio of the treatment rooms wrapped in robes and are served Jamu, an Indonesian drink. We look at each other with eyes half open, "Wow. What an amazing experience". The treatment from start to end was filled with uniquely Balinese touches and the most thoughtful details. All of the local touches make the experience so much more special. Who wants to travel all the way to Bali to get something you can find at home?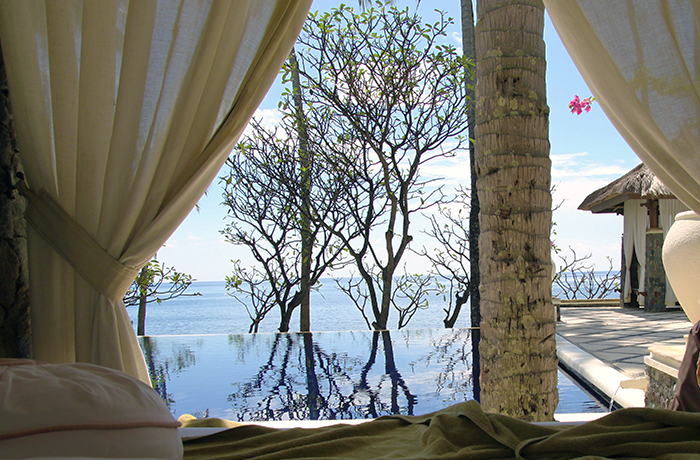 Still in our half asleep state we make our way to one of the cabanas around the pool. We spend the afternoon spotting dolphins swimming in the distance and the occasional dip in the pool. We agree this is what all vacations should be like. Well until we have kids that is.
The Restaurant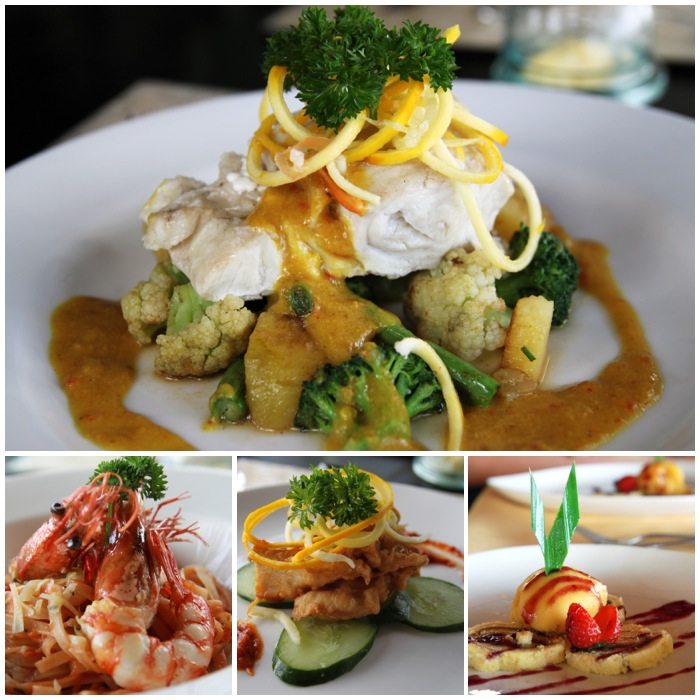 The onsite, open concept restaurant Wantilan serves Indonesian fusion and light western cuisine in the form of 3-course meals for lunch and dinner and a-la-carte for breakfast. Helmed by Austrian born chef Martin Büchele, every meal for us was exceptional. A selection of Indonesian fare if we were in the mood for local, healthy options which were great after a workout or heartier meals which kept Tom happy.
During the course of our visit we enjoyed: Roasted Beetroot Salad, Vietnamese Spring Rolls, Beef Rendang (an Indonesian dish), a light Prawn Curry, Steamed fish on Roasted Cauliflower and Broccoli, Pasta with Prawns in Tomato Sauce, a variety of desserts and lots of fresh fruit juices. As a pescetarian I appreciated there always being a vegetarian or seafood option. During every visit the selection was never the same and every meal was beautifully presented. It was a joy to have such great food located within the resort.
Activities
Besides the abundance of onsite activities, within a short distance from the resort are more attractions for those that want to explore. Optional side trips include:
Sunset Cruise on a Traditional Jukong
Squid Fishing on a Traditional Jukong
Day Diving Trip to Tulamben Wreck/Wall
Art Village Tour
Spa Village Resort Tembok, Bali
Jalan Singaraja-Amlapura
No. 100 Desa Tembok
Tejakula Buleleng, Bali, Indonesia
T: +62 3623 2033 or +62 813 3852 6692
W: www.spavillageresort.com
This was a hosted stay. As always, opinions are our own.