Garuda Indonesia invited me to join them in making history. This was their inaugural flight between Singapore and Surabaya (Indonesia) and since my surname is Abbott, I was probably the first passenger on the flight manifest. History. I got to the airport by 6:30PM (8:45PM flight) to check-in and met the other bloggers and travel agents joining the trip. The first thing I noticed was how much luggage everyone was carrying. I was grateful (smug maybe?) having only my Coach duffle bag for the 4-day journey. Carry-on is the way to go. No hassles checking-in, lost baggage, waiting at the carousel, wishing you had something from your checked-baggage with you on the plane... Definitely smug. As I handed my passport to our 'handler' from Garuda Indonesia, she asked me to draw a slip of paper. The prize? An upgrade from Economy Class to Executive Class. The winner? It was my lucky day!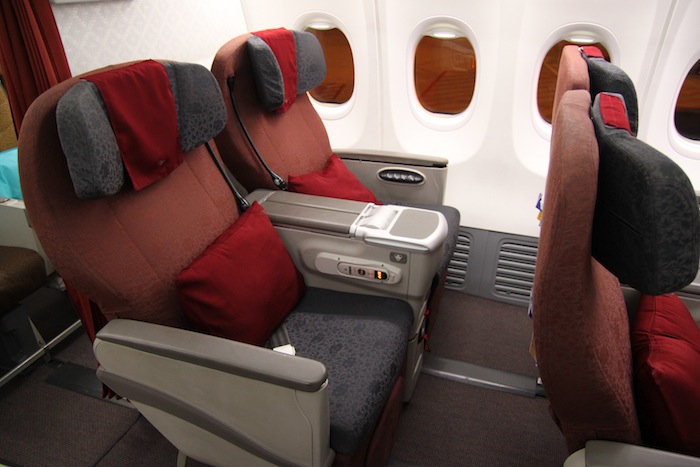 The seats in Executive Class are soooo comfortable. Head rest, cushion, foot rest and lots of leg room. I could stretch my legs fully without coming close to touching the seat in front. I'm used to budget airlines where my knees are lodged between my chest and the seat in front. Did I mention the seats actually recline too?
Before takeoff, the flight attendant gave me a warm towel to freshen up. Then came the welcome drinks. Orange or passionfruit? I couldn't choose and took one of each. When dinner was served, I had the assorted meats (you could opt for dim sum), wild greens, cherry tomato, fresh fruit, warm rolls and warm butter. For dessert, Häagen-Dazs ice cream. Vanilla or strawberry? I couldn't choose and asked for both. This time, the flight attendant made me choose. Vanilla.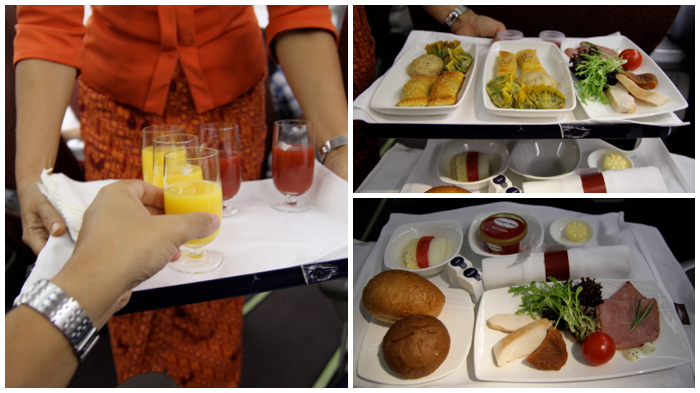 After dinner, I reclined my seat, put my feet up and looked through the in-flight magazine for in-flight movies. There were 58 movies and 50 TV programs listed, but only a handful were available on our flight. Fortunately, I had my own in-flight entertainment. An iPhone full of Freakonomics Radio and TED Radio Hour podcasts was more than enough for the almost 2-hour flight. In Surabaya, we were welcomed by photographers, videographers and Garuda International staff with flowers. The inaugural Garuda International flight from Singapore to Surabaya was history, and my adventures in Surabaya were just beginning.
Question: When was the last time you flew Garuda Indonesia? What was your experience like?
Disclosure of Material Connection: This is a "sponsored post". Regardless, I only recommend products or services I use personally and believe will be good for my readers.