As the gate of Pullman Phuket Arcadia opens, I realise it was only 15 minutes earlier that I had stepped out of the Phuket airport. Now, I'm winding up the Pullman's road ready to claim a sun lounger. On this quick two night getaway, my husband Tom and baby Liam join in my eagerness to check out the resort. We drop our luggage off in our room and head out to find the perfect spot to relax.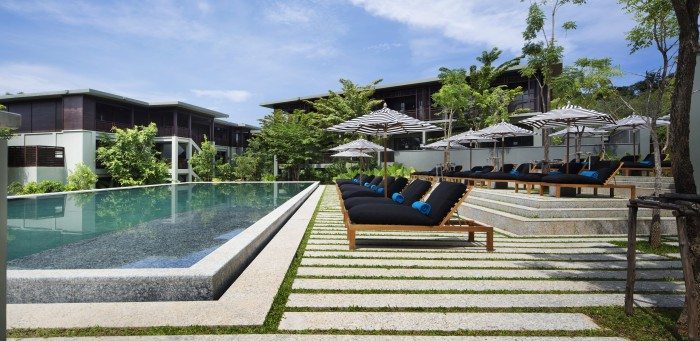 Our first stop is the Float Pool just behind our room. Surrounded by trees; rows of loungers and umbrellas lay behind it. On the side sits a small bar for a handy drink or snack. It seems to be the perfect place to read and get lost in one's own thoughts. Quiet and relaxing. We decide to continue our search for the most idyllic place to relax and head to the beach.
As we walk along Naithon beach, we notice a small town atmosphere that is welcoming. The vendors are friendly, there's no crazy traffic and best of all no one is following us trying to sell us anything. If you've been to Phuket's Patong, or Bali's Kuta beach before, you will know exactly what we're not missing. Instead we get a long stretch of golden sand beach and blue sea to stare out at without the crowds. We rent cushions and an umbrella and camp out for a couple hours enjoying the waves while sampling the local street food. An excellent start to a Thai vacation.
Heading back to the resort, we climb the wood steps from the beach to the Pullman to reach a seating area looking out at the water. A row of loungers are set up in sand with a stunning view overlooking the beach. "This is just perfection." I think to myself. I can't see any reason to go back to the beach now, let alone leave the resort. The best seats are right here.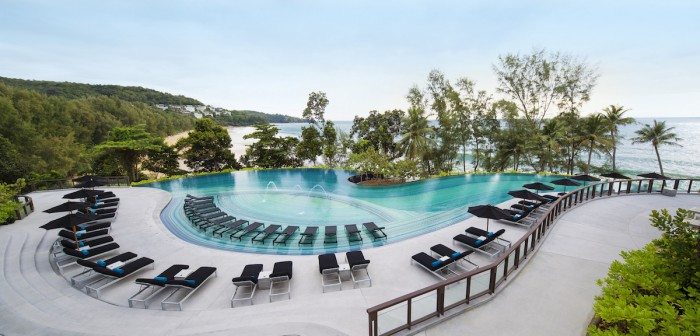 Just when I think it couldn't get any better, another flight of stairs up and we are greeted with a curving infinity pool that looks to spill into the sea. The loungers lay in the water or on steps leading to the pool. There are no bad spots, just more spectacular views. Between us it is decided, our time at Pullman Phuket Arcadia will be spent moving from one beautiful spot to the next, taking in the views while appreciating just how lucky we are to be here.

The Lounge
When all sun lounger sections of the resort have been exhausted, the hotel's C-Bar with it's sunken circular seating areas and day beds is not a bad alternative. This is the perfect place to watch the sun set, while enjoying happy hour specials and live music.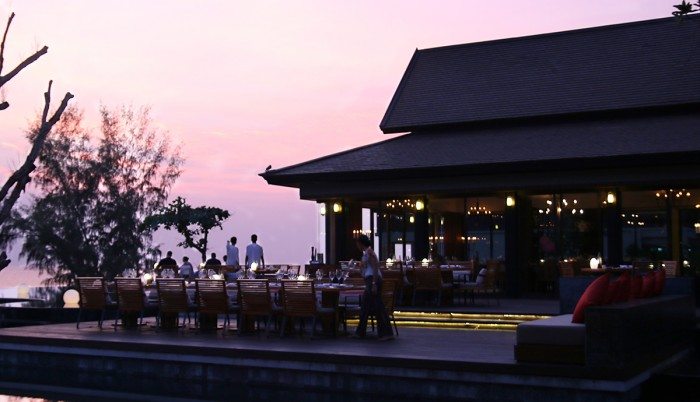 Restaurants
The hotel's Italian restaurant Vero serves up first class Italian cuisine along with an extensive wine list. Make reservations to ensure a seat outside or enjoy one of the inside seats instead. The all day dining restaurant Elements is where one of the island's best breakfasts is served and a-la-cart or buffet specials are offered at night.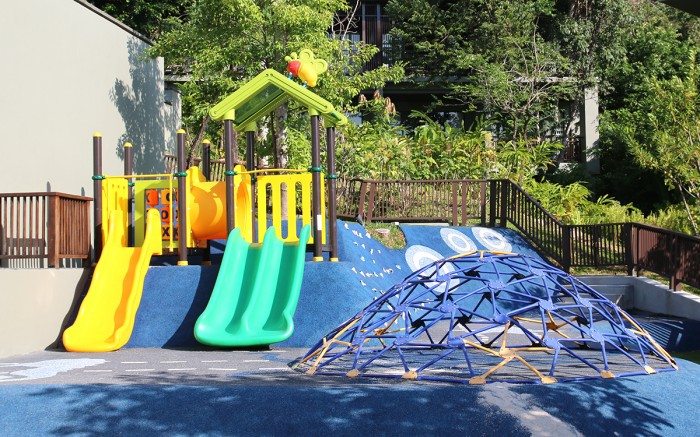 Kids Club
The hotel's kids club gets a stamp of approval from our sixteen month old. Ride-on cars, blocks and a ball pit inside while the outside playground has a slide, teeter-totter and lots to climb on. It also meets our approval, as a dedicated babysitter for kids under 4 is available, while kids over 4 can come and play on their own for free. Older kids will enjoy the computers, TV and board games. There are also daily activities for the kids that range from face painting to balloon art and kids yoga.

Rooms
We stayed in a Grand Deluxe room with 55 sq.m. of fine design. With a balcony to relax on and a tub with sea views, it was our little piece of paradise for 2 nights. If budget isn't a concern, 1 and 2 bedroom villas are available with their own splash pools. As are a variety of other room options in-between.

Naithon Beach
Restaurants, massage shops, a convenience store and a row of vendors selling a variety of food line the street behind the beach. Almost anything you need can be found here, as well as a calm golden sand beach that is one of Phuket's most beautiful.
Side Trips and Nearby Attractions
Visit Koh Waek Island for a bit of snorkelling. Only 15-20 minutes by boat from the nearby land point, guests can enjoy a 2 hour trip offered multiple times a week for THB 1,600 ++ per person through the resort.
If you feel the need for a change of scenery, the famous Nikki Beach Phuket is only 15 minutes away. Sip champagne on a daybed or stop by for a meal.
If the desire to see what Patong is all about comes over you, the hotel offers a shuttle service to the area on select days for a minimal fee.
For the golf lovers, Blue Canyon Country Club – Phuket Golf Course is only 10 minutes
Pullman Phuket Arcadia Naithon Beach
22/2 Moo 4, Amphur Talang
Phuket 83110
T: +66 (0) 76 303 299
E: H7488-RE@accor.com
W: www.pullmanphuketarcadia.com