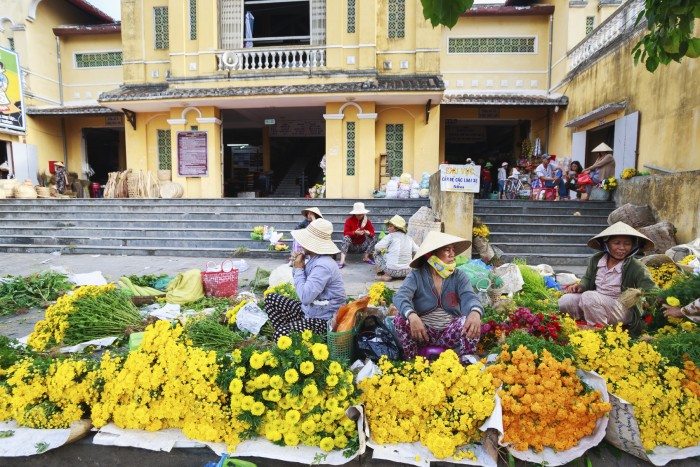 With its yellow-painted walls adorned with bougainvillea, fishermen in Non La hats hurling their nets into the river, and clusters of colorful lanterns lighting the streets, Hoi An is one of those places that feel like a living postcard.
Once a bustling port city, Hoi An's architecture is a reflection of its Vietnamese, Chinese, Japanese, and European influences. In 1999, the Ancient Town was named a UNESCO World Heritage Site. Hoi An is worth spending several days in to: wander through the streets of the Ancient Town, get clothes made at one of Hoi An's hundreds of tailors, ride a bike through nearby rice fields, spend a day at An Bang beach, indulge in delicious banh mi and local Hoi An dishes, and more. You certainly won't be the only tourist there, but you're likely to fall under Hoi An's spell anyway.
Here are 10 of the top things to see and do in charming Hoi An.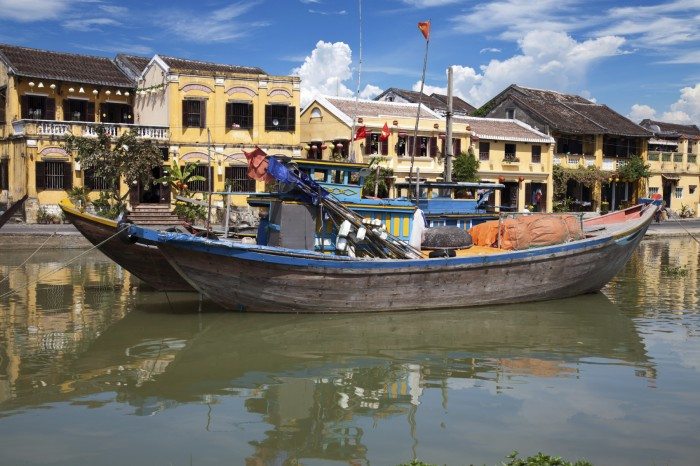 1. Hang Out in Ancient Town
With a mixture of Chinese temples, Japanese pagodas and shop-houses, and French-colonial houses, along with the beautiful yellow color that covers most of the town's walls, the Ancient Town is a delight for the eyes.
There are a number of temples and sites to explore, including the beautiful Japanese Covered Bridge and Fukian Assembly Hall. Walk or cycle through the streets and along the river, which at night is dotted with hundreds of little colorful floating candles. There are wonderful restaurants, shops, cafes, and bars—many of them housed in ancient buildings, making for an interesting blend of old and new, East and West.
One can't describe Ancient Town without mentioning the iconic silk lanterns that light up the streets in the evening. The ambiance really is quite magical.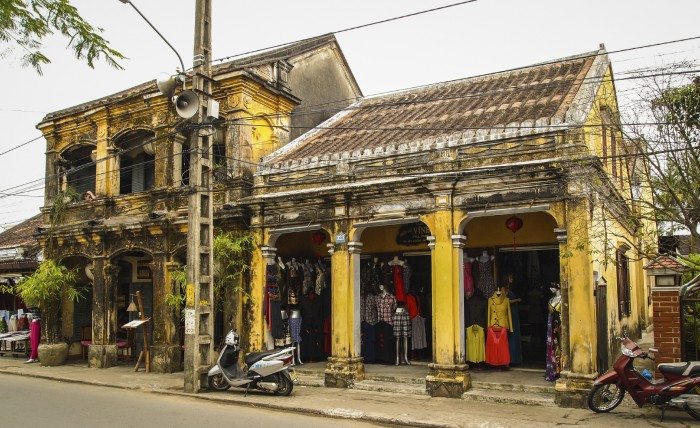 2. Have Clothes or Shoes Made
There are over 600 tailors in Hoi An. It's become one of the major draws of the city, and for good reason: you can get clothes made cheaply—even suits—in as little as 24 to 48 hours. Present the staff with a photo, look through binders of photos they have there, or have them copy something you bring with you (this is especially recommended for custom shoes).
However, it's important to know a few things about the tailors and how it works before you go. Everyone from your hotel receptionist to taxi drivers to random local people make a commission from referring tourists to tailor and shoe shops. This commission gets passed on to the customers who are brought there, and prices are inflated by 30-40%. The quality can vary a great deal between shops. Ask fellow travelers about their tailor experiences and ask the shops if you can see the clothes other customers are waiting to pick up. To avoid an add-on charge, some recommend not telling the tailor your hotel or real name.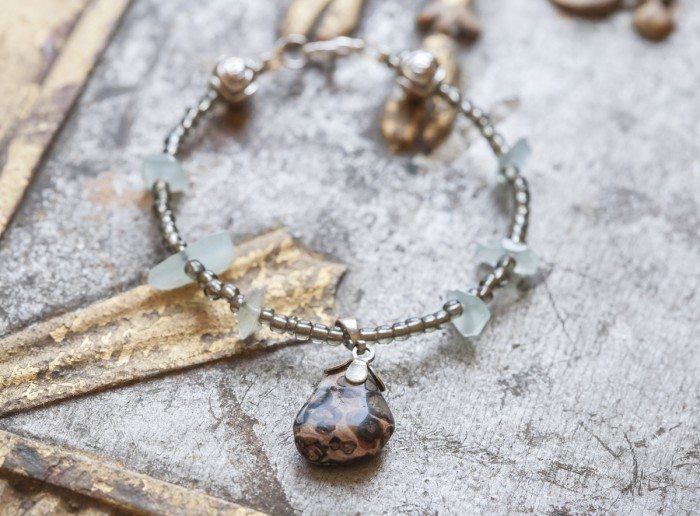 3. Have Jewelry Made
Because of the focus on clothing, few know that you can also get well-priced, custom-made, quality silver in Hoi An. One of the best shops is Lotus Jewellery, which has two shops in town. While prices here aren't the cheapest, you are getting high-quality materials and craftsmanship. As well as something that is more likely to last for many years.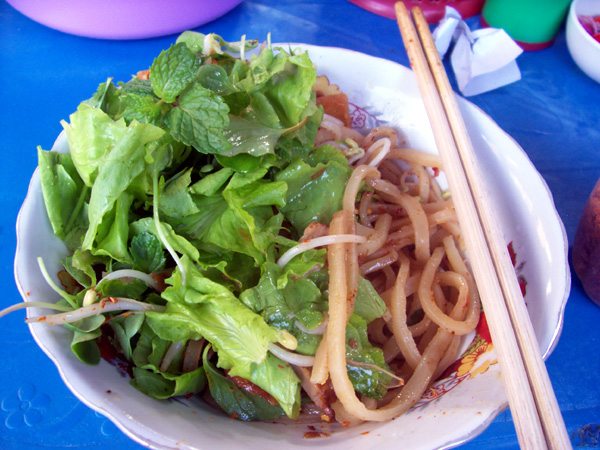 4. Try Hoi An's Local Delicacies
Before you leave Hoi An, be sure to try at least a couple of the local food specialties. Hoi An's signature dish is Cao Lau. This is made with fat yellow noodles, slices of pork, bean sprouts, green vegetables, and slices of croutons, in a dark pork broth. Another local dish is Chicken Rice, or "Com Ga Hoi Aa." Com Ga is made with fluffy rice cooked in chicken stock which is then tossed in a wok and served with boiled, shredded chicken and Vietnamese mint, sliced onions, chilies, and lime juice. Also not to be missed is White Rose Hoi An and Quang Noodle. Enjoy!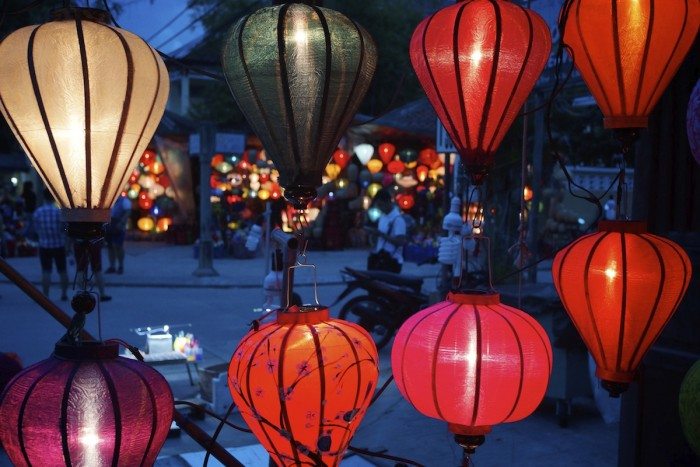 5. Visit the Night Market
Hoi An's night market is regarded as one of the best and most beautiful in Asia. There is a great selection of gifts and deals, and vendors are typically not pushy. A couple of the stalls—33 and 34—are particularly popular. Mr. Tranh at stall 34 and Mr. My at stall 33 continue to charm and delight customers. Both are known for their friendliness, humor, and great deals.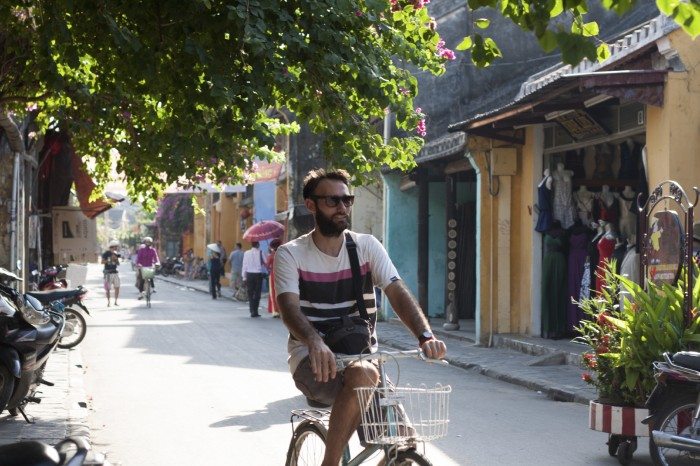 6. Take a Bicycle Tour
See the "real" Vietnam and life in the countryside on a bike tour. Popular company Heaven and Earth Tours offers several options. Cycle through local villages, learn Vietnamese handicrafts, take a boat ride, or even do a two-day tour, staying overnight with a local family. Their morning trip is appropriate for riders of all ages.
There are plenty of other tour options in Hoi An including motorbike tours, eco tours, food tours, photo tours, and more. There's something for everyone!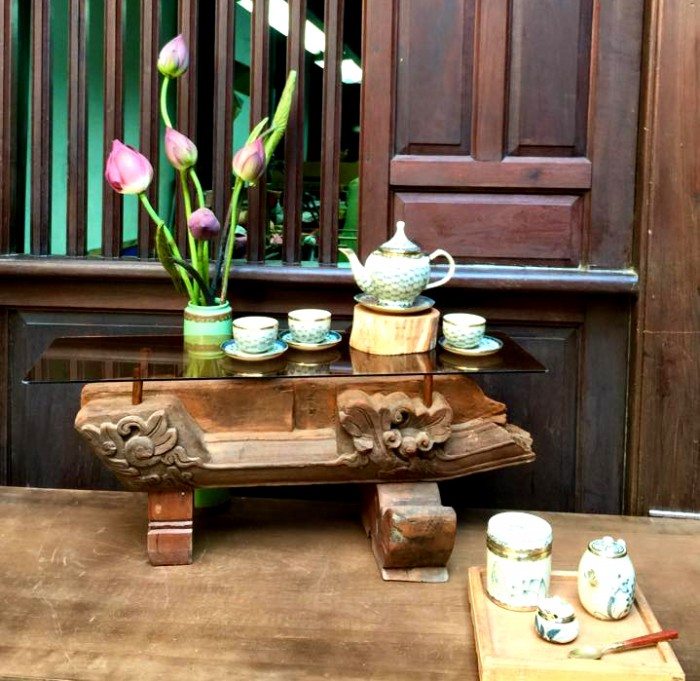 7. Have Tea or Coffee at Reaching Out Tea House
For those looking for some tranquility and relaxation—as well as great beverages and sweets—consider a stop at Reaching Out. This lovely little tea house in the middle of Ancient Town is run by Reaching Out Vietnam, an organization that provides people with disabilities an opportunity to learn skills so that they can integrate into their communities. The staff of the tea house are hearing and speech impaired; you communicate via wooden blocks on your table with messages such as "thank you" and "bill," or by writing messages on paper. Customers are encouraged to "enjoy the beauty of silence" or whisper to their companion.
Next door to the tea house is Reaching Out's arts and crafts shop, where you can buy products hand made by local artisans with disabilities and watch the artisans making products in the attached workshop.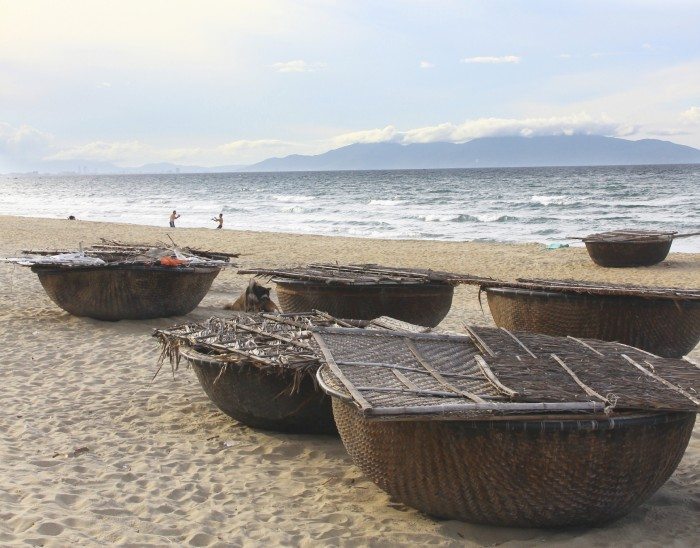 8. Spend the day at An Bang beach
An Bang is one of two beaches near Hoi An, the other being Cua Dai beach. With Cua Dai's erosion problems lately, An Bang has become the more popular option. Located just four kilometers from Hoi An town, An Bang offers white sand beaches, clean water, good restaurants and bars, and a range of accommodation options. Restaurants along the beach provide sun loungers and umbrellas if you buy food or drinks from them.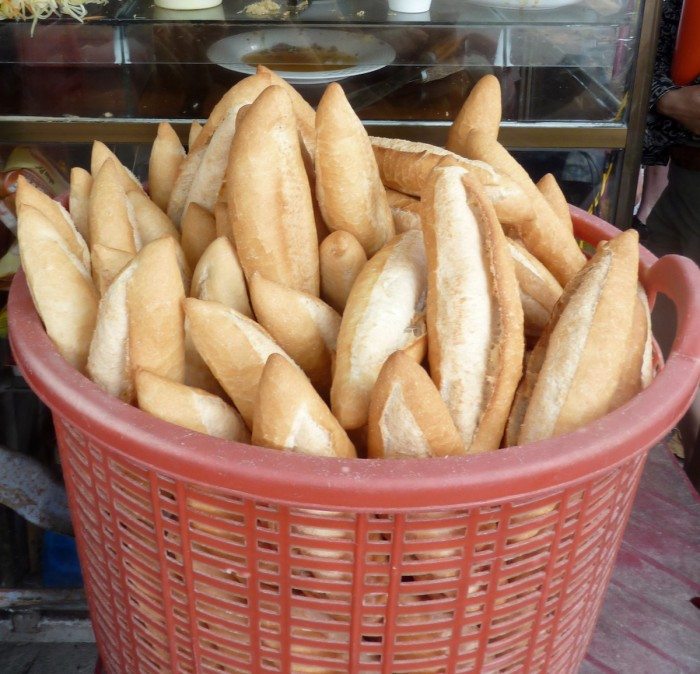 9. Feast on Banh Mi
Hoi An has several banh mi restaurants, but there are two that really stand out: Banh Mi Phuong and Madam Khanh- The Banh Mi Queen. Banh Mi Phuong rose to fame when Anthony Bourdain declared it to be the best banh mi in Vietnam. Many customers agree, and at S$.61 to S$2.50, you can gorge yourself for very little. Madam Khanh is also excellent; sandwiches are S$1.20 each and are crunchy, fresh, and packed with perfectly-complemented ingredients.
10. Go to My Son
A UNESCO World Heritage Site, My Son are ruins from the Cham Empire, who ruled Central Vietnam from 200AD to 1700AD. There are many organized day tours you can take from Hoi An. It takes about an hour to get there.
If you want a shot at seeing the site not overrun by tourists, consider doing the trip on your own; you can hire a bike, a motorbike taxi, or a regular taxi, and if you try to arrive after 13:00, you'll miss all the bus tours.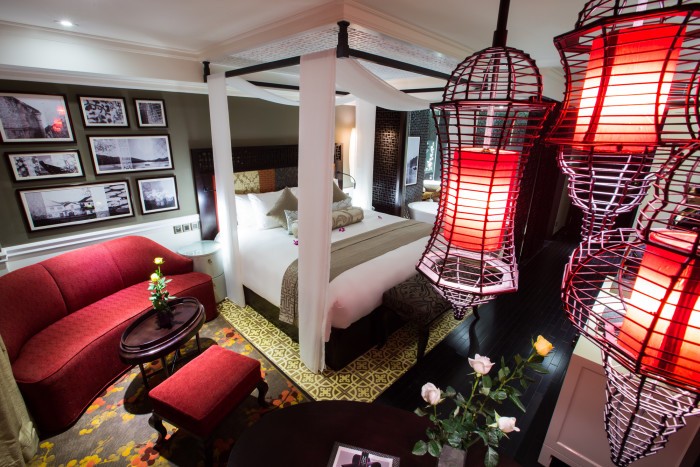 Where to Stay
The Hotel Royal Hoi An, part of the prestigious MGallery Collection, is one of the most stylish and beautiful hotels in Hoi An. Rooms are decorated with dark wood and handcrafted furnishings and fixtures that reflect the city's past. From the balcony there are amazing views of the river and Ancient Town. The hotel offers great facilities, including a pool, gym, two restaurants, three meeting rooms, and a spa. It's also perfectly situated; the town is about a ten-minute walk or five-minute bike ride away. Guests have access to free bicycles to explore the town.
How to get to Hoi An
The closest airport to Hoi An is Da Nang. Direct flights are available to Da Nang from Singapore, as well as many of the major cities in Vietnam including Ho Chi Minh City and Hanoi. From here a taxi transfer to Hoi An will take around 45 minutes and cost around 400,000 VND.