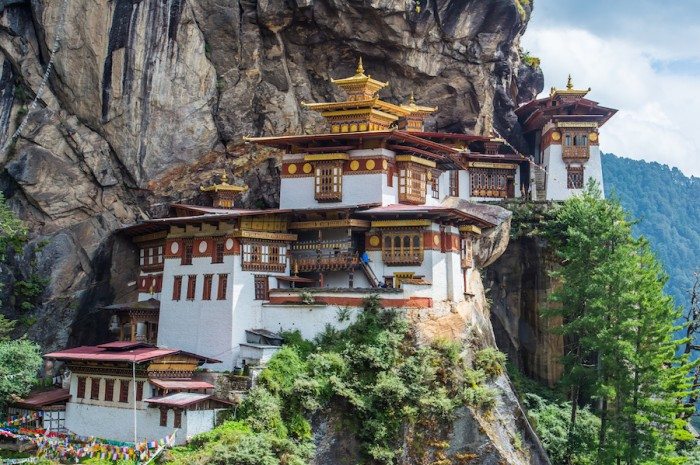 1. An Unspoilt Escape
The small Buddhist country of Bhutan is sandwiched between India to the south and China to the north. The country's doors only officially opened to tourists in 1974 and the number of tourists allowed in is closely monitored to ensure they don't negatively impact the Bhutanese culture.
2. A Country that Bases it's Success on GNH not GDP
Bhutan is a country that bases its success on the happiness of the people. It is something they call Gross National Happiness (GNH). They believe that wealth does not equal happiness and those that are happy consider themselves wealthy. They strive to keep the people happy, instead of pushing gross domestic product (GDP), which can compromise their environment.
3. Carbon Neutral
To visit a country that cares so much about their people and land that they do whatever it takes to stay carbon neutral, is something truly special. Especially when they are surrounded by 2 top omitting countries China and India. Bhutan has 72% forest coverage and the forests capture significantly more carbon than the country emits. What a treat in this day and age to breath fresh air.
4. Nature and Wildlife Rich Playground
With mountains and such a vast area of forest, treks and hikes through Bhutan are a great way to appreciate the country's natural beauty. There are 23 treks through the country and take anywhere from 3 days to 25 days to complete.
Bhutan is home to over 670 species of birds including 10 species that are endangered. The wide range of animals that can be seen here include the snow leopard, Bengal tigers, red pandas, Himalayan black bears, one horned rhinoceros, elephants and golden languors.
5. Preserved Culture
Many efforts have been made to preserve the country's culture. The Bhutanese people wear their traditional garments on a daily basis. Men wear a heavy knee-length robe tied with a belt, called a gho, folded in such a way to form a pocket in front of the stomach. Women wear colourful blouses over which they fold and clasp a large rectangular cloth called a kira, thereby creating an ankle-length dress*.
Examples of ancient architecture is well preserved in Bhutan including the Dzongs Fortress from 1637 and the Taktsang Monestary (aka Tiger's Nest picture above) built in 1692.
6. Hot Springs
Hot springs can be found in many places around Bhutan and have been used for centuries to cure the Bhutanese of various ailments. In the winter, it is a tradition for the Bhutanese to visit the hot springs and is something visitors to Bhutan can enjoy as well.
7. Space
For those living in big cities, riding cramped subways and living in shoe box apartments, enjoying wide open space is a luxury. Bhutan is 57 times bigger than Singapore but has less than 1 million people compared to Singapore's 5.4 million people.
8. Luxury Resorts
Finding one's self in Bhutan does not have to include "roughing it". Nature, relaxation and rejuvenation can be amplified while staying at one of the country's luxury resorts which includes a Taj Hotel and 2 Le Meridiens and a Six Senses opening in 2016.
9. Easy to Get to and Enjoy
With more and more direct flights opening up, it's getting easier to visit Bhutan. Fly direct from Singapore, Bangkok, Delhi, Mumbai and many more destinations. Visit Drukair and Bhutan Airlines to find out about flights.
All tourist visits are covered under an 'all-inclusive' package which includes the minimum of a 3 star hotel, all meals, all internal transport within the country, and services of a professional guide. Everything is taken care of for you. The packages start at US$200 a day per person.