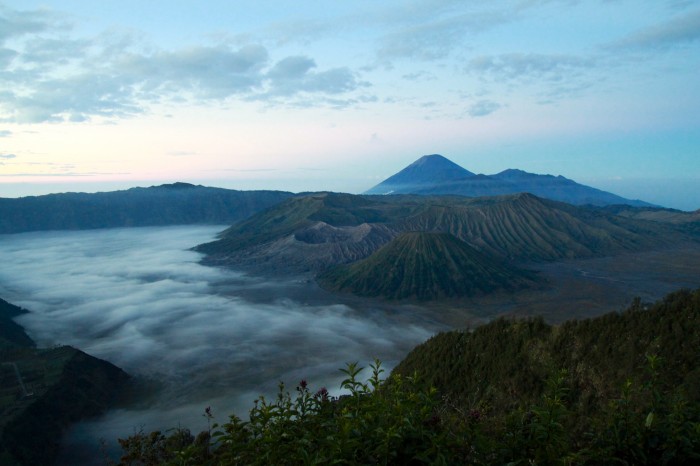 There are only 3 reasons to wake up at 2AM. The first is feeding a newborn (can you guess I'm a new daddy?), the second is making babies and the third is watching the sunrise and viewing Mount Bromo from the the top of Mount Batok. Can you guess why I woke up at 2AM? I went to sleep at 8PM the night before, so waking up that early wasn't as bad as I expected. After meeting other bloggers in the lobby of Bromo Cottages, I had a quick cup of kopi, crawled into the jeep and began the 90-minute journey to Mount Batok.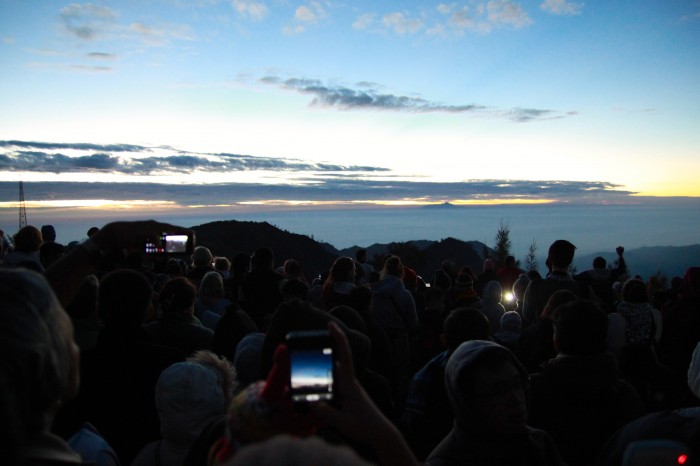 We arrived near the top of Mount Batok around 4AM, parked the jeep and started walking towards the top. I was surprised at how many food stalls and street merchants there were along the way. I was also surprised at how many people were already at the top. Who else would be crazy enough to make this journey so early in the morning? There were hundreds of people waiting for sunrise and to catch their first glimpse of Mount Bromo. It was incredible seeing all the people bundled up in sweaters, jackets and hats (it was so cold!) taking photos of the beautiful star filled sky.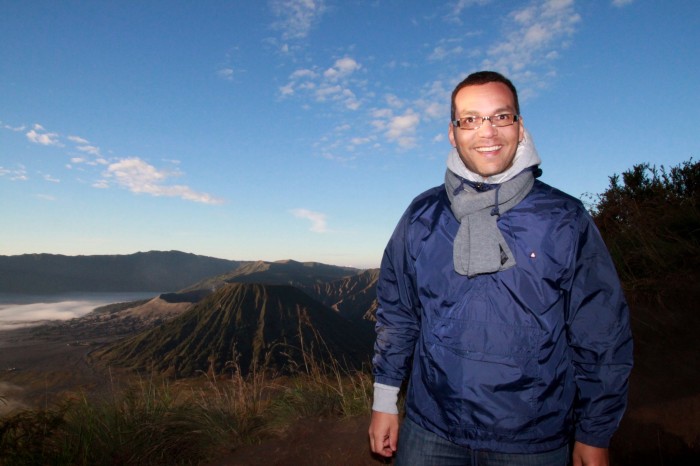 The sun rose quickly and before we knew it, the sky was bright and daylight had come. After getting some beautiful photos of the sunrise to the east, we shifted our attention to the south where we saw Mount Bromo for the first time. The view was breathtaking. Have you seen postcards of Mount Bromo? They pale in comparison to seeing it in person from above the fog at day break.
The next stop in our adventure would take us down Mount Batok, through the valley (that appeared to be sand dunes) and to the top of Mount Bromo. After the eruption of Mount Bromo in 2010, volcanic ash covered the old lava streams giving the impression of sand dunes. We parked at the base of Mount Bromo and rode halfway up on horseback, then climbed a narrow staircase until we reached the top. After taking in the sights, sounds and smells of an active volcano, we drove back to Bromo Cottages for breakfast before beginning our 4-hour journey to Surabaya. Remember when I said there were only 3 reasons to wake up at 2AM. With Mount Batok and Mount Bromo scratched off my bucket list, I'm looking forward to at least one of them.
Question: Have you been to Mount Bromo? Is it on your "bucket"list?
Travel Tips: We flew Garuda Indonesia from Singapore to Surabaya and our tour to Mount Bromo was with Aneka Karitika Tours & Travel.
Disclosure of Material Connection: This is a "sponsored post". Regardless, I only recommend products or services I use personally and believe will be good for my readers.