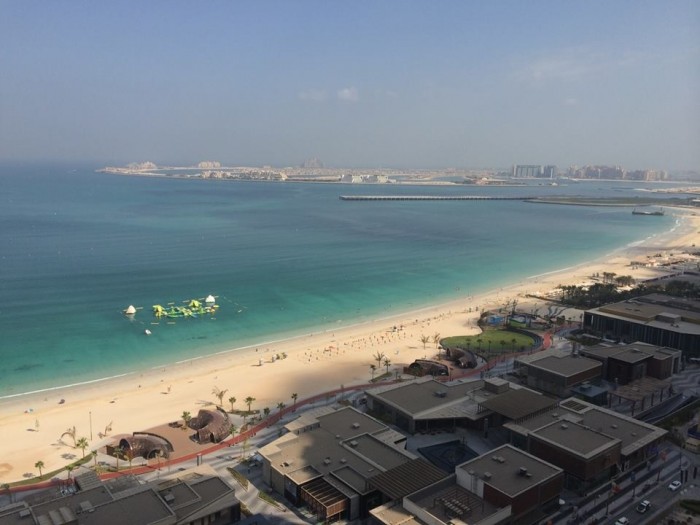 I think it's true to say everyone has their own opinion of Dubai before they go. You either love it and want to go back or hate it and are happy to see the back of it. For me, Dubai was everything I had imagined but nothing like I had expected. I have always wanted to go, partly out of intrigue and partly because of the weather and fancy hotels. My boyfriend on the other hand had no interest and was just happy to go along with it because it made sense to stop over there on our way to Harare with Emirates. The conflicting opinions meant we underwent our 24 hour stopover with a completely open mind.
Efficiency and professionalism are the words that immediately come to mind as first impressions of Dubai. Everything runs smoothly; the metro is meticulously on time, the commuters are orderly and pleasant (I am based in London where this is definitely not the case) and everyone appears relaxed, calm and helpful. Our hotel was right at the end of a long stretch of white sand called Jumeriah beach located south of the city's historical district. Most of the hotels along this stretch are the 5 star pricey ones, but by chance we came across The Sofitel Dubai Jumeriah beach.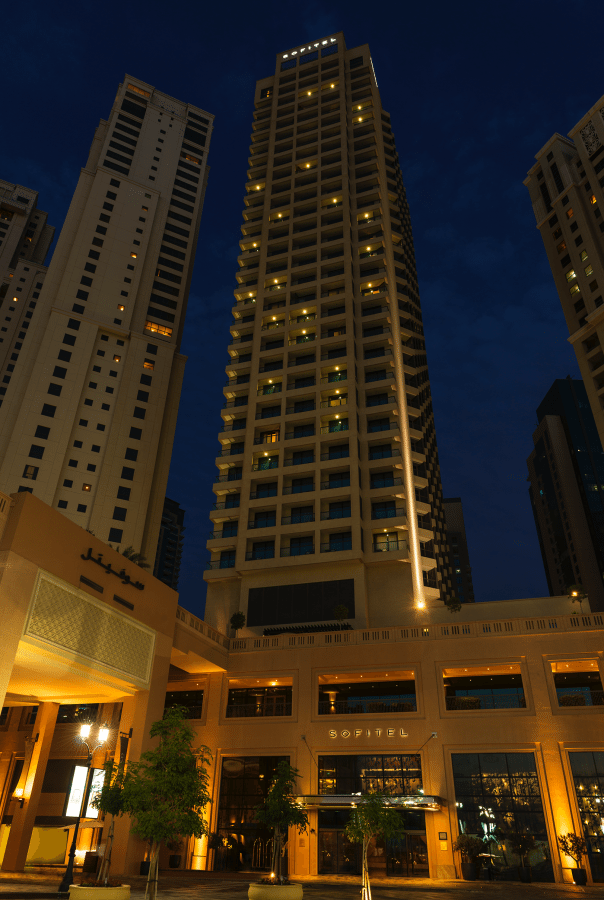 The Sofitel group are a French owned chain of luxury hotels dotted around the world in the most coveted and popular jaunts. The Sofitel Dubai Jumeirah beach raises high into the Dubai skyline towering over the plentiful beach front cafes, bars and shops which are spread out at the foot of this magnificent deluxe 5 star hotel. The entrance is grand and the bar side infinity pool even grander. The décor is unique, a mix of classic French art with Arabian architecture and design. The sprawling art work and Middle Eastern motifs are evident taking a wondering eye from wall to wall and ceiling to floor. Our Suite was spectacular. Two rooms and an adjoining bathroom, hosting a monstrous bath and separate shower. From arrival to departure and the attention to detail in order to make our stay special was unmistakably thorough.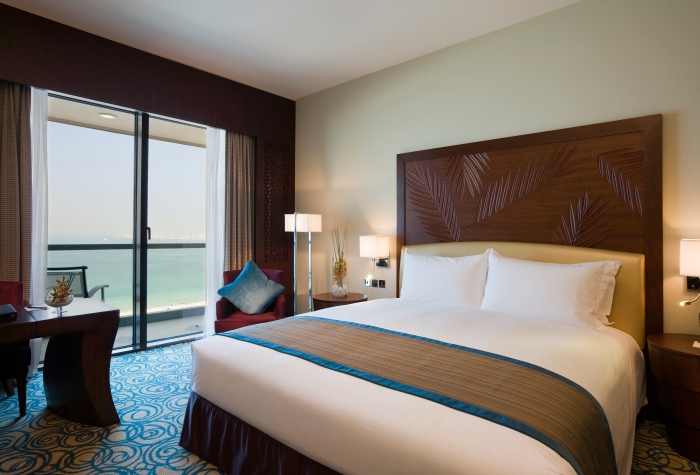 Post check in we spent a couple of hours on the beach, followed by a glorious dip in the infinity pool. The hotel provides you with a complementary beach kit which included towels and cold bottled water which is a lovely touch. We didn't look further than the Plantation restaurant for our evening meal. After a pre-dinner cocktail, Sahil our waiter showed us to our seats and offered us the most descriptive and intricate run through of the menu offering advice and recommendations on the mouth-watering options.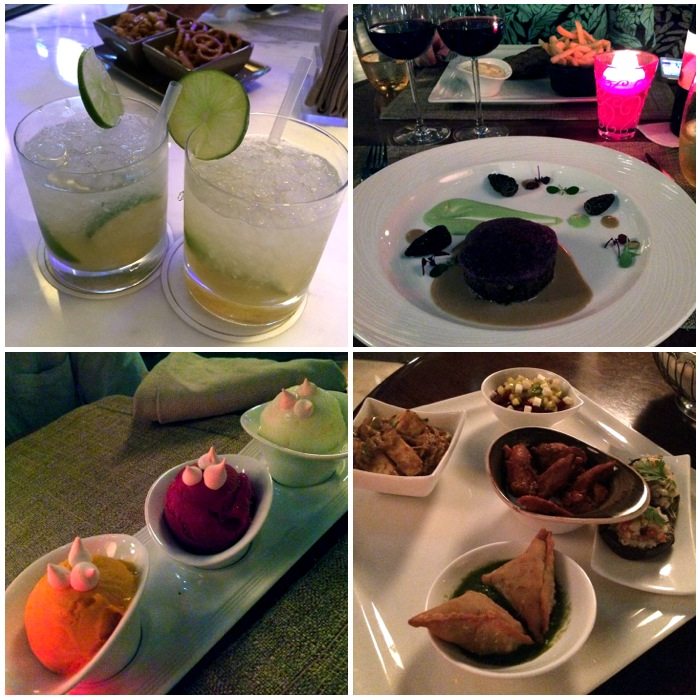 We started off with a scallop salad and a platter of tapas which included beetroot and paneer salad and Indian vegetable samosas. The Tapas were a mixture of Indian and French fusion and were a recommendation from Sahil who was from India himself. The table was immediately complemented with a warm basket of mixed breads accompanied by soft butter, olive oil and balsamic vinegar. The wine menu was dissected thoroughly and after choosing a bottle of Argentinian Malbec we excitedly tucked into our mains, which were equally as appetising as the courses that proceeded.
The choice is vast, with mains ranging from slow cooked camel to marinated Indian mutton, warm seasonal vegetables and creamed potato puree with white truffle oil.
The dessert choice is a mecca of lip smacking and delectable puddings. We chose a trio of sorbet topped with chewy mini meringues and a couple of espressos, which came with diminutive sponges and buttery short bread. The general atmosphere was cosy, comfortable, romantic and opulent. The service was top notch and informative and the Food and wine were tasty full bodied and complemented the meal throughout.
After a walk down promenade, we came across a traditional shisha cafe on the sand. There appears to be many dotted along Jumeirah beach and the one we came across had comfy floor cushions and low tables for you to lay and relax. No alcohol is served as expected so on offering are fruit juices and shakes made from the juiciest seasonal fruit available. We enjoyed watermelon smoothies and smoked the traditional shisha pipe while staring out to the Arabian Gulf with the distant lights of Atlantis twinkling in the backdrop of the pitch black sky.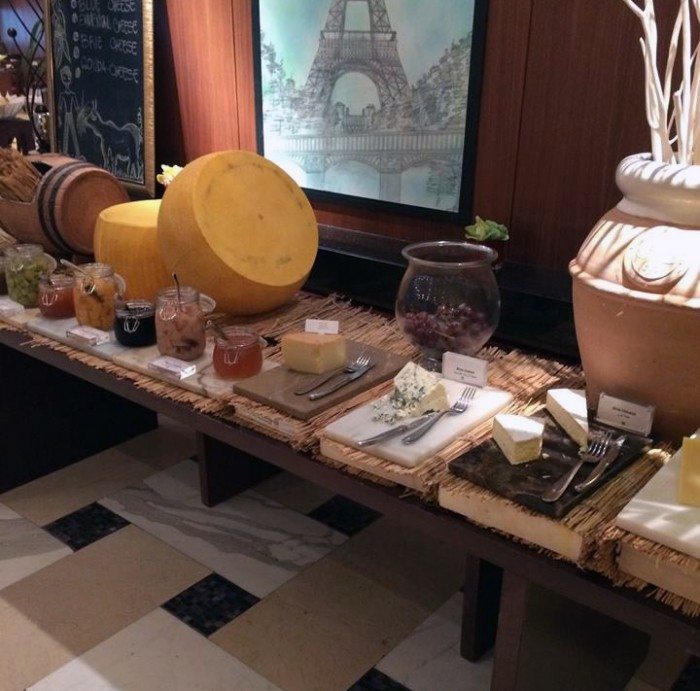 We grudgingly checked out the next morning after the most indulgent breakfast, which consisted of every breakfast food known to man. A fridge of crunchy granolas and Bircher muesli, an array of juicy fruit selections, an assortment of cheeses and a juice bar. Close by was a pancake station, which entailed a mixture of toppings and a hot food section with a choice of omelettes and a full hot breakfast. Bacon and pork are served but cordoned off on separate tables so as to respect the halal culture of the country.
The hotel had organised a car for us to travel to the airport. At 120 DHM it was a quick comfortable and the best possible way to catch a final glimpse of the great city submerged in the desert. So whether you have your mind already made up about Dubai, try it out for a 24 hour stop over and check out the 5 star Sofitel Jumeirah beach. You won't be disappointed, that's one thing for sure.
A few things to know for your Dubai Stopover
You generally won't need a visa, at the airport head straight to immigration and you will be stamped with a 30 day visit visa free of charge. Check here for a list of eligible countries
Do not drink alcohol in a public place. The consumption of alcohol is restricted to hotel bars and clubs
Taxi queues can be long so allow plenty of time to get to and from the airport. There is quite a lot of construction going on around the Jumeirah beach area so expect delays on these roads
The pool area sunbeds at the Sofitel fill up quite quickly. The staff will move your belongings if you have not been back at your bed for more than half an hour so ensure you don't leave anything valuable if you want to go for lunch inside or back at your room.
Take the 20mins walk to the Metro and travel all the way to Al Karama where you will find some great fake handbags. It is located next to a big fish market and on the way there you will spy all the main Dubai landmarks including the Burj Al Arab and Burj Kahlifa