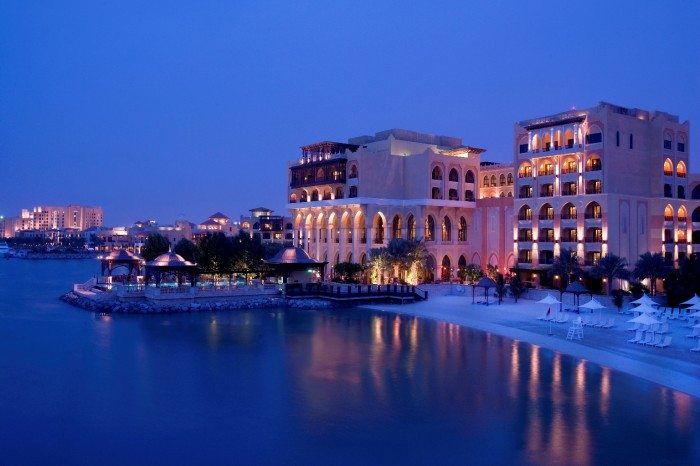 Luxury like only the Middle East knows how, with everything you could need for business, pleasure, a stopover holiday or a family getaway, Shangri-La Qaryat Al Buri will make you feel like you are at the most exclusive home away from home. You'll need more than a couple of days to enjoy all the hotel amenities as well as a chance to take in the sights and sounds of vibrant Abu Dhabi.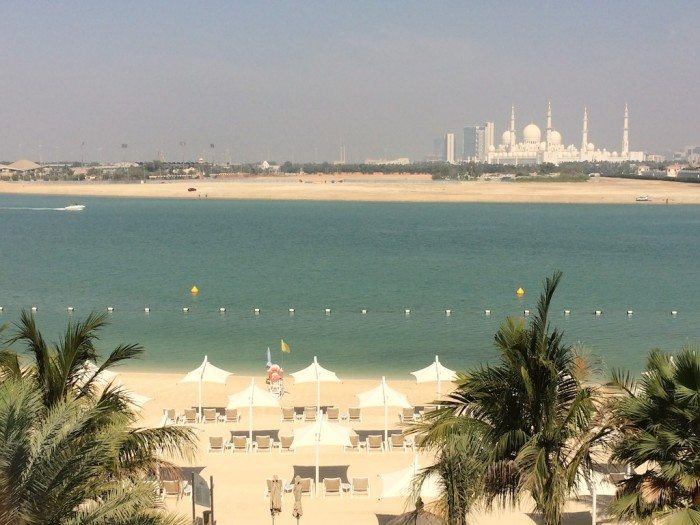 It would be easy to get lost in the Arabian dream that is Shangri-La Qaryat Al Buri with its beautifully manicured grounds, private white sand beaches, three pools, health club, Chi Spa, array of restaurants and bars and of course, the stunning views of the famous Sheikh Zayed Mosque across the canal. Next to the lobby you can also hop on a traditional Arabic boat called an Abra and be taken along the waterway to the Souk to pick up traditional souvenirs and clothing. On top of this, they also offer free daily shuttle services to all the best sights the city has to offer such as Sheikh Zayed Mosque, Ferrari World, Yas Water World and some great shopping spots like the Gold Souk at Madinat Zayed Shopping centre.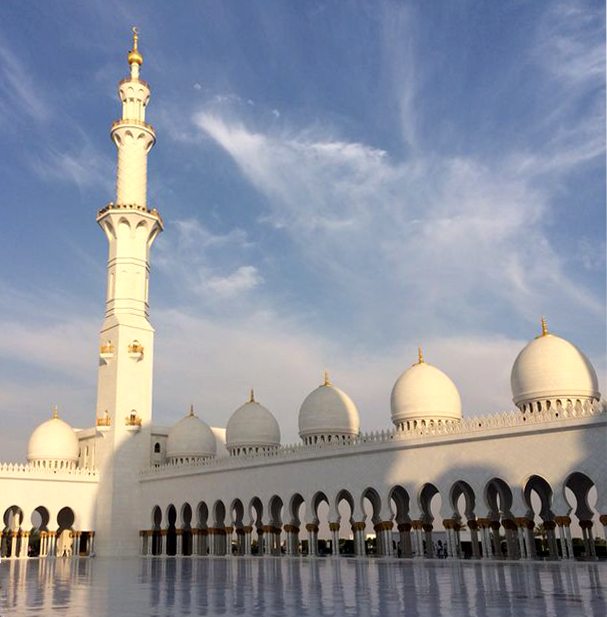 The entire hotel is steeped in Arabian decor. High ceilings, intricate arch ways, and beautiful arabic art and furniture add to its beauty and sophistication. You'll be greeted with the warmest smiles and a welcoming of fresh dates and hot tea in the lobby. Many of the rooms come complete with welcome fruit, lush beds that will make you think of any excuse not to get up, rain showers and premium toiletries, as well as balconies to enjoy the evening warmth and views.
For a little extra indulgence and exclusivity, check into one of their Horizon Club rooms which gives you exclusive access to the Horizon Club Lounge and everything it has to offer. Club services include personalized in room check-in, a breakfast spread at either the Sofa Bld buffet or an a la carte menu in the lounge serving up delectable breakfast delights like fresh waffles, poached eggs and refreshing juices. You can also stop in for snacks and refreshments all day, afternoon tea from 2pm to 6pm and our favorite, the evening cocktails from 6pm to 8pm where we sipped on bottomless wine and gin & tonics over tasty evening canapés and tropical fruit by candle light on the lounge balcony.
The Horizon Club rooms offer up a few added comforts with large marble bathrooms with rain showers and separate bath, designer toiletries from L'Occitane, daily replenishment of fresh fruits, and welcome chinese tea upon arrival. All Horizon Club rooms are located on level 4, 5 and 6 so you have easy access to the lounge. The business travelers will also enjoy the added benefit of unlimited wifi and broadband use, suit pressing and shoe shine services as well as 2 hours daily use of the meeting room facilities.
The Hotel is home to award winning restaurants and chefs. You will be spoiled for choice with food from around the world. Head to Bord Eau for world class French cuisine and fine dining, Hoi An for a taste of modern Vietnamese, and over to Shang Palace their signature restaurant, for yum cha and an authentic Cantonese experience. Sofra Bld offers up the expansive breakfast, lunch and dinner buffet that any Shangri-La regular knows and loves, with live cooking stations for seafood, an oyster bar, and of course a dessert spread that you cannot leave without sampling. Finally Pearls and Caviar will have you seated roof top right on the canal and dining on fresh seafood and dancing the night away to a live DJ on the weekends.
In addition to the endless restaurant choices they also have several bar and lounge choices, everything from a cigar bar for a quiet drink, to the poolside bar serving up delicious burgers and steaks as well as offering weekly family BBQs. We especially enjoyed spending our evenings at ESS lounge, located on the beach, having a couple drinks and smoking apple flavored Shisha with the Sheikh Zayed Mosque lit up in the background.
Our Stay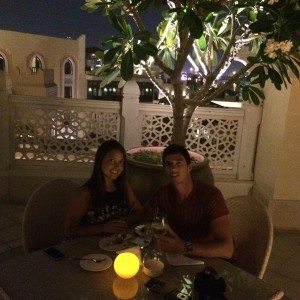 We had an amazing stay in our Horizon Club Deluxe room while on a 3 night 2 day stopover holiday in Abu Dhabi. The beautiful room, hot tea, stuffed dates and the huge balcony with sun loungers and views of the Mosque were a welcoming sight after an 8 hour plane journey. It was utter perfection. The hospitality and friendliness of the staff was a cut above the rest and my only regret was not booking a longer stopover so we could take full advantage of everything the Horizon Club, hotel and city had to offer.
Business travelers can rejoice because this is the perfect spot to entertain existing and potential clients, with all the amenities to smoothly run business meetings and keep on top of any necessary work while also getting a chance to spend time with the family and know they will have enough activities to keep themselves occupied and entertained.
Location is only 10 minutes from the airport and the free daily shuttle to Abu Dhabi's attractions made it easy to organize our time and fit in as many sights as possible. So many nice touches that did not go unnoticed such as magazines and books to read by the pool or beach and giving you a small cooler with chilled water to bring to your lounge chair. I also loved that they came around and offered fruit on a stick as we sunbathed and had toys and activities for the kids to play with on the grass.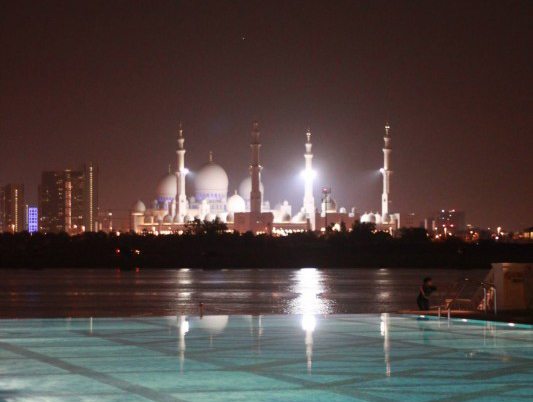 A special thanks to Kopila and Ibrahim for taking such good care of us while in the Horizon Club Lounge. I was in heaven when Ibrahim brought me a plate of my favorite tropical fruit rambutan after I had taken the last one from the fruit platter. Also thanks to all the staff who made it such a memorable experience from the moment you opened the door on our arrival to the concierge who met us at the airport on our departure. It was truly a magical experience.
Shangri-La Qaryat Al Buri
Khor Al Maqta
P.O. Box 128881
Abu Dhabi
United Arab Emirates
T:(971 2) 509 8888
This was a hosted stay. As always, opinions are our own.