The Hanging Gardens of Bali is one of the jewels of Ubud. While the 5-star hotel as a whole is gorgeous, it's primarily known for its jaw-dropping multi-leveled infinity pool overlooking the jungle, making swimmers look as though they are floating above the treetops. Many consider it to be Ubud's best infinity pool after photos of the pool went viral on several social media sites.
Check Hanging Gardens rates on Expedia
Hanging Gardens' pool is magnificent, but it is not the only beautiful infinity pool Ubud has to offer. Indeed, there are numerous resorts in Ubud with stunning pools, many in picturesque forest settings, but some overlooking rivers, as well. Here are nine hotels in Ubud with pools that will knock your socks off and some might even be more instaworthy than Hanging Gardens.
Padma Resort Ubud - Ubud's Longest Infinity Pool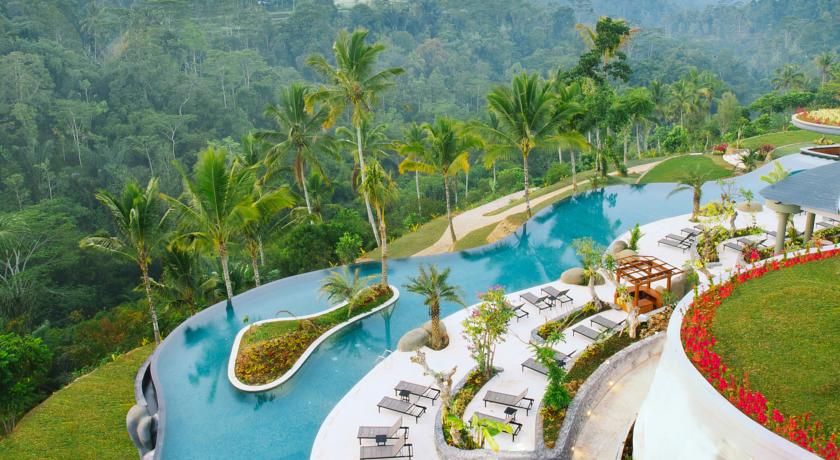 Situated in a valley overlooking the bamboo forests of Payangan around 45 minutes from the centre of Ubud is Padma Resort Ubud. This resort has 149 rooms and is known for its breathtaking views, fantastic service, and gorgeous infinity pool—the longest infinity pool in Ubud. The pool is heated and features a swim-up bar. Don't miss the hidden pool below the main pool which most guests don't know about. Complementary shuttle service to Ubud centre is also available.
Jungle Fish - Ubud's Public Access Infinity Pool and 'Beach Club'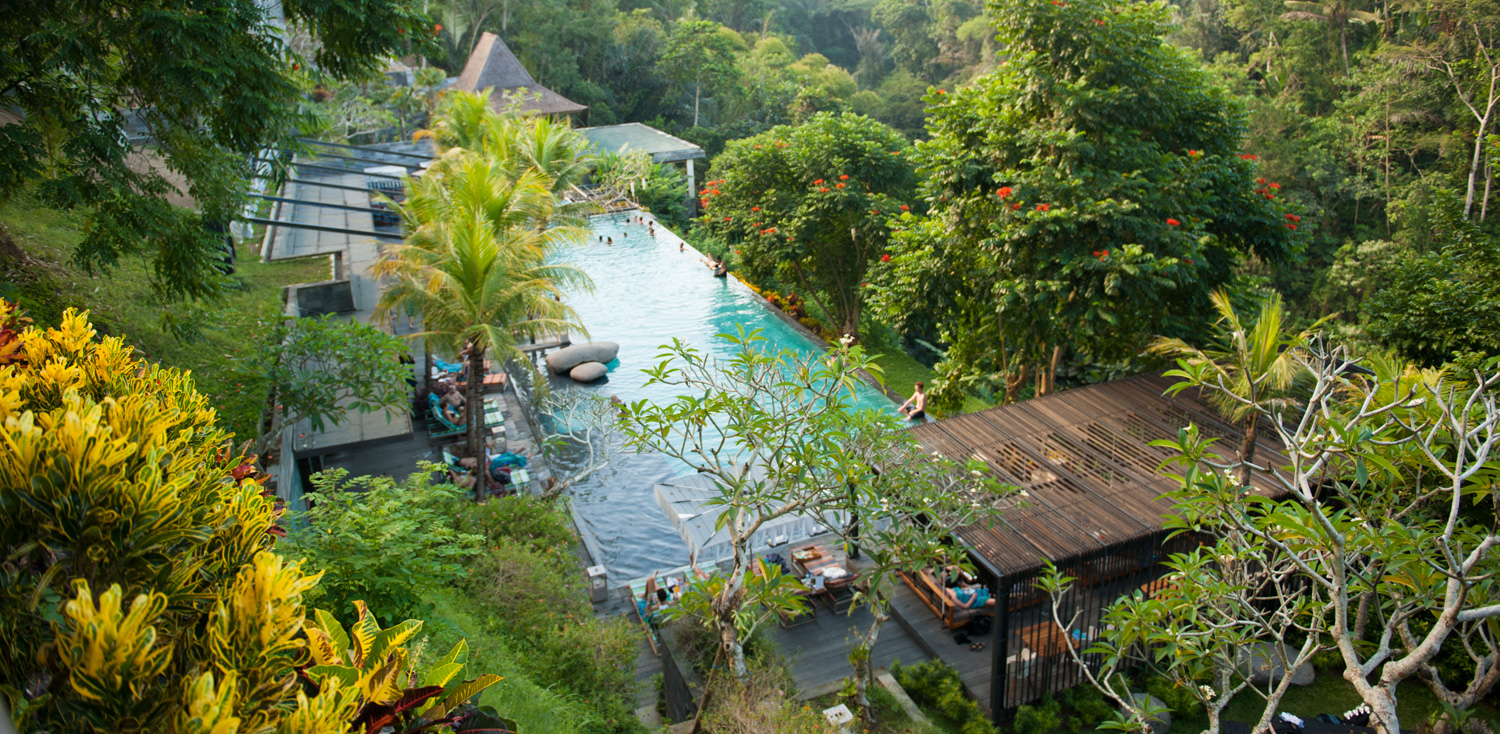 If you're looking for a relaxing day by the pool without the luxury-resort price, check out Jungle Fish. This "no beach…beach club," as they refer to themselves, is located at the Chapung Se Bali Resort & Spa. This Ubud swimming is open to the public with the purchase of a day pass. Perched on a ridge, the resort offers views of the beautiful Osh River Valley. Visitors can enjoy a meal at the resort's split-level restaurant and pool bar and chill out on one of the single or double sun loungers, hanging beds, or caves and cabanas. This is definitely Ubud's best infinity pool that allows public access. Check out our list of Bali's Best Beach Clubs.
Mandapa Ritz-Carlton - River and Jungle View Infinity Pool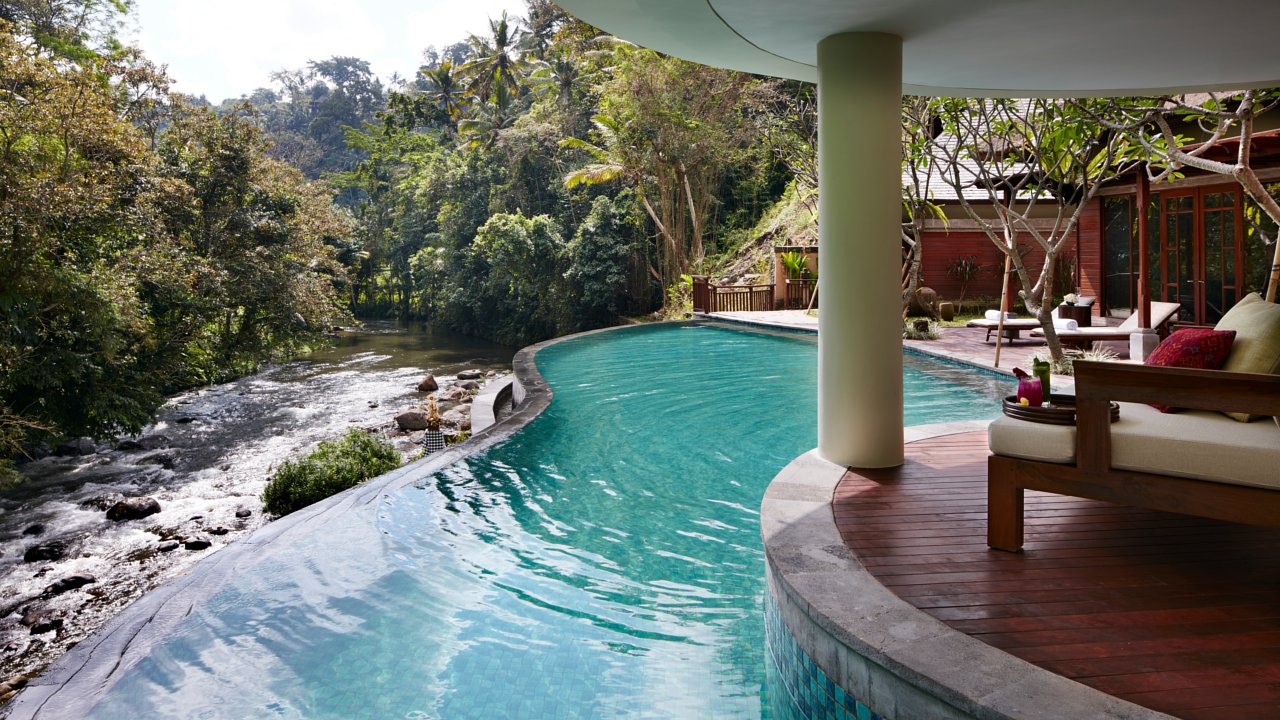 The Mandapa Ritz-Carlton is located in Mandapa, Ubud's spiritual and cultural heart, only 15 minutes to the Monkey Forrest. The 5-star resort features luxurious suites and villas, an on-site spa, complimentary butler service for all rooms, and several on-site dining options. It also features a beautiful infinity pool which overlooks the Ayung River.
Komaneka - Boutique Luxury in Ubud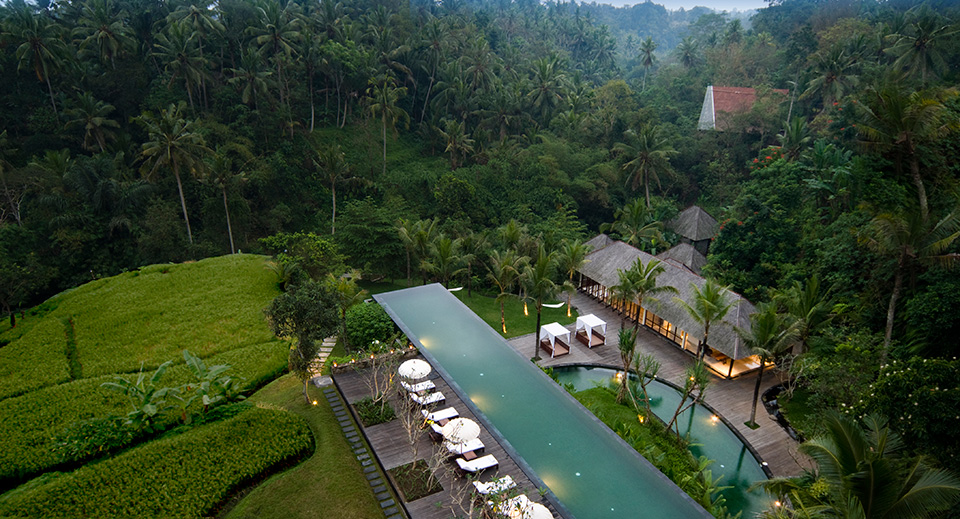 Komaneka resorts is a collection of award-winning boutique hotels in Ubud. While all of the group's resorts have picturesque swimming pools, the pools at Tanggayuda and Bisma are especially eye-popping. Komaneka's Tanggayuda resort features a gorgeous infinity pool which overlooks a river valley and the Bisma resort is known for its 33-meter lap pool. Several of its suites also have private pools.
Alila Ubud - Tranquil Escape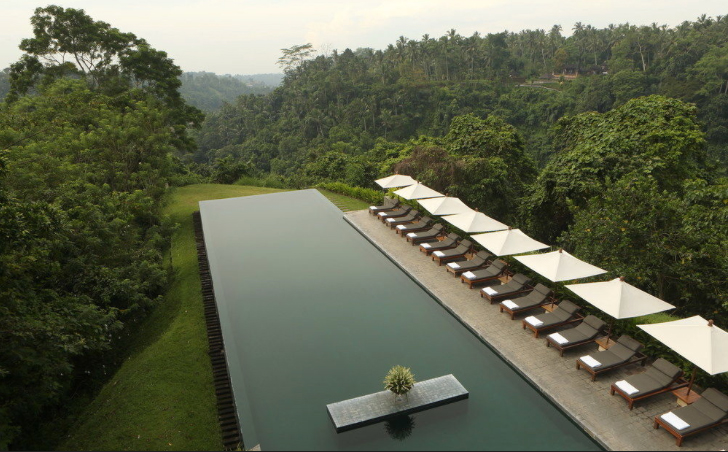 Alila Ubud is a beautiful, tranquil resort situated on a hillside in the Ayung River Valley. The resort as a whole is fantastic, but its infinity pool is definitely one of the highlights. Perched on a terrace, the pool looks like it's floating above the trees and provides spectacular views of the surrounding valley. It has won numerous awards including Best Hotel Pool by Mr. And Mrs. Smith Singapore, and definitely tops our list of Ubud's Best Infinity Pools.
Maya Ubud Resort - Sustainable Stay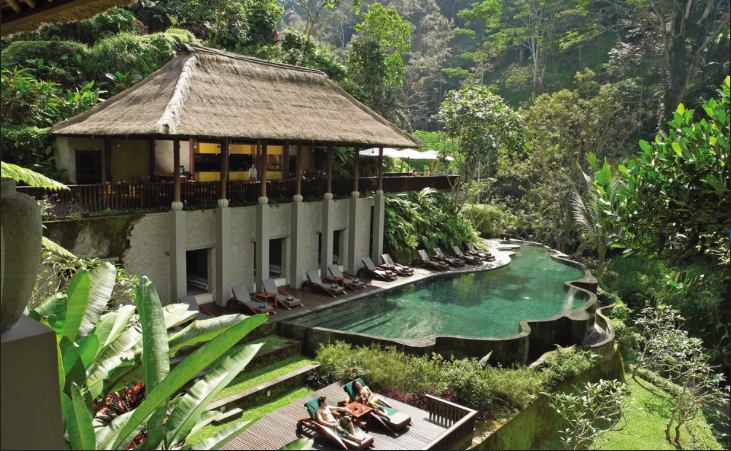 Maya Ubud is a sustainable resort situated between the Petanu River Valley and the rice fields of Peliatan. The resort has two pools; its infinity pool overlooks the surrounding jungle and the other pool is located along the side of the river. Several of its villas feature private pools, as well.
Kamandalu Ubud - Hillside Retreat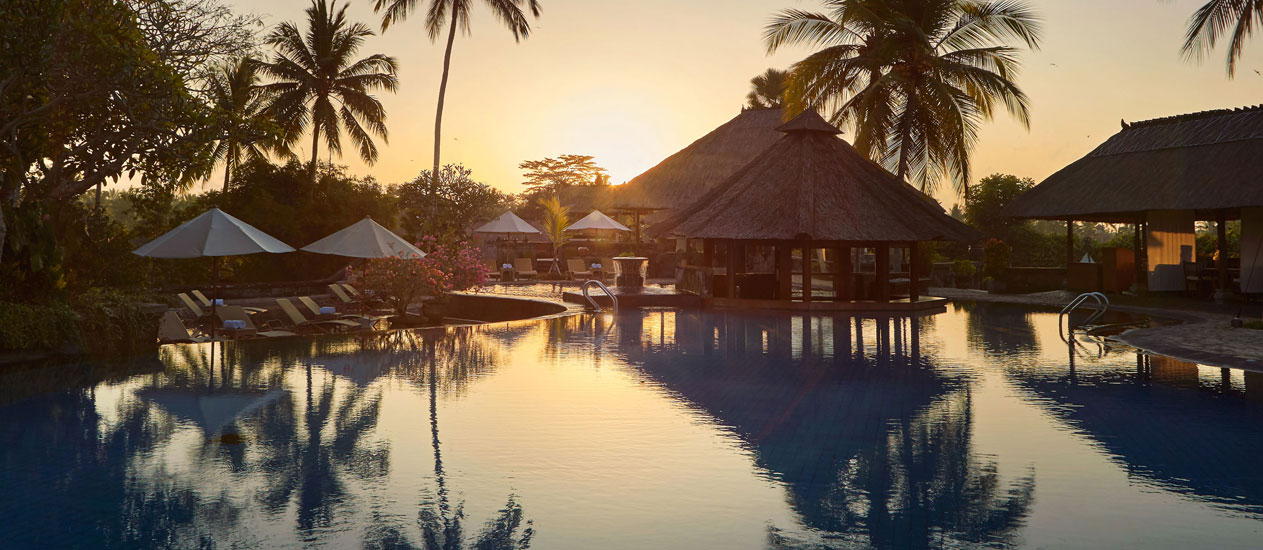 Kamandalu is a beautiful 5-star resort located on a hillside above the Petanu River in Ubud. Its infinity pool provides guests with striking views of the river and forest (as well as the occasional monkey swinging in a tree!) It also has villas with private pools; the villas have similarly spectacular views.
Amandari - Pure Luxury in Ubud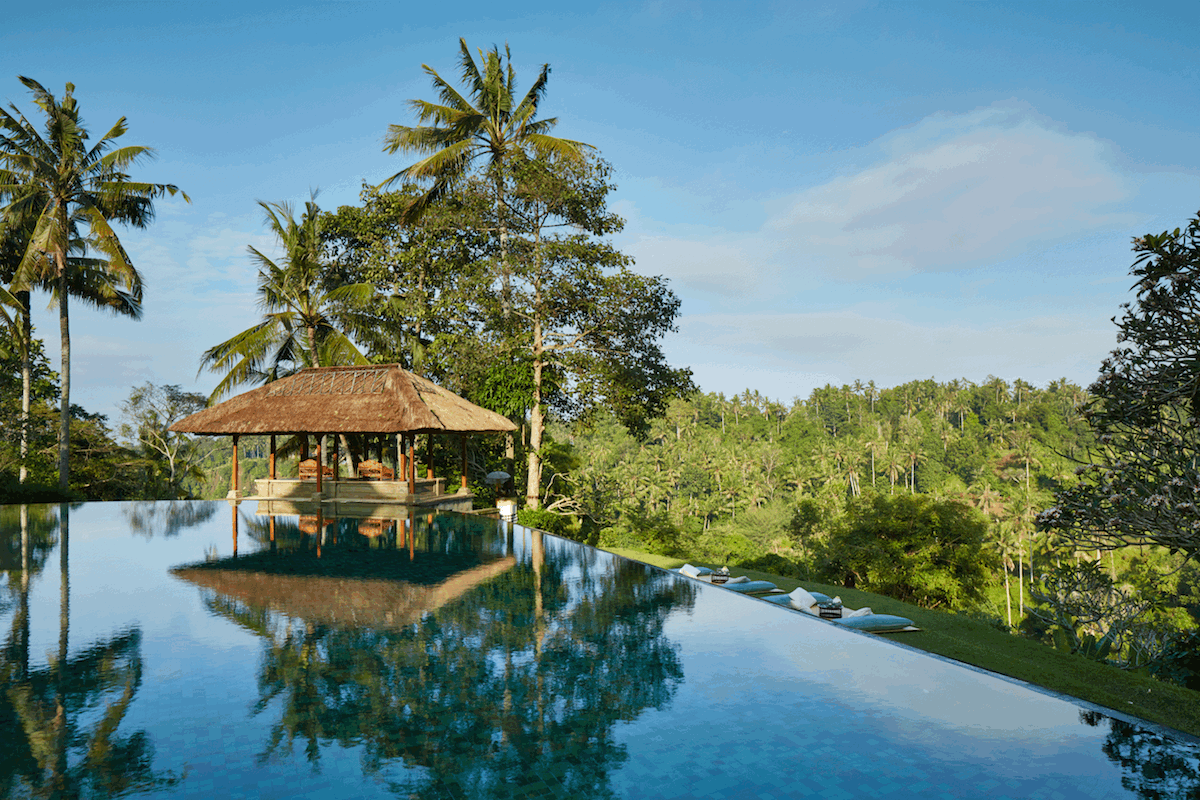 The ultra luxurious Amandari looks out over Ubud rice terraces and Hindu shrines in the Ayung Valley. The resort offers luxury suites, some with private plunge pools, and a villa. Amandari's infinity pool overlooks the jungle.
Hoshinoya Bali - Japanese Hospitality in Ubud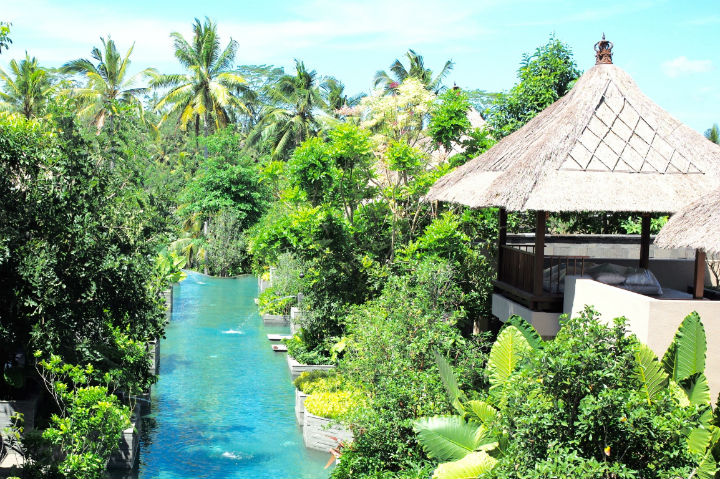 Last on our list of Ubud's Best Infinity Pools is Hoshinoya Bali. Recently opened in early 2017, their resort village concept is built around three swimming pools. It's a unique concept brought to you by the Japanese resort group Hoshino Resorts. Every villa offers access to a semi-private pool area separated by water gardens so you can swim through the resort; the waters of these pools change color and temperature throughout the day. There are also poolside lounges where guests can relax on sofas and sip on cocktails.