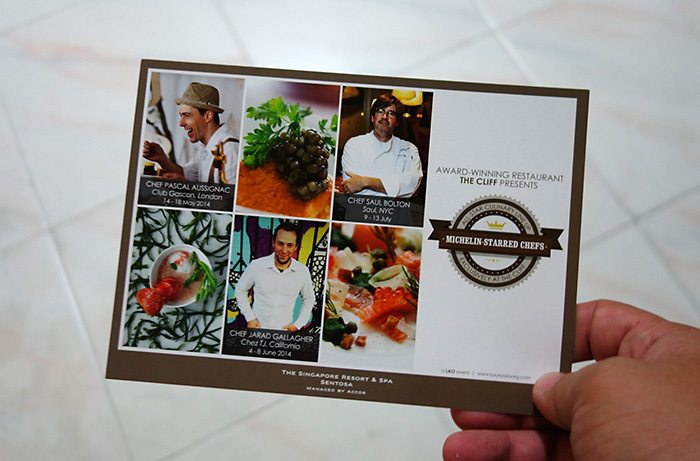 How often do you get the chance to have a Michelin-starred chef cook for you? Not very often for me at least. So when the opportunity to enjoy a six course dinner prepared by Michelin-starred Chef Jarad Gallagher came, I literally leapt at the chance. Every month from May to July 2014, The Singapore Resort & Spa Sentosa is bringing in an array of Michelin-starred chefs to lend star power to award-winning restaurant The Cliff. From 4-8 June, The Cliff invited Chef Jarad Gallagher to showcase his culinary flair.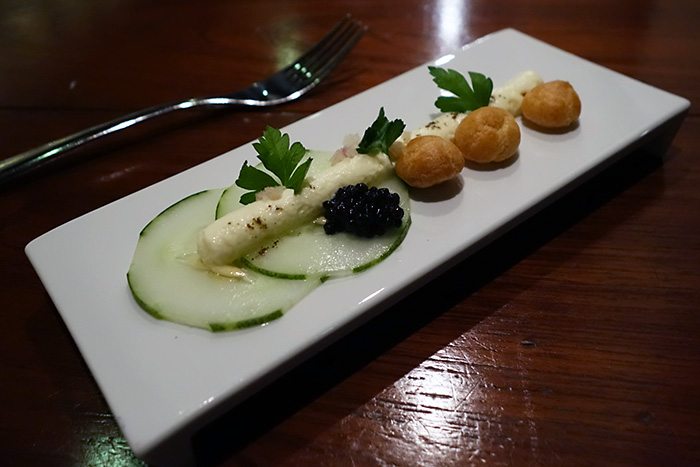 We started dinner with Caviar & Beginet Canapés and it was a nice starter. Especially when the dish was accompanied with a glass of champagne.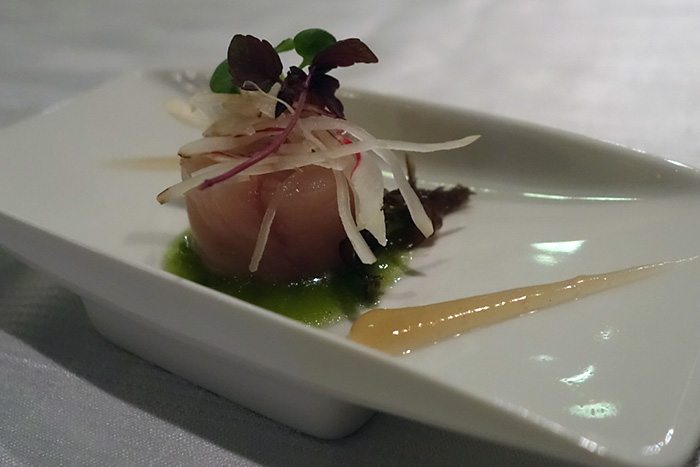 The next dish served was Sashimi of Yellowtail, Seaweed, Yuzu, Radish. The Yellowtail Sashimi was delicious and the fresh fish went very well with the crunchy radish and the citrusy yuzu rounds everything together perfectly.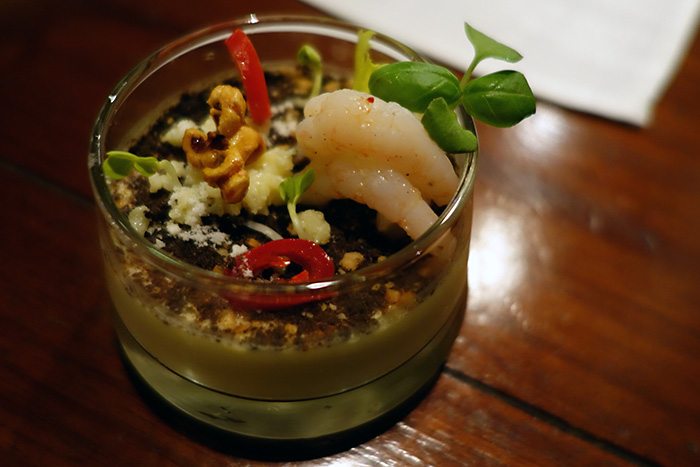 My favourite dish of the entire course has to be Sweet Corn 'Pot of Earth', Shrimp, Mozzarella, Chilli. Presented exactly like a pot of earth with little plants growing on top of it, this dish looked deceptively plain but every spoonful was absolutely delicious. Everyone loved this dish and all the bowls were empty in minutes!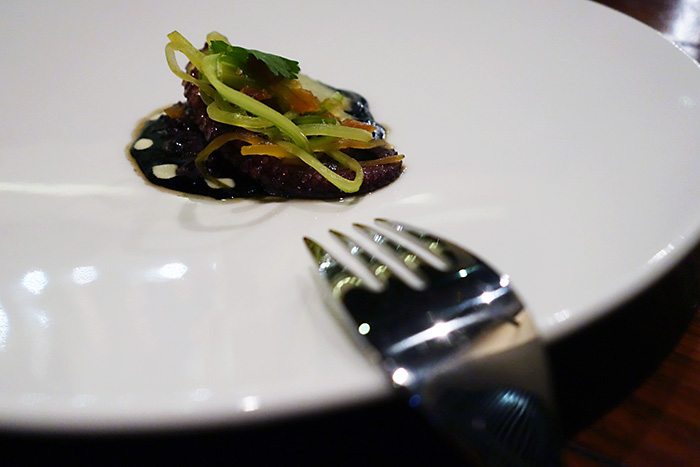 While the 'Pot of Earth' was my favourite dish, the next dish, Spanish Octopus, Forbidden Rice Fennel, Cilantro, has got to be the most interesting dish. Before we started the course, Chef Jarad elaborated that he does not like octopus to be chewy or rubbery so he will be cooking the octopus in a different way. Served in a squid ink sauce with crunchy vegetables, the octopus had a steak-like texture. Chef Jarad shared with us that he spent hours cooking the octopus, repeatedly cooking the tentacles, and then cooling it in ice water.
I have never tasted anything like this before and I doubt anyone does it like Chef Jarad.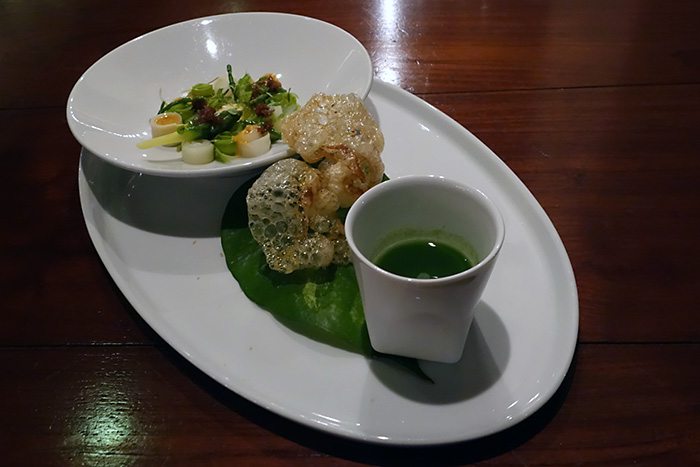 The next dish, Duet of Asparagus, Beef Tandon, Pickled Quail Egg gave me my first experience in molecular gastronomy. Chef Jarad spent days in the kitchen to produce a puffed Beef Tendon using multiple cooking techniques, including the use of a dehydrator.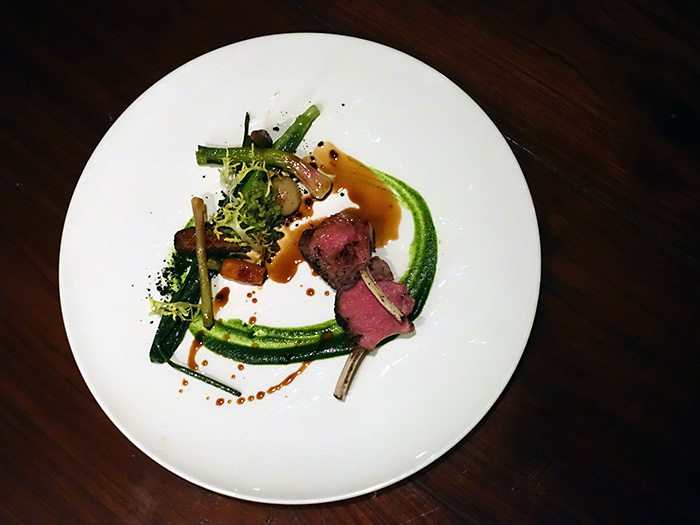 Chef Jarad's Rack of Lamb, Chicory Crust, Root Vegetables, Fava, Truffle is simply a piece of visual art. I took a photo of this dish from the top because it is so beautiful. The lamb was cooked to perfection and the root vegetables adds a nice crunch.
It's hard for anyone to hate soufflé. Especially with one as good as this. Even with a spoonful of milk chocolate, the soufflé was not too sweet and I got a strong taste of passion fruit inside. The homemade yogurt, mint, honey and other sides to the soufflé helped to reduce the sweetness of the milk chocolate.
All in all, a stunning meal from beginning to end, including the beautiful backdrop The Cliff Restaurant provides.
If you missed the chance to taste Chef Jarad's creations at The Cliff, be sure not to miss out on the next culinary guest, Chef Saul Bolton of Saul, New York City from 9 – 13 July 2014. His Michelin-starred restaurant, Saul has held a Michelin Star rating for eight consecutive years and is listed by the Zagat's guide as one of the top restaurants in New York City.
Details
Join Michelin-starred Chef Jarad from 4-8 June or Chef Saul Bolton from Michelin-starred restaurant Saul from 9 – 13 July 2014 at The Cliff.
The Cliff Restaurant
Singapore Resort and Spa Managed by Accor
2 Bukit Manis Road
Sentosa, Singapore
T: 6371 1425
This is an invited food tasting. Opinions are as always, our own.