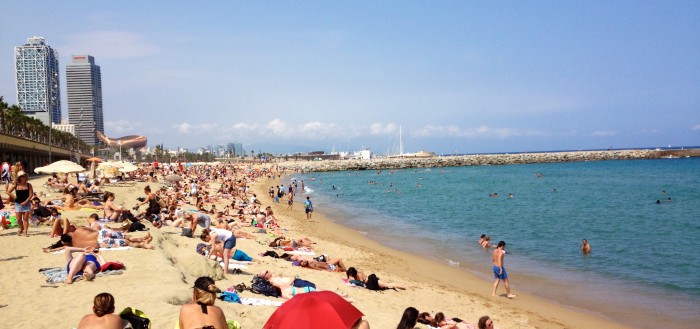 If you're looking for a fabulous beach, authentic food, a wildly vibrant city, and to be immersed into a culture with fascinatingly deep roots…your dreams will come true in Barcelona. As the largest metropolis on the Mediterranean Sea, Barcelona exceeds expectations in terms of its beauty and what it has to offer.
Let's begin with La Rambla, the central strip in Barcelona that is lined with great shopping, amazing food, and sangria that keeps you coming back for more! Eating in Spain is quite different from many other parts of the world; they're all about tapas. Tapas is another word for appetizers or snacks, but in Spain they have developed this idea into a refined cuisine. An authentic Spanish meal will often consist of a wide variety of tapas. There is no shortage of options in central Barcelona to get your hands on these delicious little snacks. Tapas accompanied by a nice cold glass of sangria while sitting along the palm tree-lined pathway down the middle of La Rambla doesn't sound too bad to me!
While you're on La Rambla don't miss out on stopping at La Boqueria food market, located right off the strip. This busy market, lined with a variety of food carts and vendors, goes for aisles on end. Fresh fruit, smoothies, ice cream, meat, seafood, baked goods, you name it! I was in Barcelona for about a week and there wasn't a single morning I didn't stop at La Boqueria and grab a coconut & blackberry smoothie before heading to the beach!
If you continue walking down La Rambla it won't be long until you hit the water. There's a lovely wooden pathway along the waters edge where all the boats are docked. Continuing along this path for about 15 minutes will lead you right to the main beach. The beach stretches for miles and the ocean seems endless. It's is a great place for an early morning run…or if you're like me, the perfect place to lie down and soak up the sun and get ready for the next nights festivities!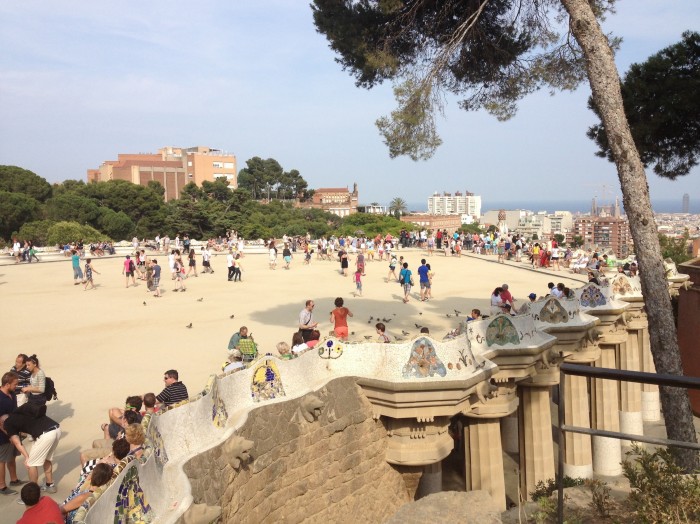 If you can pull yourself away from the beach for even half a day, visiting Park Guell is a must. The park was designed by the world famous Antoni Gaudi in the early 1900s and is absolutely exquisite. It's situated on a hill, allowing for an amazing view of the city below. The detail, color, and precision of this massive park are like nothing I've seen before. If you're a fan of this park then you will also love Gaudi's other masterpiece, Sagrada Familia. Located in the heart of Barcelona, the intricate design of this church inside and out is simply breathtaking.
With so much to see and do it's hard not to fall in love with Barcelona. The people are so kind, their history and culture is fascinating, and the beauty of the city is like none other. Simply put…Barcelona should be a must-see on anyone's travel list!