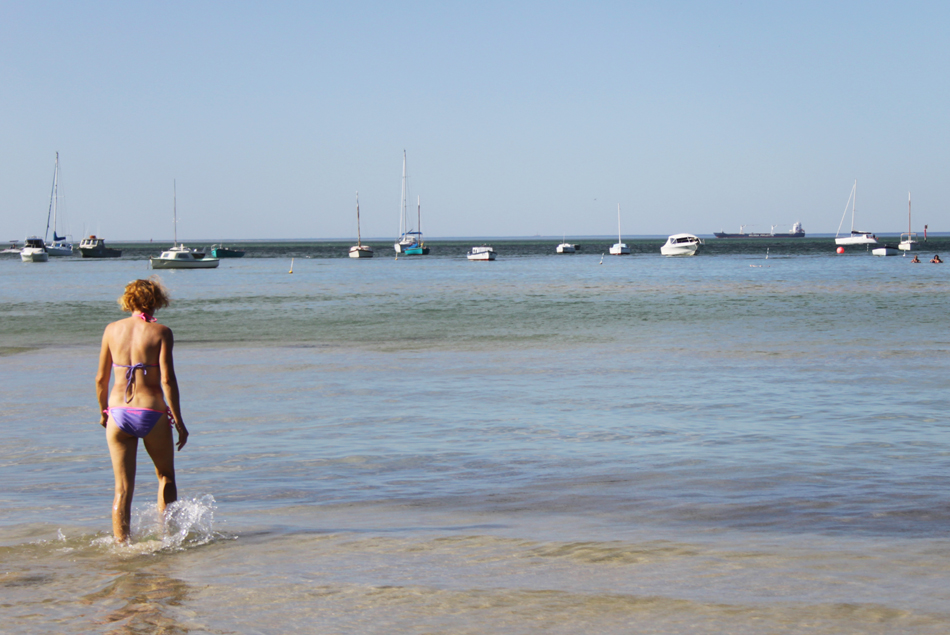 With the temperature expected to reach 40 degrees Celsius on a Sunday in Melbourne, my best options were to either find an air conditioned coffee shop to hide out in for the day, or embrace the scorching heat as many Australians do. I opted for the best of both, and rented an air conditioned car for a day trip to the Mornington Peninsula beaches.
Starting in St. Kilda with my husband and sister in tow we chose the scenic route along esplanade and beach road. The drive had me day dreaming and admiring the luxurious homes along the coast. Dreaming of living in one of these huge home with floor to ceiling windows overlooking the beach was only made possible by ignoring the mortgage that went with them.
Less than 20 minute later we reached Brighton beach for an early lunch of fish and chips. Brighton is famed for the colourful beach huts that are often displayed on postcards and tourist brochures, but we some how missed them on our quick drive through the town.
Continuing west on our beach journey we reached Frankston beach. The fact that there were no available parking spots and lots of cars circling was a good clue that the beach was going to be packed. I hopped out of the car as my husband circled to get a closer look at the action. As I expected not only was the sight of sand replaced with colourful beach towels and beach umbrellas, the first 50 meters of water was packed with people playing in the water.
Knowing our best chance of finding a patch of vacant sand was to head all the way out to Sorento, we made our way to the highway. Less than an hour later we found our selves in the charming town of Sorento. Luckily for us, not only were we able to find a parking spot straight away, we were also able to find a nice stretch of sand in the shade.
In no time our towels were laid out and we were relaxing by the cool turquoise waters of Sorento beach. Through the crystal clear water we caught a glimpse of a small stingray skimming the bottom of the beach and many fish. The water was shallow for around 50 meters out where the boarder to the deeper sea was lined with small boats.
With a plenitude of beaches a short drive from Melbourne, even on a day when everyone is heading to the beach, there is room for a piece of paradise for everyone.
What to eat:
A day at the beach and fish & chips go hand in hand, just avoid the flake, it's actually shark which is a threatened as it is over fished in Australia. Learn more
Car rental:
Many of the well know car rental companies are in Australia including Thrifty. For cheaper but older cars try BC Car Rental
What to bring:
Lots of sunscreen, hat, beach towel and beach umbrella.