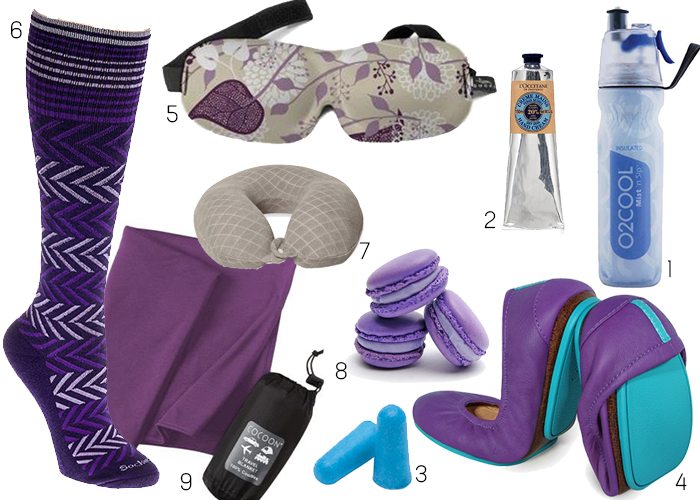 Those tiny cups of water that come with a meal in economy and the occasional offering of water are never enough. To save everyone the hassle, I always bring an empty water bottle and ask for it to be filled up with the first beverage cart. My new favourite kind of water bottles are these Sip and Spray ones. It has a built in spray function to mist your face which might sound funny for a flight, but I see it as being a replacement to those Evian aerosol sprays. Remember them?
Keeping to the hydration theme, a really good moisturiser is a must on any flight. I pack hand, face and body 'cause I'm a bit of a diva that way and find the complementary moisturiser on some flights inferior. L'Occitane Shea Butter is my hand cream of choice.
Ok, I have a baby, but that doesn't mean I want to hear other babies crying on a plane. When my son was really young and fussed a bit on the plane, I always wished I had brought ear plugs to handout to the people around me. Now that would be a sight to see!
I love seeing people get comfy on a long haul with their slippers on laying back reading the paper. Those are the people that get it. We're going to be here for a long time, so we might as well get comfy. I especially love these Slip on Shoes from Tieks because they're compact and can be worn out during the day too.
Gone are the days when economy class passengers get little goody bags of long haul flight essentials: sleep mask, socks and possibly a toothbrush. This doesn't mean we don't need them anymore, it just means we needs to pack our own! Women will appreciate this sleep mask from Bucky that is contoured so it won't smudge your makeup!
I'm always freezing during long haul flights, so thick socks stay packed in my carryon bag so I never forget them. Some people will go one step further and get Compression Socks.
As they say, don't knock it until you've tried it. I never understood those funny looking neck pillows... until I tried it.
8. Snacks
I wouldn't say I'm a picky eater, yes I love fine cuisine but sometimes an ordinary egg sandwich will make me happy. On a not to be named North American airlines flight from Asia to Canada, I was served what I couldn't imagine would even be fed to an inmate. It was inedible. This is where snacks come in handy. It's also a cruel punishment to those around you that are stuck suffering through a bad meal when you're happily munching on cookies, muffins and pastries. My long haul flight snacks of choice.
A travel blanket is a bonus essential for anyone flying long haul in budget. As if it could get any worse than economy...
This article contains affiliate links