Venice Beach, California
Just on the outskirts of sprawling Los Angeles city is this funky fresh beach strip. Start at the Santa Monica Pier and head south by either foot or bike in order to make the most of it. See the lifeguard watch towers made famous by the buxom blondes in red on Baywatch and prepare to be in awe of all the excitement and colorful characters found along the Venice Beach Boardwalk. Here talented artists sell one of a kind pieces, old and young bust some shockingly good moves on roller skates, the tan and buff work up a sweat at muscle beach and all us other folk just get to people perv!

New Orleans, Louisiana
This city has style unmatched by anywhere else in the USA. Famous for it's bead throwing, chest baring antics during Mardi Gras, southern hospitality and Jazz music - NOLA as the locals call it has so much more to offer then just a great place to party. The stunning architecture of the French Quarters and Garden District make exploration by foot your best option. You could spend endless hours wandering the neighbourhoods and checking out the beautiful mansions and eery graveyards.
Alcoholic slushies flow and top 40 music pounds down on Bourban street but over on Frenchmen street you'll find the real gems of chilled out bars filled with some the best live jazz and blues singers. You may also want to think about dropping a few kilos before heading here because there is some damn good grub around town which is sure to add a few inches to the waist line. Local must haves include Po' Boy Sandwich's, grilled oysters and the crawfish boils which are seasonal. ACME Oyster House serves freshly shucked Louisiana Oysters chargrilled with garlic butter so delicious you'll be fighting to lick the plate. For people watching and a caffeine kick head to Cafe Du Mond famous for its doughy beignets and cafe' au lait.
Washington, DC
Museum and history buffs rejoice, this is the place for you. There are so many amazing and free museums and monuments to visit that if time was no constraint you could spend a couple of weeks here. I however had two days and dedicated one entire day to the National History Museum and still didn't get to see every exhibit. Expect to see the world's most famous precious stones, huge animal displays and a very eye opening ocean and environment displays. A visit to DC wouldn't be complete without a visit to the Presidents humble abode, the Lincoln Memorial and of course paying your respects to the fallen soldiers of wars past.

New Port, Rhode Island
This picturesque little town is only a short 3.5 hour drive from NYC and makes for a great escape from the hustle and bustle of the Big City. Spend your days strolling along the beach, playing golf or sailing in the bay. For shopping and a nice bite to eat, head down Bowens Wharf where you will find patios and outdoor bars looking out at the ocean. You also won't want to miss the architectural masterpieces of the 18th and 19th century mansion which New Port is known for, take a tour or just cruise around the pretty neighbourhoods by car or bike. A must eat while in the north east is the New England clam chowder.
Miami, Florida
Going out in Miami is like stepping straight into a Rap music video. The women and men of this town are in a league of their own with their photo shoot ready bodies, and skin tight clothing this is one awesome people watching town. Although the miles and miles of white sand, beachy vibes and hot bodies might have you second guessing your choice of vacation meals, do not leave Miami without sampling some delicious Cuban grub. Los Olas Cafe on 6th street in South Beach is perfect for a tasty, cheap, casual, and authentic Cuban meal and it's only a few blocks from the beach.
For good vibes and giant margaritas the Cleavelander Hotel on Ocean Drive boast a huge outdoor area to enjoy the Miami heat as well as plenty of indoors screens to catch sporting events. If you know how to party hard enough, you will likely catch a few sunrises through foggy eyes. Nothing beats seeing the colors change behind waves and surfers, so get down to the beach. You won't regret it!

Nashville, Tennessee
Spend one night in this lively city and you'll know exactly why it's known as Music City. Home to America's longest running music radio show, The Grand Ole Opry has been running weekly since 1925 in the famous Ryman Auditorium. The show has been a launching point for many famous country singers who continue to come back and perform on it's legendary stage. If you're here on a weekend be sure to get tickets to catch the live show. Another do not miss is rowdy Broadway Street in downtown. This entertainment strip is lined with Honkey Tonk bars and clubs playing live music every night of the week.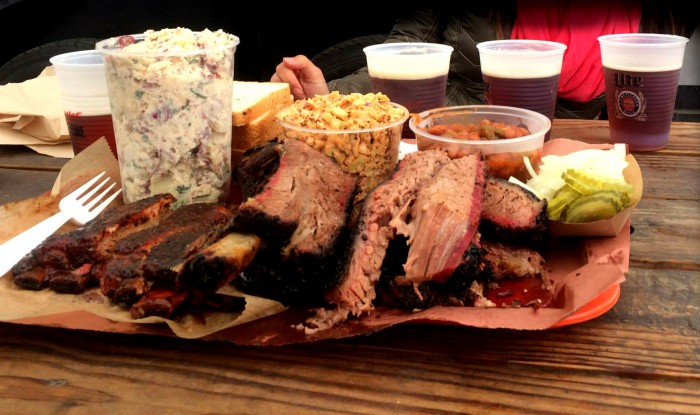 Austin, Texas
This could be up there as one of the coolest capitals in the USA. Not only does it have a thriving music scene but it's also a foodies paradise with Food Trucks galore and BBQ heaven you only need to follow your nose and the crowds to find the very best. Lucky for us our local connections knew a fair bit about the Austin BBQ scene and took us straight to LA Bbq. Any place that is open from 11am 'till "Sold Out" you know is going to be a smashing hit. In order to beat the salivating crowds and avoid a 3 hour wait we arrived an hour early, which isn't so bad when free beer is on offer! In my opinion I would skip sides, just go for gold and go for nothing but meat! The 16 hour smoked brisket and beef ribs will launch you into a foodgasmic trance and leave you with meat cravings possibly for the rest of your life... literally not an under statement this was my most memorable meal of my entire American holiday!

Las Vegas, Nevada
Sin City almost always makes peoples' wish list when it comes to seeing the states and that's not without good reason. Whether you're a gambler or not, Las Vegas is one epic adults playground. Here you can walk the streets sipping frozen cocktails out of super sized souvenir cups, shop to your heart's content, dance til the sun comes up and of course gamble 'till the bank runs dry.
Vegas is also home to hundreds of world class performances such as 8 spectacular Cirque du Soleil shows, which if you haven't seen one before they are sure to blow your mind. To keep cool during those blistering hot days hit up one of the infamous vegas pool parties or try your hand at a swim-up black jack table. To get a feel for vintage Vegas, head to Fremont street the original Las Vegas strip. Here you'll find classic casinos and plenty of party spots, as well as the Freemont light experience. For the foodies there are endless options on the strip but most popular are the hotel buffets - prices and quality vary.
New York City, New York
This iconic American city is a perfect year round vacation spot offering up all the NYC originals such as the Empire State Building, Statue of Liberty, Time Square and Central Park. But every time you head here there will no doubt be something new that has popped up as a must see. Take a stroll on the High Line, start or end at the Chelsea Markets for a bite to eat and to meander through the many stalls. The High Line, an old converted rail track, is now a 1.4 mile stretch of inner city garden.
NYC has no shortage of rooftop bars and our local tour guide brought us to one particularly stunning spot called Gallow Green in Chelsea. Here you you can sip carefully crafted cocktails in a romantic 1920's setting. A good tip for checking out the Statue of Liberty is to take the Staten Island ferry which is free! Certain ferry's have an outdoor area which makes for prime lady liberty sightings especially at sunset. For cheap eats try one of the many Pizza by the slice joints scattered across town or head to Lower Manhattan to Little Italy and China town. The recently completed 9/11 Museum is also said to be worth a visit although we ran out of time and didn't get to confirm this.

My USA Road Trip
I spent 7 weeks driving across the states including the famous Route 66 in a Mustang convertible. How iconic is that?! Along the stretches of highway I passed small towns and met some wonderful people while adding inches to my waistline with every meal. Think American portions and lots of meat. Add a USA road trip to your must travel list and ask me anything about my trip. I'm happy to help. If you need full details of how to travel across America and visit America's top cities, I recommend picking up Lonely's Planet's USA Travel Guide.