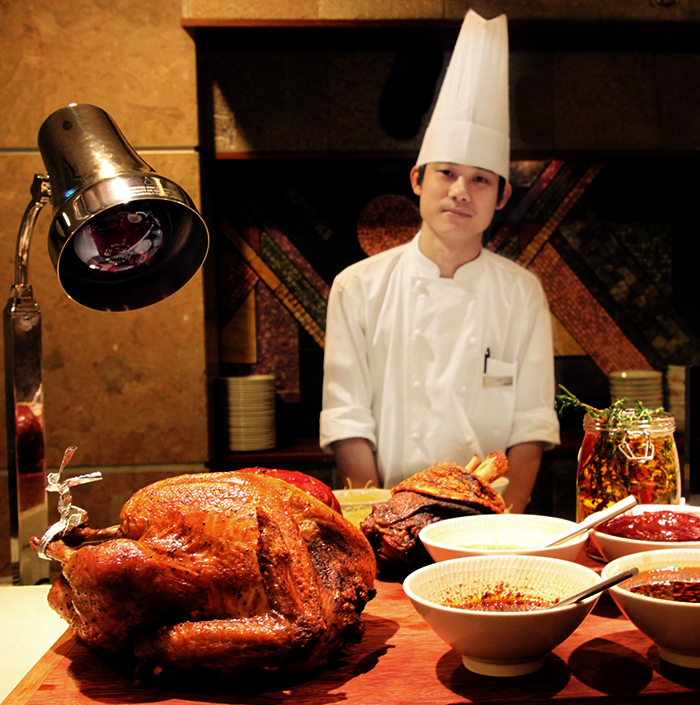 Festive Feasting
Enjoy a Christmas buffet in Singapore at Plaza Brasserie's Festive Feasting from December 15th 2012 to January 1st 2013. During the festive season Plaza Brasserie will be adding on to their large selection of Indian, Chinese, Japanese and other Asian delights and desserts with their signature Pork Knuckles with Spicy Asian and Red Wine Sauce alongside traditional favourites turkey and honey baked ham.
The Buffet Lineup
No feast is complete without variety, and the Plaza Brasserie buffet offers a variety of International dishes to keep everyone happy. In the Indian corner are a selection of freshly made Indian breads and curries, while the Japanese section is full of sushi, sashimi, and shucked oysters. A row of sparkling chafing dishes is filled with alternating tasty delights, including our favorites of Sauteed Brussel Sprouts with Fish Maw and Bacon, Chicken in Oyster Sauce, Stir Fried Beef in Mango Sauce and PARKROYAL's signature dish: Crispy Soft Shell Crab.
The buffet continues with a must try whole baked salmon cooked perfectly, shelled prawns on ice, mussels, and a variety of salads. The dessert station adds on to it's lineup of ice cream, fruit, cakes and mousse cups with Christmas Log Cake, Christmas pudding, assorted Christmas cookies and much more. Let the festive feasting begin.
Details
Festive Feasting
December 15th 2012 to January 1st 2013
15 to 30 December 2012 (Except 24 and 25 December)
Lunch Buffet: Adult $40++ Child $24++ Dinner Buffet: Adult $55++ Child $33++
24 and 31 December 2012
Lunch Buffet: Adult $40++ Child $24++ Dinner Buffet: Adult $80++ Child $48++
25 December 2012 and 1 January 2013
Lunch Buffet: Adult $60++ Child $36++ Dinner Buffet: Adult $60++ Child $36++
Enquire about UOB cardholders' and early bird discounts. For enquiries or reservations, please call 6505 5710 or email fb.prsin@parkroyalhotels.com
PARKROYAL on Beach Road
Plaza Brasserie
7500 Beach Road
199591, Singapore
T: 6505 5710
This was an invited food tasting