If you've already done everything on our ultimate list of things to do in Singapore with kids and are looking for a short beach getaway from Singapore that will keep the whole family happy - head to one of these family friendly beach destinations.

Bali, Indonesia
Head to the resort area of Nusa Dua for a beach lined with huge resorts, most of which are perfect for families. Here the beaches are clean with minimal sellers trying to pawn their stuff and lots of water sports on offer. Most of the large resorts have multiple pools including a kids pool and kids club. The Westin Resort Nusa Dua is a classic family favourite, and we also recommend trying the newer resorts Sofitel Nusa Dua and Ritz-Carlton Nusa Dua, both of which have a kids club and kids pool.
Why Bali: Everything you could want on 1 island. Restaurants, resorts, activities, culture, animals, nature. You name it, Bali has it.
Flight time from Singapore: 2 hours 30 minutes
Airlines: Many major airlines including multiple budget. KLM often offers great rates from Singapore to Bali. Check flights to Bali here.
Kids activities: water sports, Waterbom Bali (water park in Kuta), Bali Safari and Marine Park
Suggested articles: Bali's Best Kids Clubs, 10 Things to do in Bali, Bali Travel Guide

Penang, Malaysia
Penang is perfect for a quick family getaway from Singapore, with 2 to 3 days being just right. The island is well known for it's local cuisine, street art and restored heritage buildings. It's fun to hop on a trishaw and explore Georgetown's sights. Head to the beach area of Batu Ferringhi where Shangri-La's Golden Sands Resort will keep the whole family happy with it's own indoor kids park and lots of kids activities.
Why Penang: Penang has culture and history in Georgetown as well as the beach in Batu Ferringhi
Flight time from Singapore: 1 hour 15 minutes
Airlines: Fly direct from Singapore with Air Asia and Jetstar. Check flights to Penang here.
Kids activities: Penang Escape Theme Park, Made In Penang Interactive Museum, Penang Youth Park, Adventure Zone
Suggested articles: Penang Travel Guide

Phuket, Thailand
For a short beach getaway from Singapore with the family, Phuket is on many people's lists. Family friendly resorts abound and adults can enjoy spa treatments while the kids are occupied at their resort's kids club. Swissotel Resort Phuket is a popular spot for families with their multi bedroom suites and optional kids set up, where they will furnish the room with kids furniture and toys. Other newer resorts to consider include Novotel Phuket Karon Beach with a large kids club and separate kids pool or Pullman Phuket Arcadia where the parents get a luxurious resort and the kids get a great kids club and outdoor playground.
Why Phuket: Beaches, Thai food and kid friendly attractions
Flight time from Singapore: 1 hour 40 minutes
Airlines: Singapore airlines, Bangkok Airways and Budget Airlines. Check flights to Phuket here.
Kids activities: Splash Jungle Waterpark, The Kids Club, Patong Go-kart Speedway
Suggested articles: Krabi versus Phuket, Phuket's Most Stunning Resort Pools

Krabi, Thailand
Krabi is popular spot for families that want a more laid back beach getaway. Much quieter than neighbouring Phuket, the beaches in Krabi are less crowded. Near by Railay is a not to be missed gem which is only accessible by boat, but still attached to the mainland. Railay feels like an island getaway with Pranang Cave Beach being a highlight.
One of the best things about Krabi is that it's generally less expensive than Phuket, while still having a few high end resorts and lots of budget options. Popular family resorts include Holiday Inn Resort Krabi Ao Nang Beach and budget friendly ibis Styles Krabi Ao Nang.
Why Krabi: Nature, scenery, Thai food and budget friendly
Flight time from Singapore: 1 hour 40 minutes
Airlines: AirAsia. Check flights to Krabi here.
Kids activities: Island hopping by boat
Suggested articles: Krabi versus Phuket, Ao Nang Beach Krabi, Railay Krabi, Krabi Beaches

Pattaya, Thailand
With the introduction of direct flights from Singapore to Pattaya, and flights being really cheap (starting at S$65 round trip on AirAsia), add Pattaya to your list of short weekend getaway options. Families will especially love Pattaya, if they know where to go and not go. Pattaya can be seedy and attract unsavoury types, but they mostly congregate around Walking Street. Jomtien beach on the other hand has for many years been a popular destination for Thai families visiting from Bangkok and offers a more kid friendly alternative to neighbouring Pattaya beach.
Family friendly attractions are seemingly endless in Pattaya with more options than any of the other beach destinations on our list. To name just a few, there's Underwater World, Cartoon Network Amazone Waterpark, Pattaya Floating Market, Pattaya Sheep Farm and Silverlake Vineyard.
Family friendly resorts include Mercure Pattaya Ocean Resort which is budget friendly and has a mini waterpark inside, Veranda Resort Pattaya for a more luxurious getaway while still having incredible family rooms with their own plunge pools and bunk beds, and the ever popular Centara Grand Mirage Beach Resort Pattaya with its own full scale waterpark, private beach and kids club.
Why Pattaya: Amusement parks, and kid friendly attractions.
Flight time from Singapore: 2 hours
Airlines: AirAsia. Check flights to Pattaya here.
Kids activities: Underwater World, Cartoon Network Amazone Waterpark, Pattaya Sheep Farm, Silverlake Vineyard and lots more.
Suggested articles: The Ultimate Toddler Vacation to Pattaya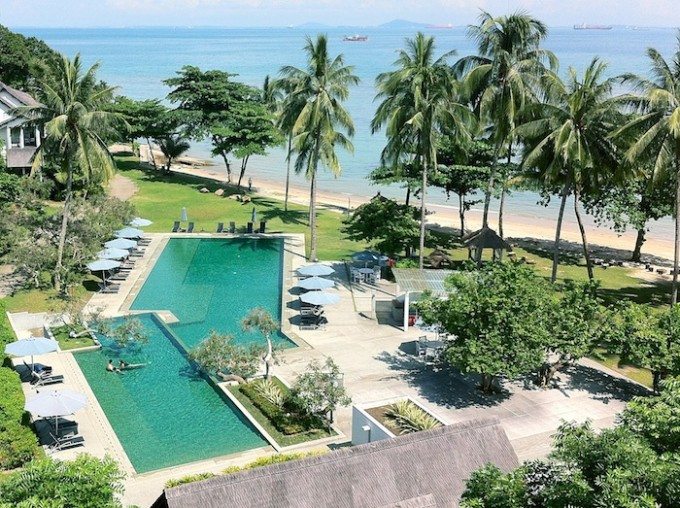 Batam, Indonesia
For one of the quickest beach getaways from Singapore, head to Batam Island, Indonesia. Being accessible by boat, quick customs lines and many resorts being close to ferry terminals, you could go from home to resort in less than 2 hours depending on where you live and where you stay. The con to being so easily accessible from Singapore is that the prices resemble Singapore more than Indonesia.
If a quick beach getaway is what you're after, head to Turi Beach Resort which is only 5 minutes from Nongsa ferry terminal. If non-stop kids activities is what you're looking for, head to Harris Resort Waterfront Batam for cheap rooms and fun for the kids.
Why Batam: Quick and easy
Time from Singapore: 45 minutes by ferry to Nongsa ferry terminal.
Ferries: Batam Fast, Sino Ferries
Kids activities: Watersports, kids clubs
Suggested articles: Batam Versus Bintan