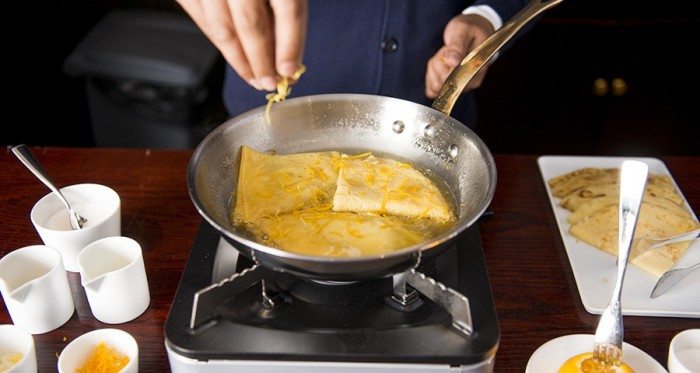 Nothing beats the theatrics and sweet delicacy of a Crêpe Suzette. The wafer thin crêpe, the fiery explosion of the flambé right in front of your eyes and of course the perfect balance of citrus and liquor which makes this one of France's most famous desserts. Now that I have you drooling, here's a look at where to get your hands on an unforgettable Crêpe Suzette in Singapore.
Mr & Mrs Maxwell's
What's not to love about a place with flambéed desserts, all day breakfast and is set in a beautiful white washed heritage building with striking red windows shutters? This homey restaurant has a menu inspired by a couple's world travels and includes dishes from France, India, the Mediterranean and even England, with English style fish and chips. But the highlights here are their envy inducing flambé desserts including (of course) the Crêpe Suzette and Baked Alaska.
Mr & Mrs Maxwell's 28 Ann Siang Rd, Singapore 069708
Henri Charpentier
The most famous place for a flaming Crêpe Suzette in Singapore has got to be Henry Charpentier. With an extravagant list of show stopping desserts, if you were to only try one in your life, make it one from here. Come for afternoon tea (only available during the week) to enjoy a Crêpe Suzette alongside a tower of sweet and savoury delights or as a finishing touch after dinner.
Henri Charpentier 9A Dempsey Rd, Singapore 247698
The White Rabbit
The place to go when you want to enjoy your Crêpe Suzette in a beautiful 1930s Ebenezer chapel which has been restored to all its prior glory. The ornate glass windows and whimsical setting will have you prolonging every bite of your flambéed dessert, which is big enough to share. The White Rabbit has a menu as impressive as its surroundings including a 4 and 5 course prix fixe menu which are perfect for a special occasion.
L'Angelus
It's no surprise that one of Singapore's strictly French restaurants is on the list of where to sample this fine French dessert. Even the name on the menu is impressive: Les Crêpes Suzette 'devant vous' flambées au Grand Marnier (I'm sure it sounds much nicer in a French accent)! Other specialities of L'Angelus include their selection of Foie Gras dishes.

L'Angelus 85 Club Street, Singapore 069453

[imagebox maintitle="5 Dessert Cafes to Satisfy Your Sweet Tooth" subtitle="" image="https://sumabeachlifestyle.com/wp-content/uploads/2016/03/2am-dessertbar-Singaore.jpg" color="white" space="60" link="https://sumabeachlifestyle.com/singapores-top-dessert-cafes/"]