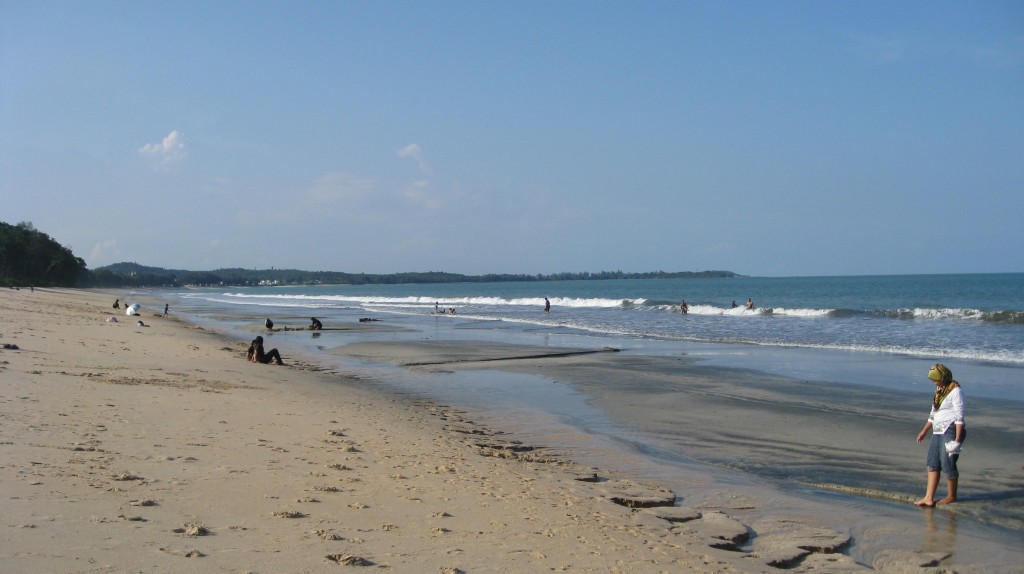 During a search for new beaches around the region, we decided to venture across the water to Desaru. When asking around about what people thought about Desaru, every one including travel agents recommended to go to Bintan or Batam in Indonesia instead. Many people complained that the resorts in Desaru are old. As we only had 2 pages in our passports left and had already purchased our visas for a trip to Australia in January we decided to head to Malaysia purely because Indonesia's visa takes up a whole page in our passports.
We decided to stay in a Villa at the Desaru Golden Beach Resort, part of the Desaru Golf & Country resort, thinking maybe we could get some golf in while checking out what Desaru has to offer. Pretty much every thing in the last sentence didn't happen. The golf course was closed and the "Villa" is really a cabin with old tiled floors and very basic furnishings. Once we reminded our selves that we like to camp, and compared it to camping, it was pretty nice. So if you know what to expect, a very basic beach front accommodation, it's not bad. We were right along the beach with a beautiful sea view and it was a nice treat to hear the waves crashing at night. There was not much to do here except walk along the beach and lay around the pool. We had no interest in going on an excursion to a fruit or animal farm.
Although we stayed at the Desaru Golf and Country resort, on the way back we ran into a group of people that had stayed at the Lotus Desaru Beach Resort that is along the same strip and they were raving about it. They were there for a conference and said the hotel was really nice and big. We were even more envious of them because we were on the 7:10 am ferry with no breakfast and they all had large breakfast takeaway containers with fruit and pastries from their hotel. Luckily they were nice enough to share with us. So don't let the one old resort deter you from going to Desaru, just choose the resort that suites what you are looking for.
Tips:
Desaru is easily accessible from Singapore by a 30 minute ferry ride from the Changi ferry terminal in Singapore to Tanjung Belungkor in Malaysia, followed by a 45 minute car ride to one of the resorts along golden beach.
Check out the Penguin website for ferry service
Have any more Desaru tips? We would love to hear about them, add your tips to the comment form below.