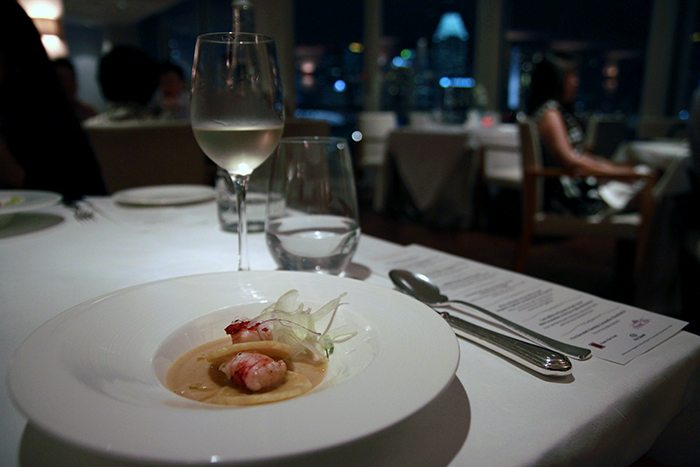 What happens when world-renowned Italian Master Chef Giacomo Gallina makes a one-week guest cooking appearance at The Lighthouse? A week long of sold out dinner tables and limited lunch spots remaining is what happens!
Our night starts as any visit to The Lighthouse restaurant at The Fullerton Hotel should, with drinks at the restaurant's rooftop bar. While enjoying views over Marina Bay, we try out two of their signature cocktails: The Beacon and Heritage. Two boozy delights not to be missed. The Heritage, a mix of Martini Bianco topped with Presecco and flavoured with Amarena Cherry is a great classy cocktail, as anything in a champagne flute makes me feel classy. Meanwhile, Tom proved that The Beacon, a fruity and fresh cocktail goes down a bit too easy, finishing two before I can even finish my first. A taste of his drink and there is no trace of vodka flavours. I'm sure it will sneak up on him later though.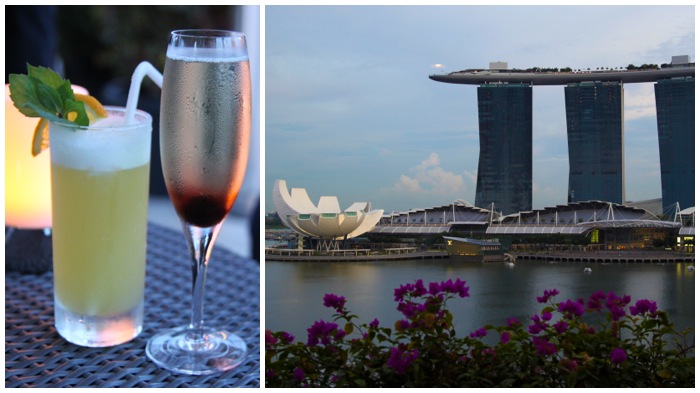 After the sun sets, we make our way to our table to get ready for Chef Giacomo Gallina masterpieces in the form of a seven-course degustation menu with wine pairings. The first course of Uevo Perfetto (perfect eggs) arrives. A creamy soup flavoured with celeriac cream, black pepper and sweet Taleggio cheese, with a soft egg in the middle. Creamy, rich and unique with the egg, it sets the stage for the evening.
The next course to arrive is lobster set in a white peas cream with chick peas cake and truffle. A taste of the dish and Tom and I are looking at each other thinking "This tastes familiar". Then it hits us, "It's like French Canadian split pea soup!" We are quickly hushed by one of our fellow dinners, "Shh, don't let the chef hear that!" Ok, please don't tell Chef Giacomo Gallina that we said that. This dish is much classier than any split pea soup, and the lobster is a table favourite.
An Italian dinner doesn't seem complete without pasta and our 3rd course of handmade Tagliolini with fresh anchovies is one of the chef's favourites. He tells us, it reminds him of traditional Italian fare.
Next up is a potato gnocchi with prawn, but this is no ordinary gnocchi. Instead, the gnocchi is flavoured with grated lemon and served in a vanilla scented sauce. A unique dish that has me declaring to the table "Oh my goodness, this is amazing! My standout favourite so far." I can tell not everyone at the table loves it as much as I do, but everyone's different.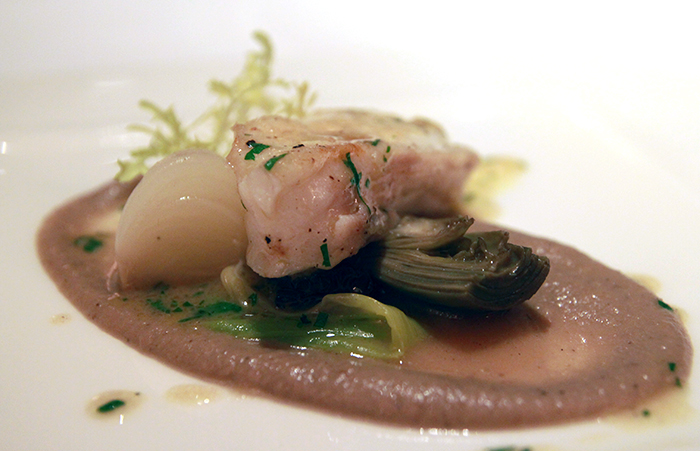 Then the next dish arrives, white turbot fillets with artichokes and morel mushrooms served in an eggplant purée. Now I'm confused as to which dish I like the best, but hey there's no need to decide is there?!
Just when I think nothing can top the last two plates, comes out Chef Gallina's rock salt baked beef entrecôte with caramelised apples and foie gras in brochette sauce. A steak so good, it has me realising that if my mom could make steak like this, I never would have gone vegetarian in my teens. Sorry mom!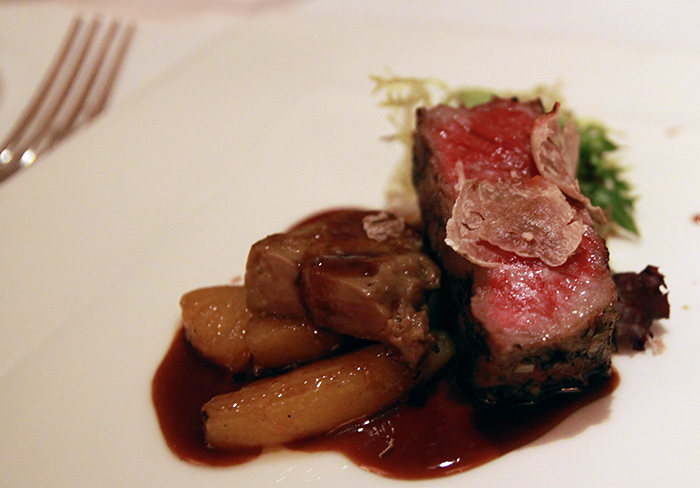 The meal comes to an end with a glass of Pio Cesare Moscato D'ásti 2012 and a plate of 3 different desserts - a honey ice cream, truffle scented catalan crème brûlée and a chocolate hazelnut cream dessert. A sweet ending to an impressive meal.
So what else happens when Italian Master Chef Giacomo Gallina makes a guest appearance at The Lighthouse at The Fullerton Hotel? A week long of unforgettable dinners! Just don't have too many The Beacon cocktails. Eh hem, Tom...
Details
On from 11 to 17 November 2013. Lunch tables at time of publishing still available.
Degustation Menu
$188++ per person
$288++ per person with Wine pairing
A la carte menu is also available.
The Lighthouse
The Fullerton Hotel
1 Fullerton Square
Singapore
For reservations, please call (65) 6877 8933 or email thelighthouse@fullertonhotel.com