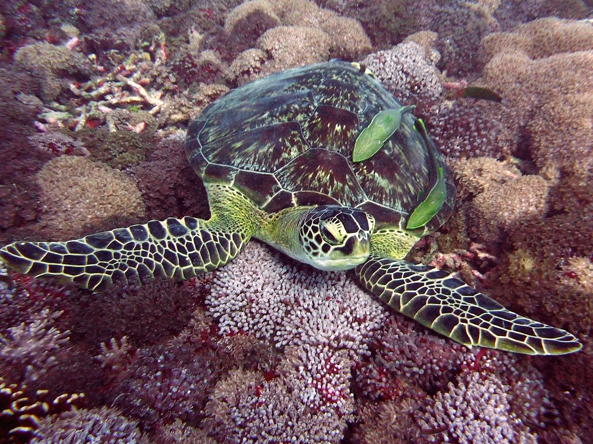 Diving is always an unworldly and unforgettable experience, however my dive to Meno Wall just off Gili Air was by far the most magical dive I have ever done. It's a 20 meter dive which means that anyone with their open water certificate can do it and people that prefer to snorkel can still enjoy great views of the fish and coral.
When we began our descent it seemed a bit murky and baren with scattered fish and no coral to speak of, but as we moved along over the ocean floor we finally came to low reef with stunning coral of all sizes and shapes. Thousands of multi colored little fish floated in and around the coral as well as turtles, my favorite sea critter of them all. What made this dive so unforgettable was spotting about 6 different sea turtles sleeping along the coral bed with 3 of them off in dream land while perched in bowl shapped coral perfectly fitting there sleeping bodies. I've never seen something more adorable. It was a shot out of The Little Mermaid, with the turtles so lazy and peaceful in these coral beds that looked like they were made for them.
We hovered right above the turtles within arms reach, being careful not to disturb there slumber. I could have spent hours underwater just watching them sleep with the world of fish swimming around them.
As we moved on to a gorgeous coral wall, we found more colored fish, some eals and even a lobster. I highly recommend this dive spot if you are in Lombok or the Gilies.
Diving trip was with Dream Divers. Lombok and the Gilies are located just a short plane ride or couple hour speed boat ride from Bali, Indonesia.