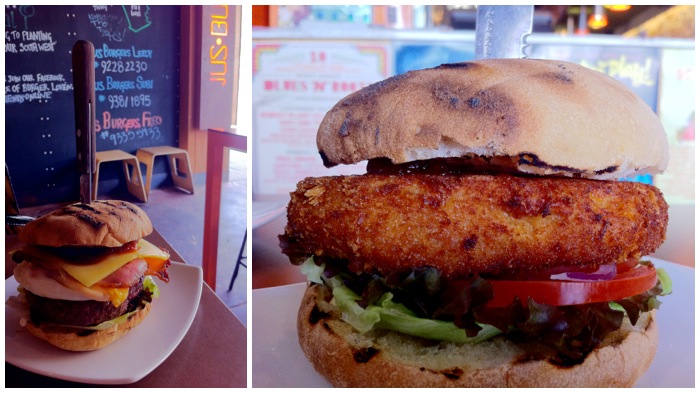 Having been voted as the best burgers in Perth, us self proclaimed burger connoisseurs had to put Jus Burgers to the test. We stopped by the Northbridge location (1 of 4 locations in Perth) with a seat looking over the street. A look through the menu and yes they do serve "jus burgers" and a lot of them. Beef, organic beef, wagyu beef, lamb, chicken, fish, kangaroo, boerwors and 4 different kinds of vegetarian burgers. Wow. With prices starting a $11.50 for an Original Beef burger, my husband Tom decided on aMullet Burger ($15.50 AUD), while I tried a Pumpkin Burger ($13.50 AUD).
My Pumpkin Burger came crusted in roasted panko crumbs and topped with goat's cheese, basil pesto, veggies and the most amazing sauce. Bite after bite of pure delight. Honestly the best veggie burger I have ever had in my life. Tom's uniquely named "Mullet Burger" came with all of the fixings: bacon, egg, beetroot, cheese, an Australian beef patty and smothered with sauce. The conversation during the whole meal was how amazing our burgers were, from the patty, sauce, down to the bun. Oh man.
What makes Jus Burgers really special, besides their amazing burgers, is their commitment to quality with a "fresh" no freezer allowed policy. They support West Australian (WA) suppliers by using lots of local ingredients. Not only does this support the WA economy it also reduces their carbon footprint. We love a company that prides themselves on caring for their customers, neighbourhood and environment.
Jus Burgers Northbridge
Shop 11/189 William St
Northbridge, Perth, WA
T: 08 9227 0668
W: jusburgers.com.au