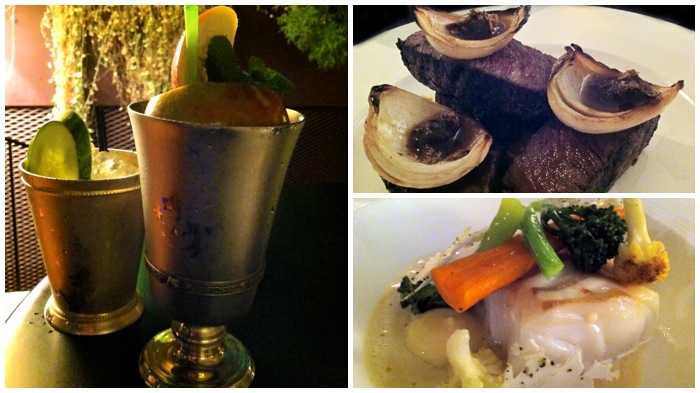 Opening to much fanfare in June of 2012, POLLEN helmed by Michelin-starred chef Jason Atherton has been the talk of the town for some time. During a visit to Gardens by the Bay, it was time for my husband Tom and I joined by our friends Pam and John to finally see what all of the fuss is about.
Being an impromptu visit without reservations, the hostess ensured us she would try to get us a table as soon as possible. To pass the time she suggested we head upstairs to the café styled dining area for drinks and maybe even a tour of the Flower Dome since complementary entry is included. With a tiled floor and wrought-iron tables and chairs, upstairs is decidedly casual. A more alfresco, dining in a garden environment. Considering the theme, Tom and I decided to start with garden inspired cocktails. An Eastside Julep for me and a POLLEN for Tom. The Eastside Julep (S$21) uses a mixture of Bombay sapphire gin, elderflower, fresh lemon juice, mint and comes garnished with a cucumber. A very fresh drink where the taste of cucumber is actually quite prevalent. Tom's POLLEN (S$23) cocktail was a mixture of Foursquare spiced rum, lime & grapefruit juices, fresh passionfruit, Cointreau, Anise, almond & rosewater syrup. A truly incredible combination. Before we could finish our drinks or even think about walking around the Flower Dome, our table downstairs was ready.
Looking over the menu of mainly Mediterranean-inspired modern European cuisine, Pam and I both decided on the Roasted Brittany Cod (S$66) accompanied by cauliflower cheese puree, clam chowder, and vegetables. Tom ordered the Rangers Valley 300-Day Tenderloin (S$78), wagyu beef cheek with horseradish mash while John the Rack of Lamb, a braised shoulder served with artichoke, and sheep's curd. One taste of the clam chowder in my dish and I immediately thought how salty it was, a bite into the fish and Pam and I both looked at each other noting how bland it tasted. After a second of thought, we realised we should eat the fish mixed with the soup to even out the flavours. Much better. Tom seemed to be the happiest of all of us nodding his head with a mouth full of tenderloin while pointing at the dish with his fork "This is goood".
After a few glasses of wine and mignardises to end the meal, we hopped on the restaurant's buggy which rocketed through the sidewalks to Marina Bay Sands so we could catch a cab home. A truly memorable night of great food and company set to the backdrop of Singapore's Flower Dome. We will be back again when we have another $500 to spend on a meal.
POLLEN
Flower Dome, Gardens By The Bay
18 Marina Gardens Drive #01-09
Singapore
T: +65 6604 9988
W: www.pollen.com.sg