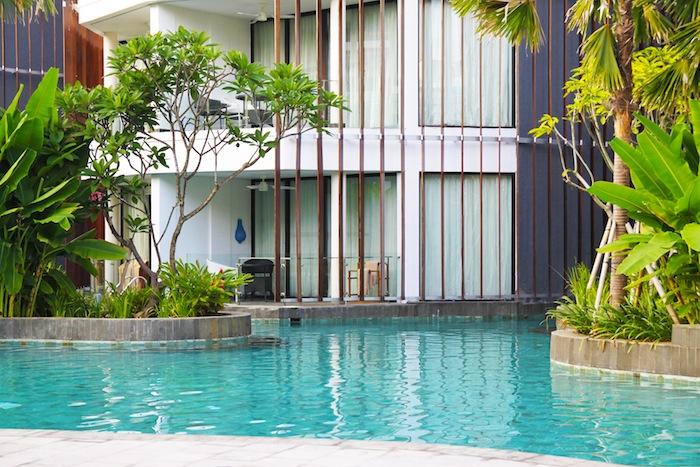 Dressed in my bikini and my husband Tom in his swim trunks, we look at each other and ask "Where should we swim to first?" We decide the swim-up bar is the best place to start. As we walk off the patio of our suite into the hotel pool, we casually breaststroke our way to the bar. Why walk when you can swim? That's how we choose to get around the newly opened Le Méridien Bali Jimbaran - by breaststroke, backstroke or wading through the water.
Staying at this brand new hotel has lots of perks. Besides being able to swim around most of the resort, we can walk out the back door of the hotel straight onto the strip of the famous Jimbaran beach seafood restaurants. This is where visitors from all over Bali flock to enjoy a freshly barbecued dinner on the beach. Not only is Jimbaran beach a hot spot at night, it's also the perfect place to unwind during the day on the soft white sand beach.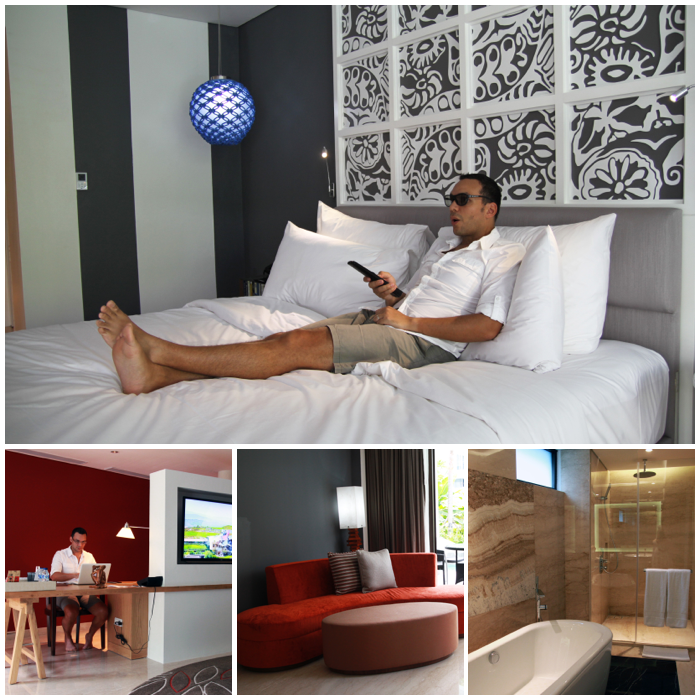 Today we are staying in, enjoying everything the hotel and our room has to offer. Our Aqua Studio Suite with lagoon access, has everything a working couple needs: a large desk with all of the hook ups, and complementary internet access. But most importantly everything the working couple needs to get away from work and relax: an oversized bathroom with soaking tub, a separate dining and seating area by the patio and a 42" 3D TV. Who knew how much fun a 3D TV could be?!
After our dip in the pool, we make our way to the hotel's ice cream parlour, WaLa Gelato Parlour. Putting the guy behind the counter to work, we sample a few of the different flavours - mangosteen, banana, jackfruit and coconut. Then sample a few more - rum & raisin, chocolate and vanilla. I know, I also hate it when people to try all of the flavours, but they all looked so good! We finally decide on a waffle cone with rum & raisin and banana for Tom, and a cone of banana and chocolate for me. The banana is obviously both of our favourites, we love the taste of real local bananas.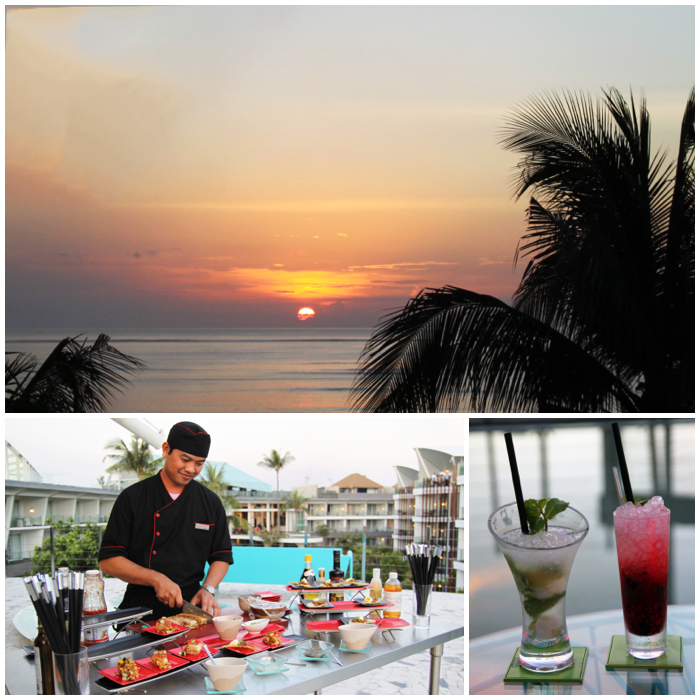 After lounging by the pool, we swim back to our room to get ready to catch the sunset from the Sky Bar. On the rooftop overlooking the ocean, we arrived just in time to watch the sun slowly lower into the ocean. As the sky turns from orange to dark blue, we grab a few complementary tapas, order up a round of cocktails and just take in the atmosphere. The perfect way to start the evening.
For dinner, we hear the hotel's Bamboo Chic restaurant specialises in Pan Asian cuisine made with mostly local ingredients, 70% of which are organic. This already makes it a must visit in our opinion. Serving dishes from different countries around asia, the Pork Hock (a Chinese dish) comes highly recommend by all of the staff. It even has it's own video on YouTube showing how it's made. Let's just say a lot of preparation, 36 hours of braising and even wagyu type treatment of the pig goes into this dish. With all of that work, we have to give this one a try.
The pork comes beautifully presented, topped with thinly sliced pickled vegetables as well as edible flowers. A few bites and the meat is tender on the inside with just the right amount of crispiness on the outside. The sweet flavours of soy sauce and spices perfectly complement the dish. We can see what all of the hype is about.
To accompany the Pork Hock, we order a serving of Crispy Seafood, a Thai dish with green mango, papaya, pineapple and herbs, a side of Lawar, a Balinese dish of local green beans, toasted coconut, chicken floss and fried peanuts as well as Eggplant Thai Curry made with small round local eggplants, tofu, organic peas and long beans. All excellent and way too much food for the two of us.
No matter how full we are, once dessert comes we miraculously always find room. In this case when Batu Bedil, a local dessert of sweet potato dumplings with palm sugar reduction and coconut ice cream is placed on our table we could have easily gone for seconds. It's that good.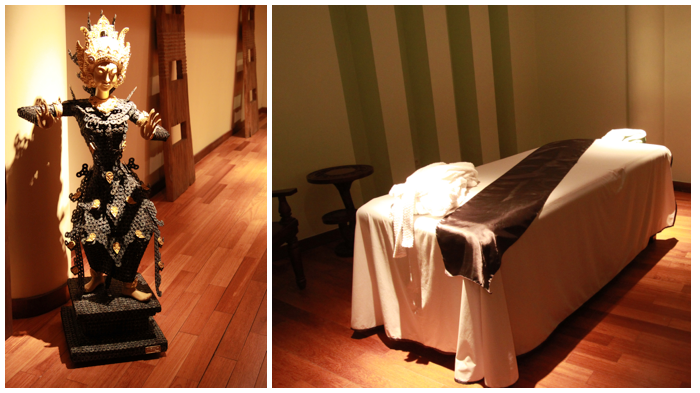 We end our meal with a few Frozen Mint Lemonades and wait for the food to settle before heading upstairs for the ultimate way to end the night - massages at Serenity Spa. Tom opts for the signature Meridian Stress Release Massage while I choose to relax in the room. He emerges over an hour later dopey eyed with a grin of satisfaction on his face. I ask "How was the massage?" to which he responds in a very zen tone voice "Wonderful. I told her I had pain in my right shoulder from tennis, and she really worked that area over. Such a great massage to recover from my workouts and incorporated thumb rolling pressure along my spine and reflex pressure points. Exactly what I needed." Needless to say, we awoke the next day thoroughly relaxed and refreshed.
We wake up slowly in the morning with freshly brewed coffee in the room, and a long soak under the rain shower head before heading to breakfast. For breakfast, as we scan the room we are happy to see a large selection of Western dishes, Asian dishes, and Western dishes with an Asian twist like our favourites: Pandan Waffles and Pandan Pancakes topped with real maple syrup. The buffet highlights for me are Eggs Benedict, natural yogurt with honey, and a large selection of fruit and pastries. What makes the breakfast spread really special is a "Discovery Corner" where local dishes are laid out for guests to try. An easy way to sample the local cuisine.
As we sip our second and third cups of coffee and rub our bellies in delight, we think back about how much fun we had at Le Méridien Bali Jimbaran - swimming, eating, relaxing. We can't wait to come back with family and friends to share all of the fun the resort has to offer.
More About Le Méridien Bali Jimbaran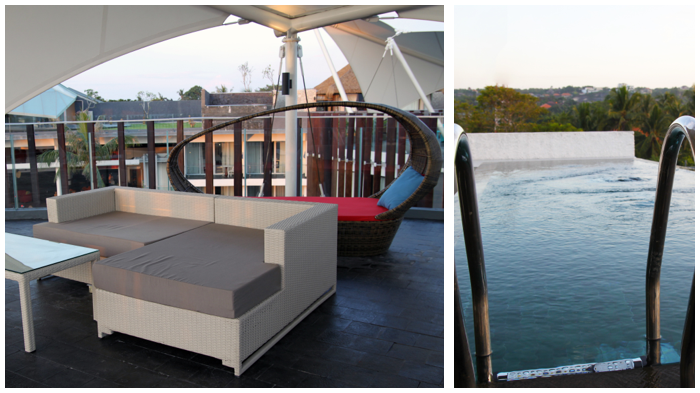 Besides our amazing Aqua Studio Suite - Lagoon Access are a variety of rooms with lagoon views and lagoon access as well as 4 rooftop Oceanic View Sky Villas and a few Aqua Pool Sky Penthouses with private rooftop patios and plunge pools. Something for every type of vacationer.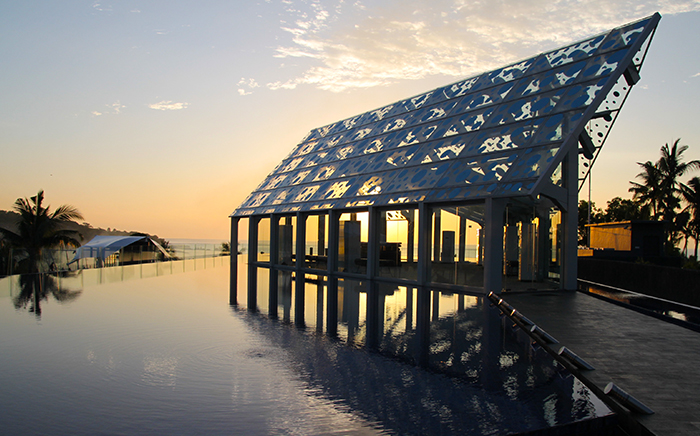 Couples looking to get married in Bali can opt for the rooftop Celebration Pavilion/Wedding Chapel. With views over the ocean and a sand covered floor, they can get married barefoot in the sand without having to worry about the weather conditions outside.
Le Méridien Bali Jimbaran
Jalan Bukit Permai
Jimbaran, Bali Indonesia
T: (62)(361) 8466888
W: www.lemeridienbalijimbaran.com
This was a hosted stay. As always, opinions are our own.