Start with a Free Tour
With so many sights to see in Paris, a free tour is a great way to get your bearings of this beautiful city. Sandeman's New Europe is a tour provider which is available in many places around Europe. For us, the tour was even better than we had expected. Our tour guide was funny and very enthusiastic. Within three hours he walked us through historical areas, beautiful gardens, and showed us where the main tourist attractions were, which ones were worth seeing and also how much things cost. On top of that, he shared with us great places to eat and how to look out for pick pockets and scam artists (while pointing specific ones out to us).
Valuable tip: never talk to people that come up to you with a piece of paper and pen and ask if you speak English. They are scam artists! While they distract you, their friends will come along and take anything and everything valuable off you and you won't even know it. You will especially need to look out for these people in any touristy area, as that is where they are most present.

The Pont des Arts
Want to leave a symbol of love in the world's most romantic city? The love lock bridge is where couples or anyone who wants to share a symbol of their love comes to put a lock on the bridge. The key is then thrown over the bridge where it is lost in the depths of the river, signifying everlasting love.
With so many gestures of adoration locked on this bridge, a portion of the bridge recently collapsed under the weight. Luckily for the romantics, it was quickly restored to its original position.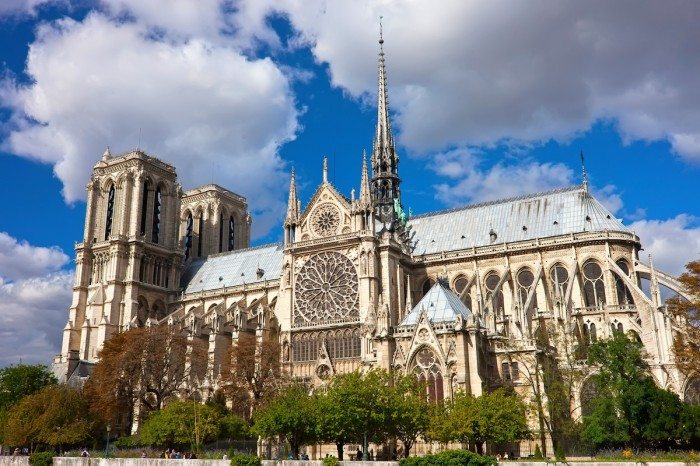 Notre Dame
This cathedral displays some one of the finest examples of French Gothic architecture and is among the largest and most well-known churches in the world. When I finally arrived at the Notre Dame all I could do was stare up at it and admire it's intricate details and vastness. The line might be long to get inside, but for us it moved fast. It is free to get in, with the option to pay to go to the top of the towers. We passed on the towers as we heard it isn't worth it including the fact that you have to go through small smelly stairwells and hallways to get to the top.

French Cuisine
What's a trip to Paris without tasting French Cuisine? Besides the sought after fine dining establishments, there are a few ways to enjoy iconic French food without blowing your budget. My musts are savoury crepes, baguette sandwiches, and some pastries. After trying buttery croissants that blow away anything you can get outside of France, also try a pain au chocolate - a pastry often drizzled with chocolate and filled with soft gooey chocolate spread. Not to be missed.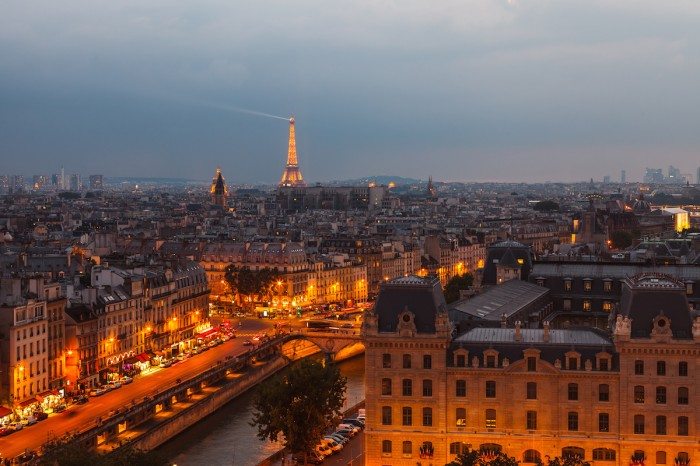 Eiffel Tower
Well of course you're going to see the Eiffel Tower during a trip to Paris. Make sure to include a visit at night when it's all lit up, and can see the tower sparkling. Every night on the hour the lights on the tower blink to make it look even more special.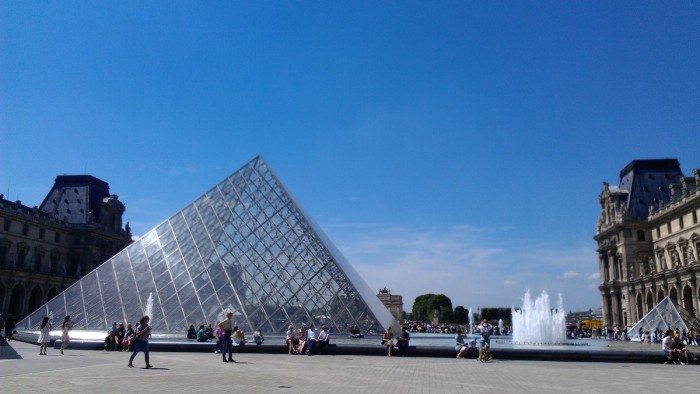 Tuileries Garden and The Louvre
The Tuileries Garden is a huge park containing fountains and many trees. A great place to rest with chairs and statues surrounding the fountains. Just beside the garden is the Louvre, which I'm sure you all know is one of the biggest and most visited museums in the world. Being limited on time, we headed straight for the Louvre's most popular attraction: the Mona Lisa. Although it was much smaller than we had expected, was protected by bullet proof glass and surrounded by rope, it's still a must see and always fun to take pictures of for proof of your travels. If you end up being limited on time like us, we really enjoyed the Egyptian section, with it's tombs, artifacts, and statues.

Pere-Lachaise Cemetery
A visit to a cemetery might not sound like the most romantic thing to do in Paris, but this one has cobbled lanes, trees and elaborate sepulchers and tombs. Also famously home to the grave of The Doors frontman Jim Morrison as well as Chopin, Proust, Colette.