Yogyakarta, Indonesia is a truly magical city where the past blends seamlessly with the present. Bicycle taxis and horse pulled carts are still a common mode of transport, not just a novelty for tourists. Traditional garments are worn on the streets by grandmas as are the latest fashions by the university students the city is populated by. It's a hint at what all of Indonesia was like many years ago.
During our visit, my husband Tom and I want to stay in a hotel with roots in the past so The Phoenix Hotel is our accommodation of choice. Not only is it made up of a beautiful heritage building, it's also close to Yogyakarta's many sights.
After a restful sleep in our room at The Phoenix Hotel, we wake up early so we can start exploring before the sun reaches it's peak. We climb into a becak (bike taxi) parked outside our hotel and ask him to take us to Marlioboro. As we head towards the centre of town, our driver weaves our rickety wood capsule between oncoming cars and pedestrians. A feeling of shock at first that is quickly replaced with exhilaration as the wind blows through our hair.
Our becak driver parks on Malioboro road behind a seemingly never ending row of fellow becak drivers. The street on either side is full of stalls selling local wear. Everything from leather sandals, batik clothes to wood carvings can be found along this street. We wander along in search of breakfast. This not being our first time to Indonesia and having had traditional Nasi Padang the night before, we figure our stomachs can handle some street food. In front of the main mall along the strip Tom spots locals eating around a wood food cart. He orders a plate of "what he's having" and is given a plate of rice topped with stir fried papaya leaves, egg and fried noodles. A hearty start to the day.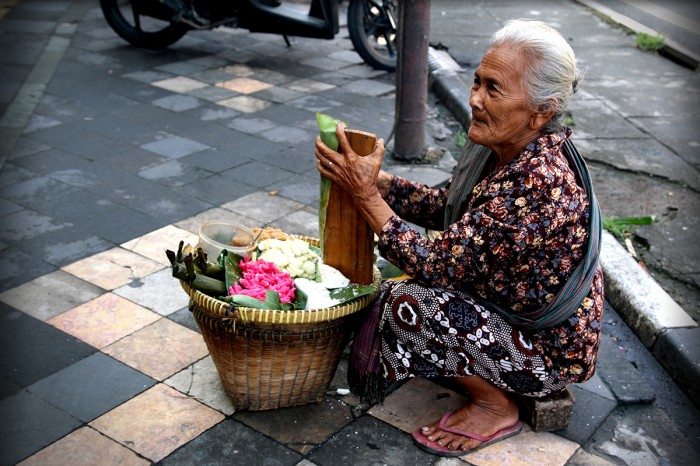 Across from the stall an elderly lady is crouched on a curb selling colourful sweets. With the help of a few gestures I walk away with a banana leaf filled with gooey pink cakes topped shaved coconut and liquid palm sugar. With one bite, I'm regretting I didn't order more.
Our bellies now full, Tom and I take a horse pulled cart down the street to the palace of the sultans of Yogyakarta: Kraton. For over an hour we walk the grounds of where the current sultan still resides taking in examples of traditional Javanese architecture while learning about the history and culture of Yogyakarta.
Next, we head further down the street to the Taman Sari Water Castle. This is the site of a former royal garden of the Sultan of Yogyakarta where we explored a bathing complex and the underground mosque.
After a day of exploring Yogyakarta's history, we head back to The Phoenix Hotel in time to catch happy hour at Vino Bar. Here we sit in a piece of the city's history while sipping colonial inspired cocktails and dining on local cuisine. A perfect blending of past and present Yogyakarta that defines our visit.
Hotel
Today, The Phoenix Hotel is a colonial styled boutique hotel with 144 rooms that include exclusive suites. Adding on to the original 1918 building, the hotel includes a spa, restaurant, lounge, bar and swimming pool.
History
The heritage part of the building dates back to 1918 when it was built as a private residence. Over the years it was transformed into a hotel then changing hands many times as Indonesia went through Japanese occupation then independence. In 1996 it was bestowed with a Heritage Award for maintaining the old architectural building. 2003 is when the extension of the hotel was added and taken over by Accor. Ask the front desk about attending one of the hotel's in-house tours.
Dining
Breakfast at Paprika Restaurant is not to be missed with it's fantastic local and international selection. Buffets are the easiest way to try a new cuisine and we enjoyed trying the different Gudeg dishes that Yogyakarta is known for as well as herbal drinks and local stews and sweets.
For a refreshing treat, try the hotel's signature cocktail, the Gin Sling. In the lounge this cocktail is mixed table side while the bartender shares a bit of history about the hotel and drink.
Side Trips
Besides visiting the area's big attractions of Borobudur and Prambanan, a tour of Yogyakarta's local arts and crafts is highly recommended. For a fun spin, take the hotel's Traditional Craft Making Excursion on Vintage Car which brings you to batik, silversmith and puppet workshops in a vintage 1961 Mercedes Benz. Check out our 10 Top Things to do in Yogyakarta.
The Phoenix Hotel
Jl Jenderal Sudirman 9
Yogyakarta, Indonesia
This article contains affiliate links.