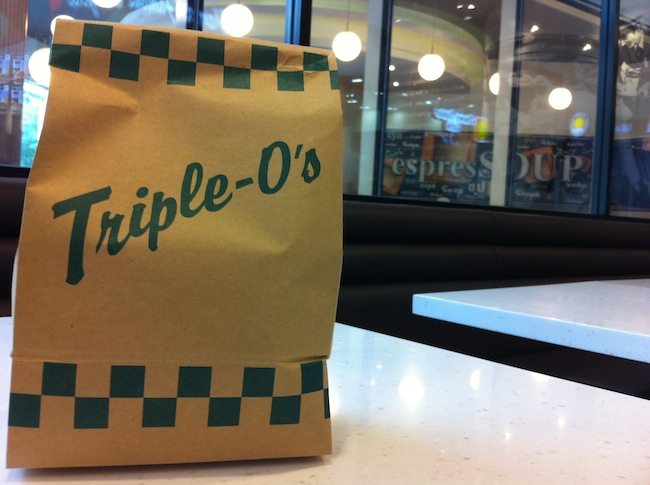 As a Canadian, I love my poutine. Unfortunately (maybe fortunately) besides coming across the Canadian run Ha Van hotel in Nha Trang that had poutine and finding a Triple-O's in Hong Kong, those are the only times I have had the treat outside of Canada. Now that Tripple-O's has not 1 but 2 locations in Singapore, I get to enjoy this not so heart healthy dish more often.
After a few attempts to visit the Tripple-O's location at Asia Square, that we found out each time is closed on the weekends, we finally made it to the location at the new Star Vista mall to try them out. As Vancouverites, we have White Spot and Tripple-O's every where, but didn't actually know the restaurants originated in Vancouver until reading the signage on the wall. Way to go Vancouver! The first White Spot restaurant was opened in Vancouver in 1928 by Nat Bailey, whom we also have a stadium named after. I learned so much during my visit!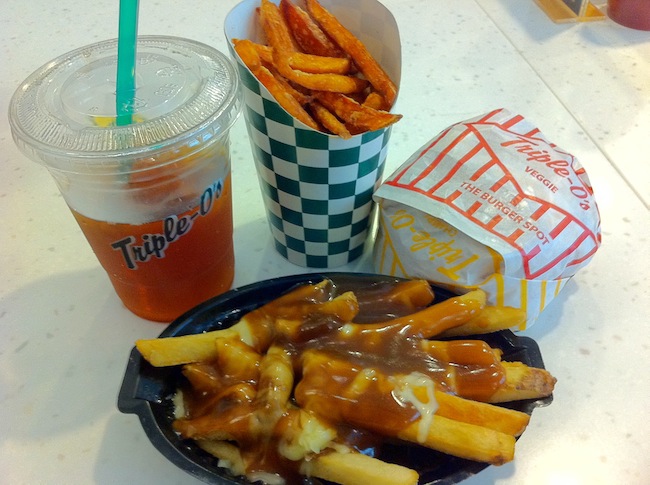 While my husband Tom had a BC Combo with a side of poutine, I had a Veggie Burger Combo with a side of sweet potato fries. One bite into my burger, and it was exactly how I remember the veggie burgers in Vancouver; covered in Tripple-Os sauce, thick veggie patty and messy. Tom's burger to his delight, came with real bacon. Something that can be hard to find in Singapore. So how was the poutine? Since Tripple-Os is not able to import cheese curds into Singapore, they have had to substitute for a stringy cheese. It might not be authentic, but man is it good. I don't know how fries covered in gravy and cheese could ever not be good.
Our Say
Big juicy burgers topped with fresh lettuce and vine ripened tomatoes, these are not to be missed. The fries are a real highlight of Tripple-O's, whether it's the thick cut regular fries, tasty sweet potato fries or poutine, they are all excellent. Try it out and let us know what you think.
Tripple O's Star Vista
Open Mon-Sun 10am-10pm
Tripple-O's Asia Square
Open Mon-Fri 8am-9pm