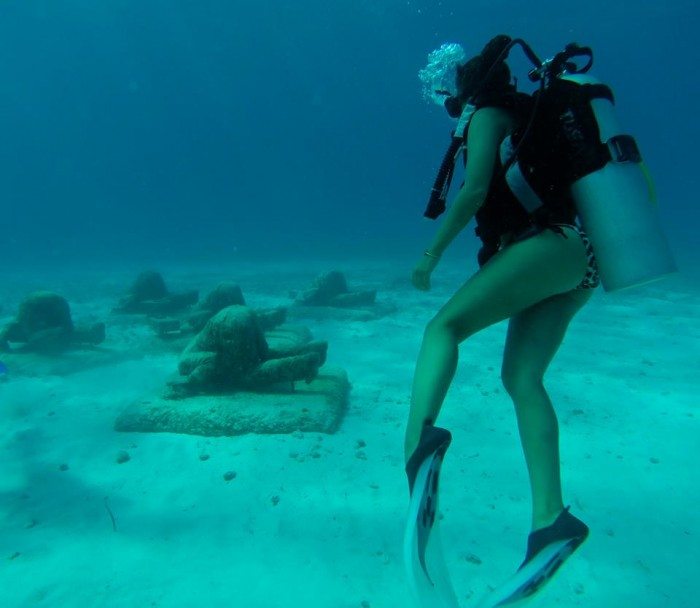 Isla Mujeres
Located just a short 30 minute boat ride from Cancun this small Island makes for a great alternative to hard hitting Cancun. Isla Mujeres or Island of Women in English is only 7kms long and has beautiful white sand beaches and shallow turquoise waters. Playa Norte is where most of the action is, here you can hire beach chairs and order cocktails and food without disturbing your tan. If you stay on the North end of the island, Playa Norte beach along with the main strip with all the restaurants, bars, and shops are within 5 minute walking distance.
Accommodation ranges from high-end boutique hotels with views of the beach to backpacker friendly hostels. If you want to explore the rest of the Island, you can rent bikes or golf carts by the hour or day. If you want to escape the crowds head to the South. Not as many day trippers make it down that way since the boats only dock in the North. Snorkeling, diving, and fishing day trips can all be organized from any of the agencies scattered around the island.
For a new experience, snorkel or dive the underwater museum where statues have been placed to encourage reef growth. You won't see as many fish and wildlife amongst the statues but it's a really cool and eery sight. For the best breakfast on the Island head to Roosters for an assortment of eggs Benedict and other morning favorites.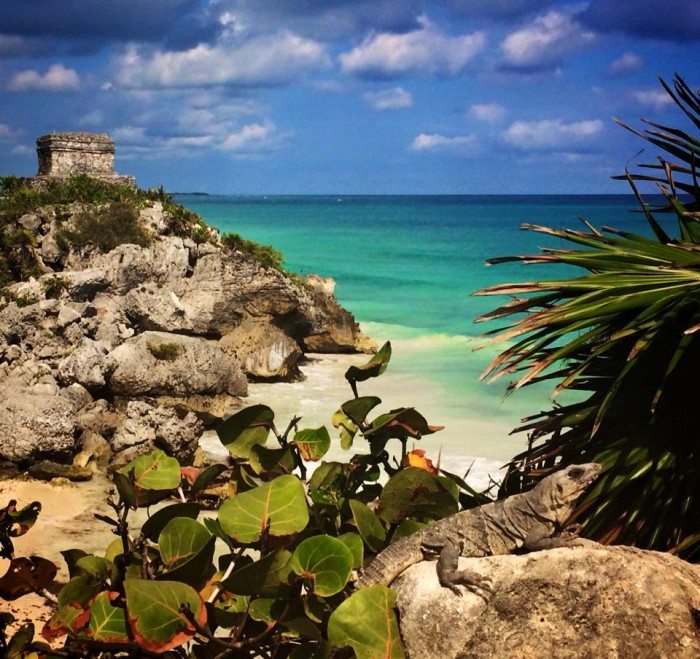 Tulum
Playa Paraiaso was rated one of the top 25 beaches in the world by Trip Advisor and one step on the powdery white sand and you'll understand exactly why! Miles and miles of stunning beaches grace Tulum which is probably why the Mayan's chose this spot to build one of it's many civilizations found on the Peninsula. Biking is always a nice way to explore a new place and Tulum is really well set up for it with a bike path from town all the way to the ruins and to the beach. Cheaper accommodation and eats are found in the town or "Pueblo" as the locals call it. Here you'll find quirky cafe's and restaurants from around the world, cheap little taqueria's serving up authentic fresh tacos and trendy little bars perfect for a cocktail and live music. Head to Batey Mojito Bar for one of their signature cocktails made with fresh fruit and cane sugar squeezed out of an old VW Bug and for good wine and great steak check out El Asadero. Just off the main strip this little restaurant is divine. A cool vibe, awesome service, and juicy steaks, you can't go wrong.
Along the Hotel Zone you'll find up market digs on prime beach real estate, many hotels along the strip offer daily yoga classes and there are restaurants galore although all with a steeper price tag. There are also plenty of day trips to be made from Tulum such a visiting some of the stunning cenotes which are natural swimming holes or a visit to Coban only 45 minutes by bus where you'll find some pretty impressive ruins to climb. You can get to Tulum direct from Cancun airport via shuttle or bus around 2 hours. (P.S. Did you spot the lizard in the above picture?)
Akumal Bay
An easy day trip only 30 minutes away from Tulum but so much fun that it needed its own highlight! Get here by Colectivo (white shuttle vans) leaving from the main street Avenida Tulum or by taxi. Akumal Bay is home to grazing sea turtles, sting rays, and eagle rays all just meters from the beach, bring your own snorkeling gear and swim to the crowds to spot these gentle dinosaurs feeding on sea grass. It's free to swim in the bay but you can also book tours at the beach which provide you with life jackets snorkel equipment and a guide to help you spot the sea creatures if you prefer. If you want to get some time to admire the animals without too many crowds get there super early or a bit later in the day. We rented our equipment from town and just waded in and out of the water the entire day bouncing between sunbathing and turtle and ray spotting!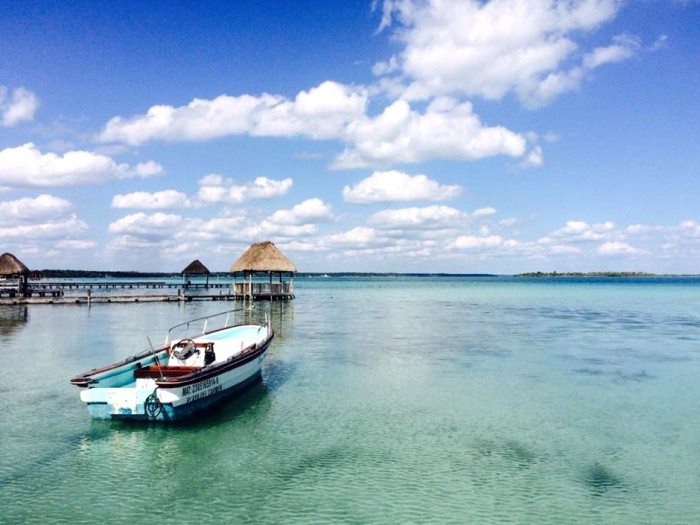 Laguna Bacalar
Sitting close to the border of Belize and Mexico Laguna Bacalar sits hidden behind a very unassuming little town. From Tulum it's a 4 hour bus journey but it's such a magical and relaxing place that hasn't yet blown up on the tourist trail so it's well worth the visit. The tranquil lake known as the lake of 7 colors has a white sand bottom and water the color of the Carribean. Many lake side accommodation spots have private piers that jet out over the lake perfect for lazing the days away reading a book, listening to the birds and taking a dip. Many places offer tours of the lake and the cenotes near by and for food you can take a short stroll into town where you'll find taco stands and other local cuisine.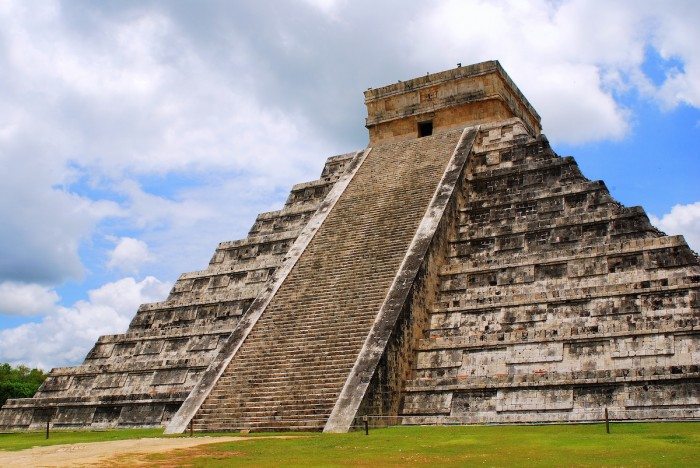 Chichén Itzá
This Mayan masterpiece is now part of the 7 wonders of the world and while in the area it's well worth the visit. Although a bit far from the Yucatan Coast, tour agents and hotels can book day tours leaving early in the morning and arriving back late in the evening and most will include a stop at the nearby cenote as well as lunch. Prices can vary so it can be worth it to shop around. Tours leave from all the popular spots on the coast, Isla Mujeres, Cancun, Playa del Carmen, Cozumel, and Tulum.