European City Challenge 2015 (ECC2015) Begins
After deciding I was going to embark on a European city challenge in 2015 - visiting 1 European city a month in the year- the hardest part was cherry picking where I would go to first. I knew it had to be somewhere big and bold, with lots of character, history & charm. I didn't want to plan very much, especially when it came to places to eat. I wanted to focus mainly on local recommendations and find out as much as I could from anyone I had ever met that had visited or lived in the city. I didn't want to use guidebooks or hotel leaflets. I wanted recommendations from a friend of a friend, who went once, maybe en route to somewhere else, many years ago. Or visit a historical site that my parents went to when taking a weekend trip there while my father lived in Copenhagen. It was a bit of a risk and also an experiment, because if this worked out that would be the basis for each and every city I visit over the next twelve months. What better way to begin a challenge than with a challenge? I never make it easy for myself do I!?
Originally a small fishing village, Amsterdam flourished in the Dutch Golden Age to become a major port known for its innovations in trade, science and art. Renowned for its laid-back atmosphere, Amsterdam today is a city of pretty canals, luscious parks, cobbled streets and unique cafes. If you are not keen or able to explore a city by foot, trams run frequently through Amsterdam making it easily accessible to hot foot from museum to museum & coffee shop to coffee shop (if that's what you're into!).

Mövenpick Hotel Amsterdam City Centre
My choice of hotels for the weekend in Amsterdam were based on very specific reasons. The first night, because of a late flight, I wanted something close to the main train station, a room with a great view to wake up to and a place that offered excellent breakfast in order to set us up for a busy day of sightseeing. A room close to central station led me straight to the Mövenpick Hotel Amsterdam City Centre. The Swiss owned hotel is located along the harbour, right beside central station and offers some pretty impressive views.
The Movenpick is attractively located along the banks of the River IJ. In recent years there has been a lot of urban development around this area so interesting and unique architecture is visible as far as the eye can see. The suites are located on the 19th-21st floor and offer breathtaking views of the cities sky line, and also come with a free mini bar which is always a plus! The hotel is a short stroll from central station where trains run frequently to and from Schiphol airport daily which can be a major advantage when a heavy commute is the last thing you want before or after a long flight.
Once checking in was out of the way my accompanying boyfriend and I headed to the hotel bar where we propped ourselves up, ordered a bottle of wine and olives and began chatting to the local bar man who was the first person on my list to get some insider tips and recommendations for the next day. With the schedule drawn up and half a bottle of wine in my tummy we head to bed excited about our jam-packed itinerary for the next day.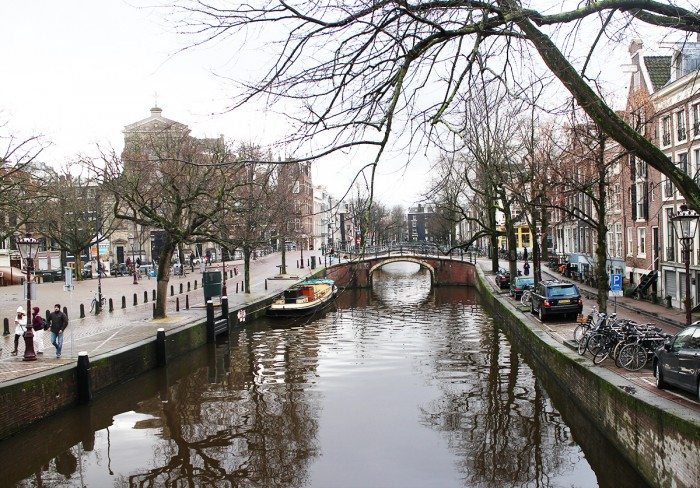 Insider Tips - What to See Around Central Station and Amsterdam City
I asked Thomas from Mövenpick Hotel for his tips of where to eat, shop and explore in Amsterdam. Here are his insider tips.
Visit the 'Foodhallen' in Amsterdam-West - a foodies heaven on earth. Recently opened, this indoor food market is open 7 days and we were told is a perfect spot for grabbing a bite to eat before or after catching a movie at The Filmhallen
Speaking of films a great place to visit and have lunch is the EYE film institute, right across from Central Station. EYE Film Institute Netherlands is a Dutch archive and museum in Amsterdam that preserves and presents both Dutch films and foreign films screened in the Netherlands that is housed in an ultra modern white building that stands out along the River IJ. The restaurant has a large terrace which overlooks the River so if you do happen to visit in summer there is no better way to enjoy a glass of wine other than with a waterside view.
When the weather isn't on your side, Amsterdam's array of museums is always a good option. We recommend The Rijkmuseum but book ahead to avoid having to join the never ending queues.
Paradiso or De Melkweg are both great venues for concerts and live music. If you keep an eye on the listings you might be lucky enough to be there the same time as one of your favourite acts.
Mövenpick Hotel Amsterdam City Centre
Piet Heinkade 11
1019 BR Amsterdam, Netherlands
T: +31 (0) 20 519 1200
E: hotel.amsterdam@moevenpick.com
W: www.moevenpick-hotels.com/amsterdam

A big thank you to Mövenpick Hotel Amsterdam City Centre for hosting us and sharing their great insider tips to Amsterdam.