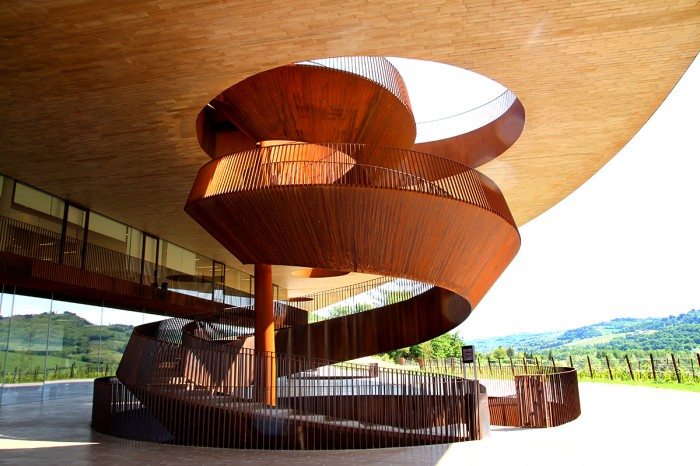 Driving down a typical winding road in Italy's wine region of Chianti, a modern fort looking building in a terracotta colour stops my husband and I in our tracks. One reason is because of the out of this world design, the other is because of the words "Antinori Chianti Classico" on the side. When stunning architecture and wine tasting combine, I'm the first one to sign up.
Even with a map given to us before passing security into the Antinori compound, we drive around in circles trying to find parking. A couple angry drivers and sharp corners later, and we are parked and heading towards the reception through what looks like a secret passageway.
Seeing as this is an impromptu visit, we have no chance of tagging along on any of the hourly tours scheduled for the day. Each of which sold out days prior. We instead opt to slyly check the place out.
Past the gift shop and tasting bar is a long wall with wood cladding, hiding secret doors. We decide to open a couple. Behind one, a modern concrete bathroom. Behind another, a covert hallway leading to the cellar. And the last door leads us to a private suspended glass tasting room. Inside, lights shine on only the table with a couple wine bottles and glasses. Outside the glass walls, is the most dramatic view of wine barrels dimly lit in a cellar with curved walls. Very futuristic.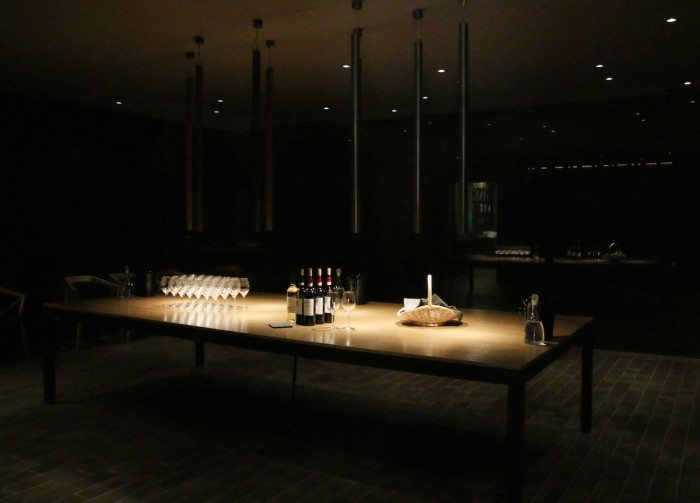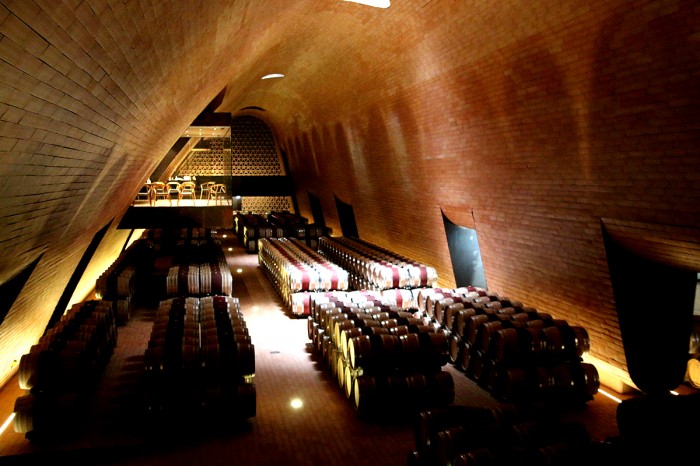 Scurrying out as we're sure we're not allowed in there, we continue to explore the Antinori Chianti Classico museum which is filled with traditional paintings as well as a spooky installation of oversized machinery of some sort and human shapes covered in cloth. Once we've exhausted all corners of the space, we decide to try the wines this beautifully odd place has to offer.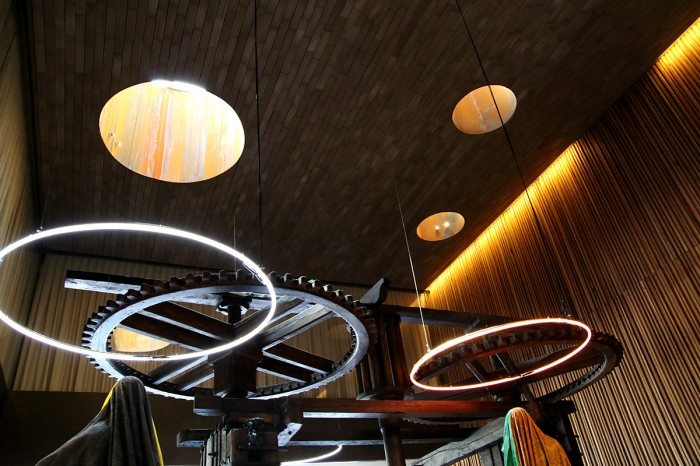 At the bar, our sommelier recommends we try the Antinori family's Chianti Classico wines. The tastings start at 4€ for a small taste or 6€ for a half glass. We opt to share a half glass. As we work our way through our glass on an empty stomach we strike up a conversation with our host. He tells us the winery was only opened in March of 2013 and this is one of many wineries owned by the Antinori family. One estate includes a castle and another is located in California's famous wine region of Napa Valley.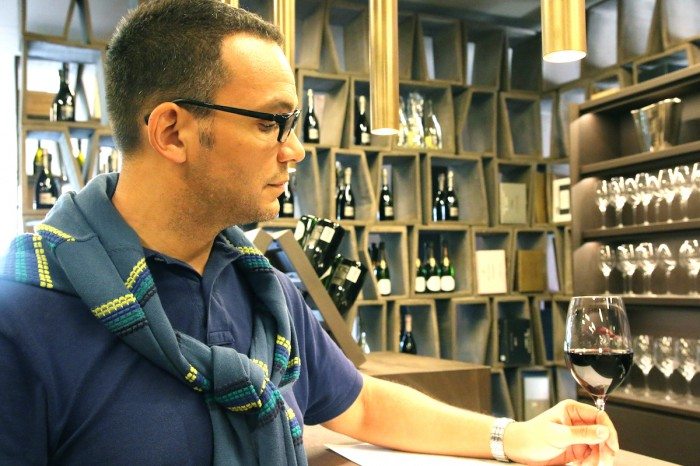 We continue to try their Chianti Classico Reserva and end with a brilliant glass with which I announce "I could drink this daily. I'll take it!" Only to retract my statement after finding out the price. I settle for the Antinori Chianti Classico which is still excellent and sets me back 20€ .
With bellies full of nothing but wine, we head upstairs to the "Rinuccio 1180" restaurant to add a little substance. Situated on the top of the complex, our view from the sunny patio is of nothing but young vines and rolling hills. The perfect backdrop for the meal that awaits us. We order a variety to try out the menu - A Chianti Burger (16€) made with 3 ounces of minced and grilled beef, a Potato Raviloli (10€) and a seasonal fish with a side of flavour infused chick peas. Each dish exquisite and surprisingly well priced given the location and quality. Easily our favourite meal of our trip.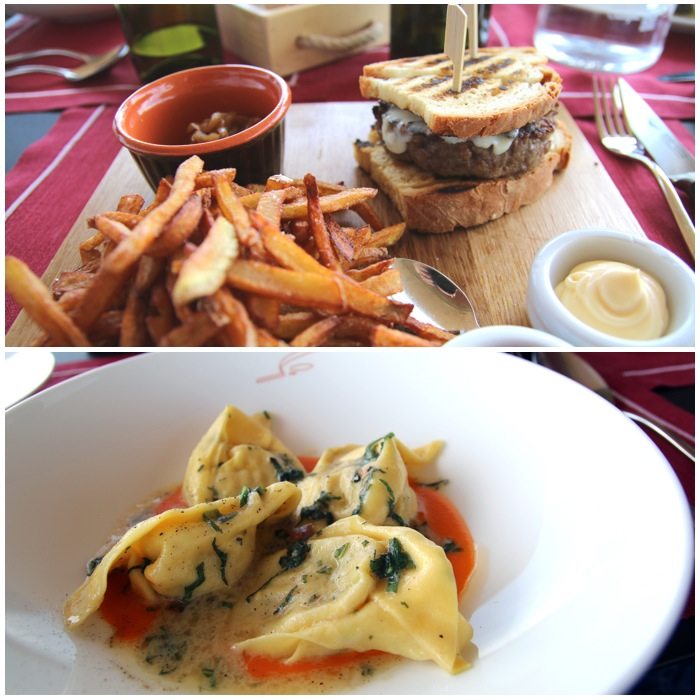 After tasting the wine, dining on their cuisine and finding top secret tasting rooms, it's time to take our bottles and run before they catch on to us. We dash into our compact car and escape the James Bond-esque fort. We live to die another day.
Antinori nel Chianti Classico
Via Cassia per Siena, 133
loc. Bargino, 50026
San Casciano in Val di Pesa, Firenze
For info only: +39 0552359700
Restaurant Rinuccio 1180: +39 055 2359720
www.antinorichianticlassico.it
Book a 1-hour tour in advance by visiting the Antinori Chianti Classico website . Tours are 20€ at time of writing.
I recommend the travel guides Lonely Planet Italy and Lonely Planet Florence & Tuscany for more details for getting around Italy and Lonely Planet Italian Phrasebook & Audio for anyone that doesn't speak Italian.