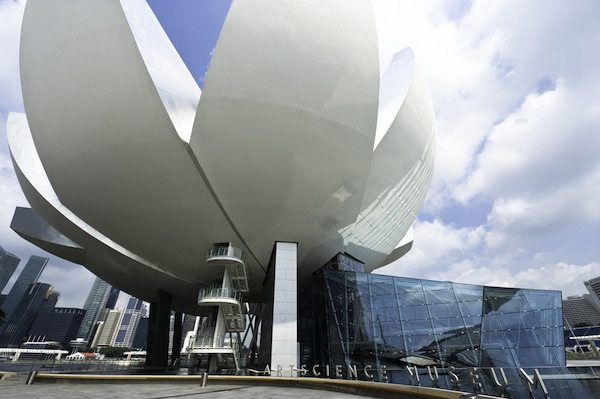 The Art Science Museum at Marina Bay sands is a very unique museum, it is modern and surrounded by an extensive lily pond and resting on the edge of the bay. Resembling a lotus flower, the museum has been called "The Welcoming Hand of Singapore". The Art Science Museum hosts revolving exhibits as well as permanent exhibits in 3 of the ten "fingers" that make up the building.
As part of Singapore's "Green Mark Program" the roof of the museum allows rainwater to go through the centre of the structure, down to the reflecting pool on the lowest level. This creates a 35 metre continuous cylindrical waterfall, then the water is recycled and used for the museums bathrooms. Natural lighting from the top of each "finger" is used to illuminate the interior of the exhibits.
The museum has regular educational programs for children and adults, including workshops, talks, forums and tours of the museum. Check the Marina Bay Sands website for the latest exhibits.