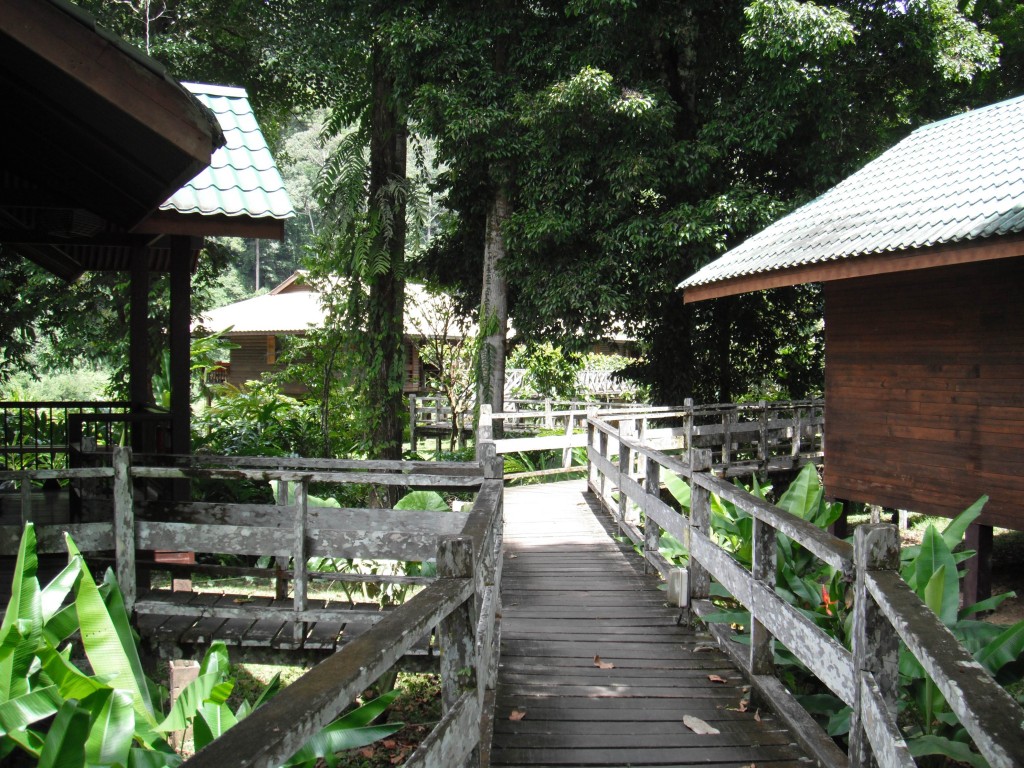 Let me just admit one thing; as much as I love nature, I'm not a fan of roughing it. As fun as camping in the wilderness sounds, I'd choose a cozy bed and a flush toilet over a sleeping bag and a shovel any day of the week. So when my dad told me we'd be staying in the heart of the Danum Valley for three whole days, I was less than thrilled.
The Danum Valley, for those who don't know, is a conservation area in Sabah, Malaysia that is home to copious amounts of wildlife. It's a lush rainforest untouched by logging or human settlement, which makes the Danum Valley a great place to experience nature at its best.
As we drove two hours up a bumpy, gravel road, even the promise of viewing exciting wildlife in its natural habitat could not keep me from dreading our three day stay away from civilization.I hesitated to exit the vehicle as we pulled up into the parking lot, but instead of being bombarded by insects and pungent odours like I feared, we were greeted upon arrival by friendly staff and given necklaces made of pandan leaves. One of the receptionists led us to the main lodge, where we were given cool beverages and a quick briefing. Our bags were transported to our rooms by more pleasant staff, and after our briefing we were escorted to our deluxe suite.
The room was luxurious, with a mini fridge stocked with complimentary soft drinks and an outdoor jacuzzi tub on the back deck. Our room overlooked a river, where wild monkeys roamed the banks and searched for food.
This place was not the tree fort I was expecting. It even had WiFi! But the best part about the Borneo Rainforest Lodge was the wild jungle atmosphere, despite its luxurious amenities. It wasn't like most resorts that completely block out the local surroundings; this place was the perfect blend of adventure and luxury.
We had a set itinerary and a guide who took us on nature walks through the jungle. After our nature walks, we would be promptly greeted by a receptionist who offered us cool eucalyptus towels to wipe our sweaty faces with. It felt odd to be surrounded by nature one minute and lounging in a fancy resort the next.
We saw orangutans, monkeys and civet cats as well as waterfalls and even an ancient cemetery! After our longest hike, we stopped at a natural pool the resort called the "jacuzzi pool." We changed into our bathing suits (they built a small hut to use as a change room) and cooled off in the refreshing water. We even got to experience some natural "fish therapy," where fish nibbled at our toes! It was like a free spa treatment, but a little creepy because the fish were a lot bigger than I would have preferred.
The cuisine at the lodge was to die for. Being a vegetarian, I often find it difficult to find variety at resorts that offer buffet style meals, but there were lots of dishes to choose from. I found myself almost relieved I had fewer choices than my meat eating family; I would have been overwhelmed! There was always rice, with several different curries and stir-fried vegetables, an array of salads and fruits, and a table full of desserts. There was also a chef eager to grill a steak for you or, in my case, an eggplant covered in barbeque sauce.
Although the Borneo Rainforest Lodge was the perfect getaway, the luxurious vacation did not come without a hefty price. For a single person staying in the deluxe suite, a three day stay will cost $920 US dollars. For two guests sharing a room, it's $767 US dollars. The price includes the buffet, accommodation, and guided tours. Still, it's a heavy price to pay for a three night stay in the jungle.
With high prices comes high expectations. Although I was clueless to the price and assumed we would be staying in a shack, my dad had high hopes for this expensive resort and hoped his wallet wasn't emptied for nothing. He was not disappointed, and although the bar was set high, it's safe to say the Borneo Rainforest Lodge was everything its price portrayed it to be.
For more information or to book your stay, visit their website at: