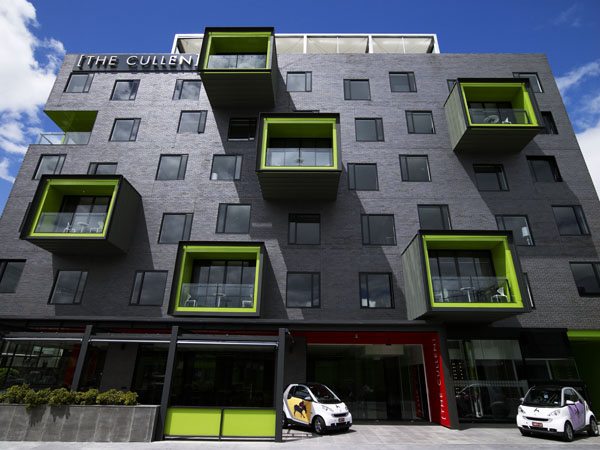 After viewing The Olsen, another Art Series Hotel, we were greeted by a chauffeur outside the hotel, who showed us to a black Mercedes and were driven to our next destination: The Cullen Hotel. As soon as we arrived I knew this hotel would be interesting. At the entrance stood a big cement spray can and a cow with words painted on it. Inside, the hotel was full of colorful paintings. Some paintings were of fierce with wild looking animals while others were of men dressed in drag holding guns. The in-house art curator informed me this was a party hotel. I could see why, with it's modern funky decor and location close to the high fashion shopping strip Chapel Street and the restaurants, cafes and bars of South Yarra, Prahran and Windsor.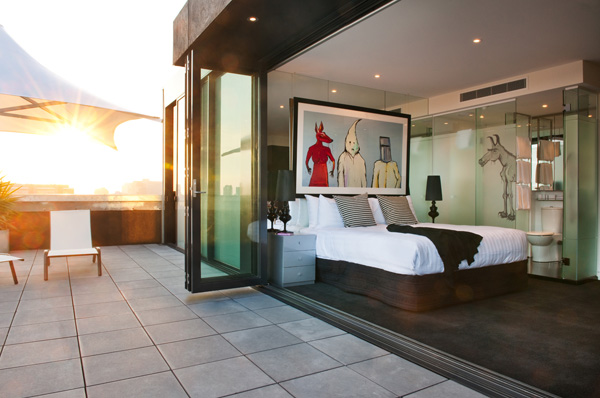 The rooms were luxurious, with comfy beds, kitchenettes and great views of the central business district. Each room had different paintings, each with different stories behind it. Out of the three artists The Art Series Hotels are dedicated to, Adam Cullen is known as the "bad boy". I learned that he's the youngest of the artists and is friends with Chopper Reid and has gotten into trouble for possession of weapons. Most of his paintings are based on Ned Kelly, whom he had a fascination with. Adam Cullen is a contemporary grunge artist.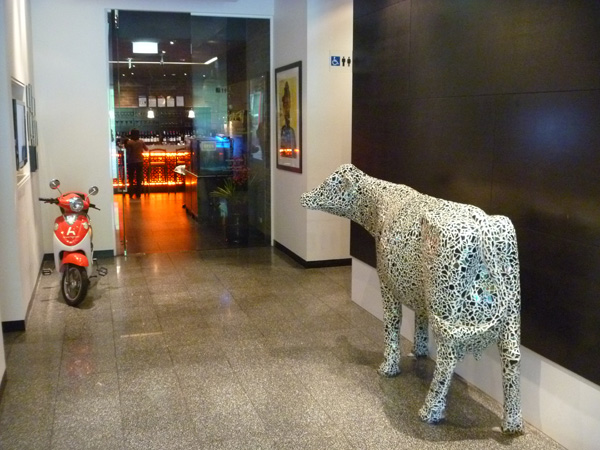 To dine with the art, The Cullen has two different restaurants: Terrace Bistro & Bar and Hu Tong Dumpling Bar. Outside of the bar there is a cool cow statue similar to the one at the front of the hotel, but with stones covering it, another one of Cullen's creations.
To add to the unique features and amenities available at The Cullen, there are Smart Cars, Classic Kronan bicycles and Electric Scooters available for hire. Out of the three Art Series Hotels, this was my favorite for its vibe, with wild exciting paintings and interesting statues.
Art Series [The Cullen] Melbourne
164 Commercial Road Prahran 3181 VIC
T: 1300 120 345
W: http://www.artserieshotels.com.au/Cullen
E: reservations_cullen@artserieshotels.com.au