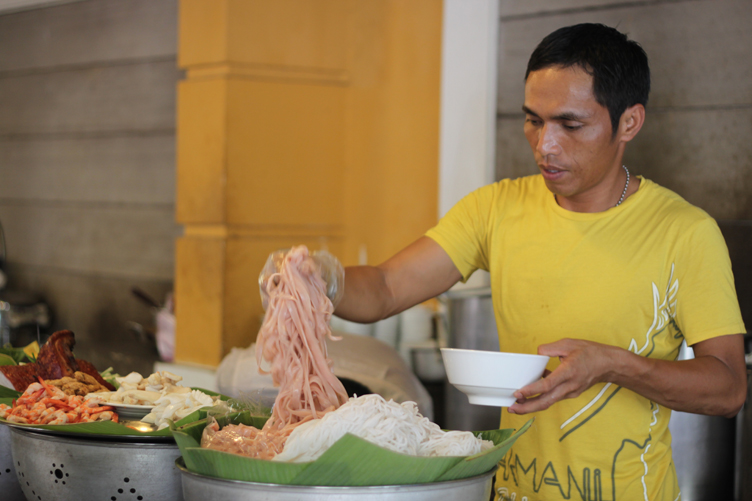 During a 6 hour stop over in Ho Chi Minh (formerly known as Saigon) some friends of ours took us to the area's must visit restaurant, Nha Hang Ngon. Blown away by the restaurant, when we returned with family 6 months later, the first meal of our stay was the same restaurant.
Nha Hang Ngon restaurant is housed in a beautiful yellow heritage building on 160 Pasteur, District 1. Tastefully decorated with chunky wood furniture, fabric tents, and a pond in the middle, it is a stunning backdrop for the equally spectacular food. You can walk around the perimeter of the restaurant to see different types of Vietnamese food being prepared as you pick what appeals to you. Watch as a lady grills meat skewers or scoops up different types of jelly for a dessert. The restaurant has everything from traditional Pho and salad rolls to very unique soups, stuffed snails, seafood and meat, and all offered at a very reasonable price. A very large lunch for the 6 of us came to just over 800,000 dong, around $40 USD.
As friends introduce friends to the restaurant, and family passes it along, I encourage you to visit this restaurant if you are ever in Ho Chi Minh, even if it's the only restaurant you have time to visit.
Nha Hang Ngon (Quan An Ngon)
160 Pasteur, P. Ben Nghe,
Quan1, Ho Chi Minh City
T: (84-8)3827 7131
E: quanannngon@hcm.vnn.vn