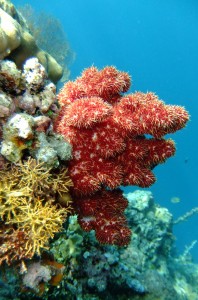 The best snorkeling in Bali can be found off of a little island called Menjangan Island. Located 3-4 hours by car from Kuta, it is well worth the trip to see unspoilt coral and a wealth of marine life. The island is accessed from the mainland by a 10 minute boat ride to Cave Point where the highlight is an underwater cliff. Our guide anchored just off of the beach then lead us snorkeling through the water along the edge of the cliff.
The quantity and variety of fish is just amazing. We were constantly tapping each other on the shoulder to point out a new, unique type of fish. Big, small, flat, and long fish. They're all beautiful. One of the small colorful fish was so curious it kept on coming right up to my mask to see what was going on.
Divers visiting Menjangan island are in for even more fun as they can venture further down the cliff as well as discover the other diving points around the island.
During a visit it's worth to also explore above water. The island's only inhabitants are deer that wonder freely. Hence the name Menjangan (deer in Indonesia) Island.
Tips
Leave for the island early in the morning as the waves get choppy late in the afternoon. Try to arrive by 1:00 pm at the very latest.
Hire a car and driver for the day for around. Depending on your bargaining skills, price is around RP 500,000.
Hire a private boat, snorkeling equipment and guide for 8 people for 3 hours for around RP 1,100,000
Leave the underwater photography to your guide allowing you more time to just enjoy. We paid RP 200,000.