Don't you love hidden gems? Those treasures that you have to hunt for. Restaurants that only the right people know about? I found one of those hidden on the second floor of a nondescript building in Robertson Quay, all thanks to Asian Food Channel and DBS' Underground Supper Club.
boCHINche is a contemporary Argentinian restaurant that has reopened after renovations, emerging with a quirky new look and a gourmet market to shop for all of your Argentinian delicacies. With a bar on the left and open kitchen on the right, you can pick a seat right in front of the action, or choose to relax on the patio, or in a seat at the back with a sassy saying written on it. You'll know what I mean when you visit the restaurant.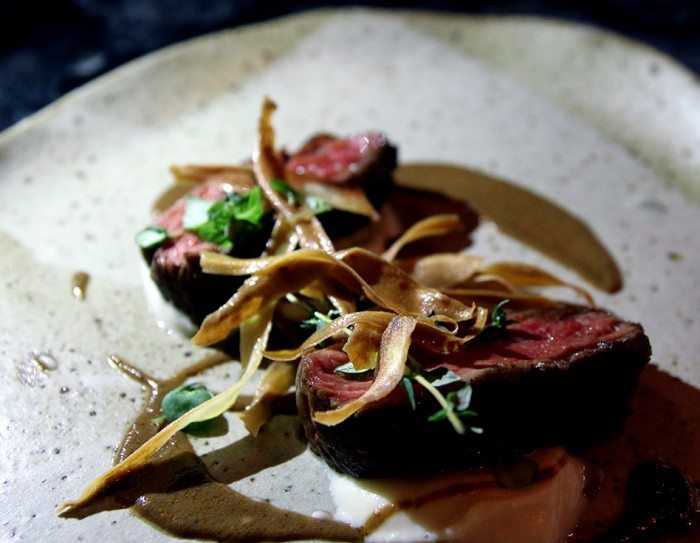 This being an Underground Supper Club event, the night is filled with a 5-course tasting menu of some of the restaurant's highlights paired with wine and cocktails. Steak is one of those must order dishes at any Argentinian restaurant, and boCHINche's "Asodo" Flank Steak with celerioc, parsnips & bone marrow sauce is a real treat. What might not be as obvious as a must order dish is their Provoleta with almonds & Oregon honey. A gooey, cheesy, sweet and crunchy mixture that you spread over bread and mumble in delight over.
I have one last recommendation for you, and that is to end your meal with their Crème Caramel served with banana ice cream and to get a bottle of Argentinian wine to go. Happy treasure hunting!
Bochinche
22 Martin Road #02-01
Singapore
T: 6235 4990
Learn more about the Underground Supper Club here.