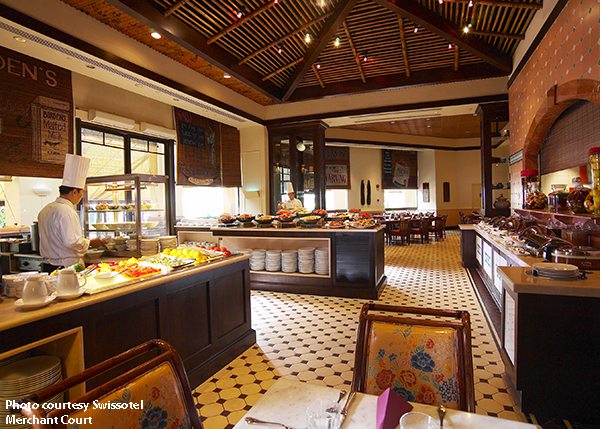 The beautiful Ellenborough Market Café is a gem hidden in the Swissotel Merchant Court. This restaurant has an a-la-carte menu and buffet spread. We had the opportunity to try the buffet dinner including many of the specialty Peranakan dishes that sets this buffet apart.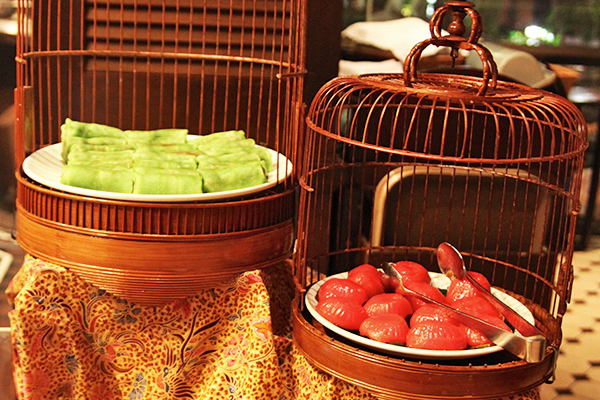 Peranakan cuisine is a unique fusion of Chinese and Malay spices and cooking methods. The elaborate dishes that can take hours to prepare are typically spicy and often flavored with shrimp paste, coconut milk and a variety of unique spices. We highly recommend trying some of these dishes, and there is no easier way to try a variety of dishes than at a buffet.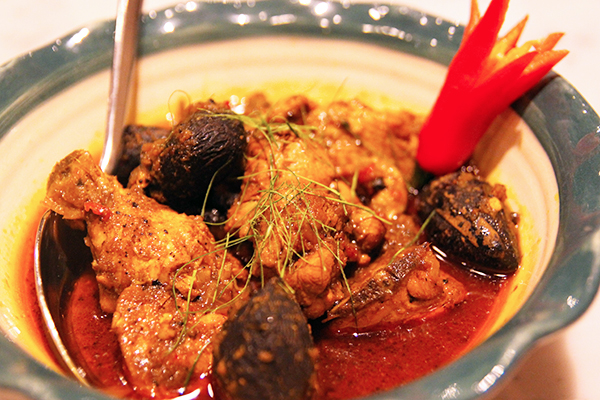 We tried a few different Peranakan dishes including Kueh Pie Tee, deep fried hat shaped shells filled with shredded vegetables and shrimp, Nonya Chap Chye, a vegetable stew, Ayam Buah Keluak, a chicken dish served in a rich spicy sauce and finished with assorted Nonya Kueh, Nonya desserts and sweets.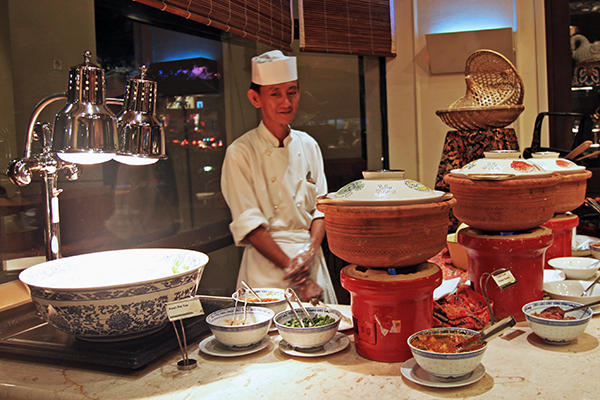 Besides Peranakan cuisine, the buffet is complete with a variety of local and international dishes including a sushi station, salad station, hot food station and a cold seafood station that beautifully displays Blue Swimmer Crab, Baby Lobster, New Zealand Green Lip Mussels and Tiger Prawns on back-lit ice. Our favorites from the hot food station include the Mutton Madras Curry, Steamed Seabass in Broad Bean Sauce, Chili Crab and a must try, their signature Stir Fried Slipper Lobster in Pepper Sauce.
Save room for dessert and choose from bite sized treats including Mango Pudding, Vanilla Panna Cotta with Summer Berries, Vanilla Creme Brule and Lychee & Raspberry with Rose Mousse Cake.
Come with an empty stomach and leave fully satisfied with an appreciation for Peranakan cuisine.
Ellenborough Market Cafe
Swissôtel Merchant Court
20 Merchant Road
Singapore 058281
T: +65 6239 1848

This was an invited food tasting