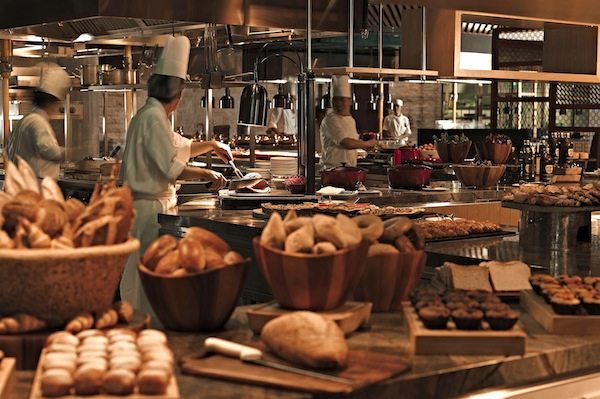 An exciting interactive dining concept is unveiled at Pan Pacific Singapore. Edge, the all day dining destination is open to impress you for breakfast, lunch and dinner.
The interactive "Food Theatre" allows you to see the food being prepared before you. Satay grilling over charcoal, tempura being scooped from the oil and pizzas being pulled from the oven. With no labels for the dishes, half of the fun is talking to the chefs about the different food. A sign just can't explain a dish the same way a chef can.
Any savvy all-you-can-eat diner knows to take a tour around the restaurant before any food touches your plate. In the case of Edge, allow at least 15 minutes to see all of the different stations: Chinese, Malay, Indian, Singaporean, Thai, Japanese, Australian and American. The selection is so large, that I dare you to try something from each station and still have room for dessert. I only managed a couple tastes of the Western cuisine and a few bites from the cold seafood, but then again, I was saving lots of room for dessert.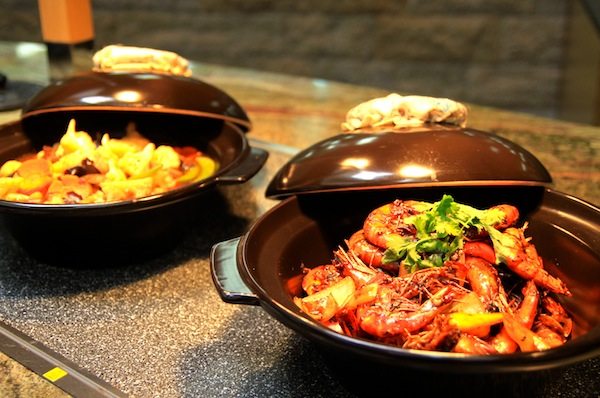 The Western/American section where I spent most of my time, is full of juicy steak medallions, mini gourmet burgers, a leg of lamb and a variety of casseroles. A selection of curries, rice and bread, can be found in the Indian section, while dim sum steaming in bamboo baskets and pots of fresh porridge are in the Chinese section. For a taste of Japan, choose from sushi, noodles and tempura or a taste of Thailand, choose from Thai salads. Every visit to Edge will bring you a different selection to choose from as the dishes are always changing.
If you want your steak cooked a certain way or are craving for a good vegetarian pasta, just ask the incredibly helpful staff. They will be happy to help. This dining experience is more than just scooping food from a chafing dish.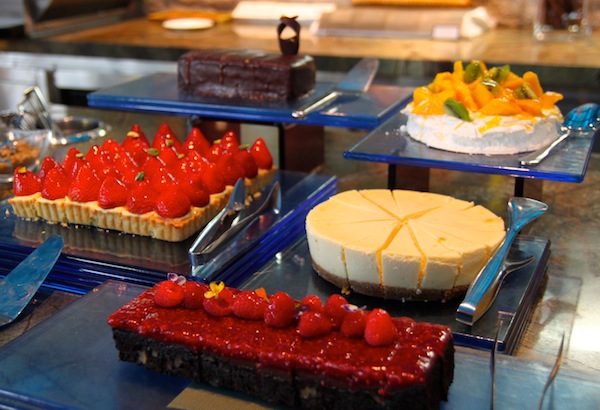 To go with your meal, how about a freshly made cappuccino or latte from the coffee and tea bar? Or maybe a fresh juice? It's all included.
The dessert station, I think, could be a meal in itself. A delectably sinful meal. Choose from a chocolate fondue fountain with fruit and cakes to dip into it, real creamy cheesecake, chocolates and sweets made in-house, it's all very hard to resist.
Food highlights to look out for include Chilli Crab and Pepper Crab for dinner, the addition of an omlette station for breakfast, and all of it available for a great value. Tempted to take me up on my dare?
Details
Breakfast: Adult $48++, Child $24++
Lunch: Adult $48++, Child $24++
Dinner (Sun to Thur): Adult $58++, Child $29++
Dinner (Fri and Sat): Adult $68++, Child $34++
Operating Hours
Breakfast: 6:00am to 11:00am daily
Lunch: 12:00pm to 2:30pm daily
Dinner: 6:30pm to 10:30pm daily
Edge
Pan Pacific Singapore
7 Raffles Boulevard
Marina Square
Singapore 039595