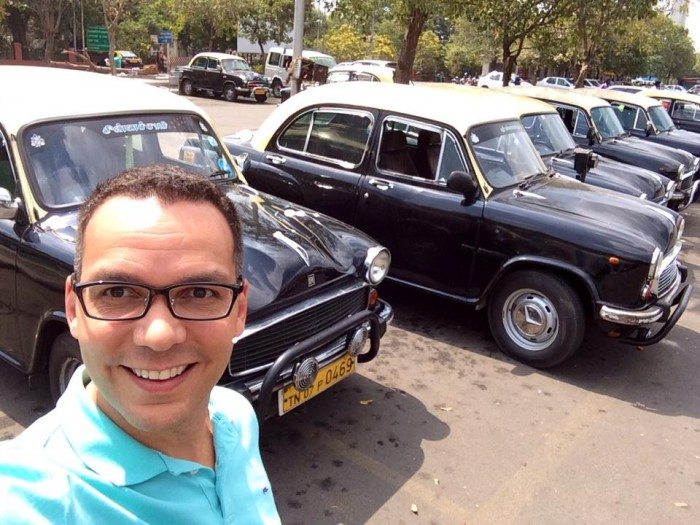 After my connection from Chennai to Hyderabad was delayed by hours, I found myself with 8 hours between flights on my way to speak at a conference. That's a long enough time to get bored sitting in an airport, but is it long enough to really see anything? Once I arrived at the Chennai airport and realised there is absolutely nothing there, I was left with no choice but to find out what I could get up to.
With an enquiry at the taxi counter, I booked myself an aircon taxi for 5 hours at 1000 INR. That's only S$20. About the same price as a 30 minute taxi ride in Singapore. I already love India.
My first instruction to the driver was, "Take me for some good Indian food in the city." He brought me to Kaaraikudi. A modest restaurant about 20 minutes from the airport. Two TVs played local Tamil music videos and the restaurant slowly filled up with families. I opted for my (predictable) favourites, Butter Chicken Masala and Garlic Naan. Most westerners are familiar with Butter Chicken, but the addition of Masala gave it a nice additional spice.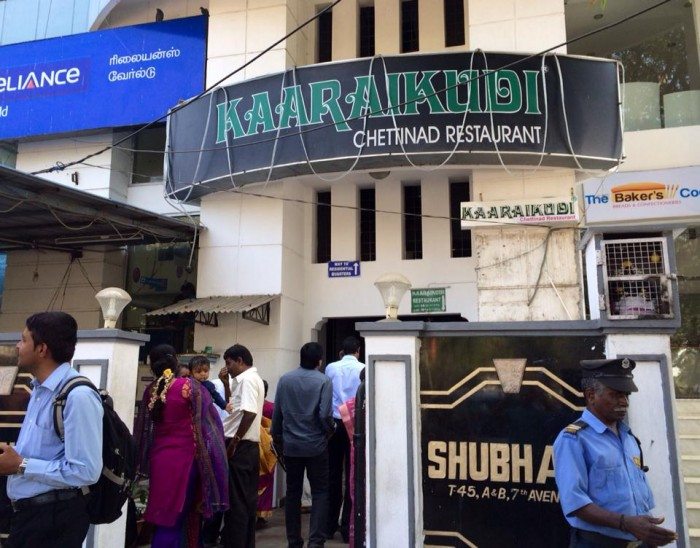 A couple doors down from the restaurant, I found a local grocery store where I picked up spices for my wife Elaine, who had given me a long list of requests. Yes, we could probably find a lot of the spices in Singapore's little India, but sometimes it's more fun to get it from the source. The cinnamon came in very raw barky looking sticks and the tamarind was in a clump. Each a bargain and unique to what you might normally find in a regular grocery store.
Being now only 10 minutes from the beach, our next stop was Marina Beach. I was in luck that day, catching the end of a photography exhibit right on the beach. After wandering around looking at the photographs, ice-cream was in order. I found an ice-cream shop selling some very unique flavours. I told the young man to give me two scoops of their most popular flavours. I ended up with "Jill and Jackfruit" and Kulfi. Both delicious.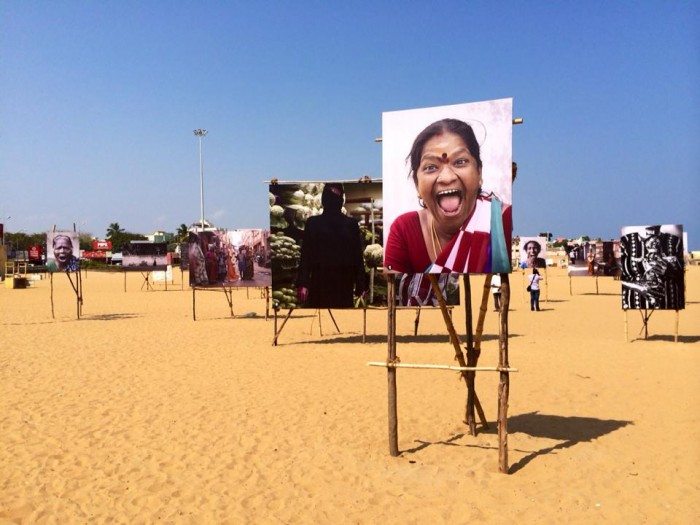 After two very tasty food stops, my shirt was showing evidence of what I had to eat that day. Not wanting to show up at my next destination already covered in curry and ice-cream stains, we made our way to a a new shopping mall, Phoenix Market City. There I found Lacoste shirts on sale and a nice coffee shop to catch up on a bit of work.
A couple coffees later and we headed back to the airport, leaving me with enough time to enjoy foot reflexology and a Kingfisher beer before my flight to Hyderabad.
So what can you do with 8 hours in Chennai? Even 5 hours in Chennai? Lots. I urge you to explore even if it's only for a couple hours.
Have other suggestions for stopover activities in Chennai? Share them with us!