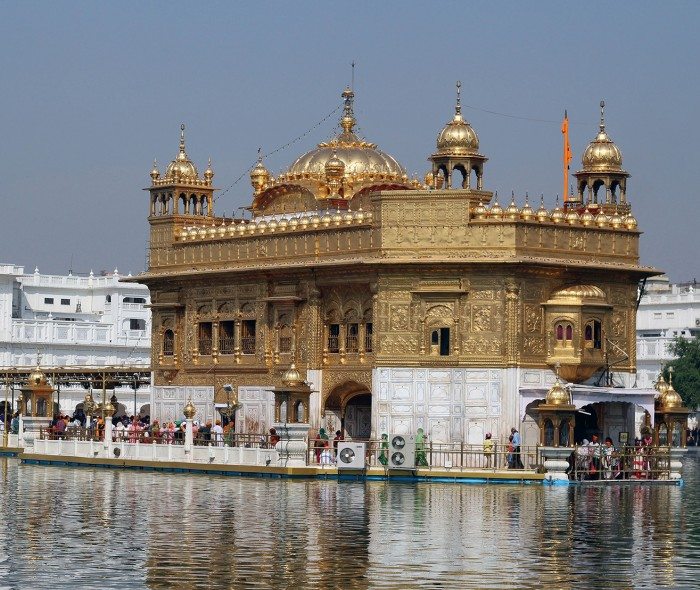 The Golden Temple in Amritsar, India's Punjab, is the holiest shrine for Sikhs. The gurudwara (temple) is an important pilgrimage destination for Sikhs, but it is open to visitors representing any religion – or none.
Facts About the Amritsar Golden Temple
The temple dates back to the 16th century and stands in the middle of the old part of Amritsar, a busy neighbourhood full of guesthouses, hotels, souvenir stores and restaurants catering for temple visitors. Its golden cupolas and the white marble walls rise from a large pool of water called Amrit Sarovar, the pool of nectar. According to a legend, a sacred lake once existed here and attracted several ascetics and holy men to meditate on its shores.
The temple itself is called Harmandir Sahib, and it is surrounded by a large complex of buildings including the Akal Takht, the Sikh Parliament. A bridge (called Guru's Bridge) leads over the water into the holiest part of the temple. Sikhism's most important book, the Guru Granth Sahib, is carried over the bridge from the parliament building into the temple every morning, and holy verses are sung from its pages continuously throughout the day.
The construction of the Golden Temple was started by the fourth of the ten gurus, Ram Das (1534 –1581). The original building was destroyed in the 18th century and rebuilt later, and the famous gilded copper plates that cover the temple roofs were added in the early 1900's. The Golden Temple made international news headlines in 1984, when India's then Prime Minister Indira Gandhi sent the army in to evict Sikh separatists who had been hiding in the temple. Hundreds of people died in the bloody eviction and in the violence that followed later in the same year, after Gandhi was assassinated by her own Sikh bodyguards.
Visiting the Golden Temple in Amritsar
The Golden Temple welcomes visitors from all religions and from all over the world. Every day tens of thousands of guests receive a free vegetarian meal, prepared by Sikh volunteers, and free accommodation is available for pilgrims. Alcohol, tobacco or meat are not allowed inside the temple area, visitors must remove their shoes before entering, and both men and women must cover their heads with scarves, which are provided free of charge. Since the temple is a holy site, visitors should also dress respectfully and avoid revealing too much bare skin.
The easiest way to get to Amritsar from India's capital Delhi is by the daily Shatabdi Express, a fast air-conditioned train service that takes just under six hours. Slower trains take around eight hours from Delhi to Amritsar and buses travel to Amritsar from Delhi and from Chandigarh, a regional travel hub.
Fly from Singapore
Scoot now offers direct flights from Singapore to Amritsar.
© Satu Susanna Rommi