After spending our first day on Railay beach, my travel companion Carmen and I thought we wouldn't meet very many people as everyone seemed to be keeping to themselves. But that all changed when we met some really friendly guys staying on a boat mooring just off the island. They invited a group of us onto their boat that evening and told us to bring some drinks. After buying some Thai beer we went down to the beach to meet everyone, and followed a group of people to a dinghy that would take us to the big boat out in the water. The group had people of all ages, including a baby and a kid. I realized maybe it wasn't going to be the kind of boat party we had expected.
The huge red yacht stood out from all of the Thai long-tail boats. Once on deck we conversed with many other interesting travelers and listened to music that played from a great sound system. One of the crew members told us that we were more than welcome to stay on the boat and gave us a tour around the different rooms. We found out it was a hop on hop off boat, it traveled around picking up people along the way, and they were able to get off wherever and whenever they wanted.
We passed by the bathroom and entered a spacious lounge room that included a fridge and oven, then made our way downstairs where all the bedrooms were. What sparked Carmen's interest was the library right near the bottom of the stairs. It was full of books, including travel and guide books. You could browse the books while on the boat, or trade books with your own.
In the center of all the bedrooms were two common showers and sinks. On the main floor there was another set of stairs that took us down to the cinema room. You could sit and relax down there or watch movies on the big projector screen.
After getting a tour of the boat we were very impressed and didn't need much convincing to stay on. Although we could save money by staying at cheap bungalows on land, we realized the value of staying on a boat like this. For around $40 a night we got accommodation, meals, and transportation between different destinations. The first man was a very experienced scuba diver instructor, so he could teach me how to dive and even have me certified with PADI. The dives they were going to take us on were much cheaper on the boat then the dive stores we saw on land. I was really excited to stay on the boat because I was on a tight budget and wasn't originally planning on doing any dives, but on the Infinity I could afford to dive.
The next day Carmen and I explored Railay a bit more before we packed and moved onto the boat. As we settled in we were off to our next destination, Phi Phi Island. On the way we stopped at a beautiful remote beach, where we snorkeled, played volley ball and soccer and tanned on the beach. It was awesome having a beach to ourselves, looking out at the clear blue ocean. Soon I was with a group of girls who had never dived before. After being told what to do and all the precautions, we got all our gear on and hopped in the water. As we slowly swam over the bottom of the ocean, we gazed around with wide eyes at the creatures and coral surrounding us. It was a very different and a much more exciting experience than snorkeling. After my first dive I gave a lot of thought about getting my PADI. I didn't have much money to spend at this point, but I decided it was well worth it to get certified in Thailand.
My decision paid off, each dive just got better and better. Each time I would see a new sea animal and different scenery. Carmen told me it was much more enjoyable to learn how to dive in Thailand than Vancouver, as she had to learn in cold water with bad visibility. Other than one training dive where we had to go through different scenarios and pass tests, it didn't feel like I was even doing a diving course. On one of the dives I was swimming through hollow structures that were part of a man made reef to accommodate sea animals. It was covered with sea urchins and sea life. Soon after getting my PADI we were doing advanced dives. Exploring the ruins of an old ship wreck, and swimming through a pitch black underwater tunnel that led up to a cave. I was doing things I never imagined I'd be doing. Seeing things that I had only seen on TV. I was swimming up close with octopus, eels, sea snakes, lobsters, etc.
While I learned how to dive, Carmen went Deep-water Solo Rock Climbing with the boys. This is where you climb sea cliffs, with no equipment except rock climbing shoes. You go when the tide is high so if you fall there is water under you, to prevent injuries.
There was never a shortage of things to do while we were on the boat. You could go snorkeling, diving, rock climbing, cliff jumping, wake boarding, read on the deck, or go out to land and explore. There was always lots of freedom and choices. When we went out to land we were given a time to meet back at the boat, and you could either stay with the group or wander around on your own. As a group we would go somewhere and order lots of food to split between all of us. When we walked around and shopped we would wait for each other. Even with 25 of us, we got close fairly fast. More so than any trips I had gone on so far, this one felt most like a family. Even when we were doing work we still enjoyed ourselves. On the boat we would take turns with chores: making meals, washing dishes, tidying the boat, and helping with the sail.
One night we gathered all the party goers and got on a dinghy that would take us to Phi Phi island. Together we went to the other side of the island where there were bars along the beach. We drank, watched skilled flamethrowers, and danced the night away.
On another night we went into a shallow lagoon after dark. In the dark, you can see glowing particles when there is motion on the water. As we drove into the lagoon we could see the bioluminescent particles around the boat in the splashes. When I looked up all I could see was the silhouette of the cliffs and the starry sky above us. At the end of the lagoon we jumped in the water and marveled at the glowing water all around us as we swam. It was a magical moment I will never forget.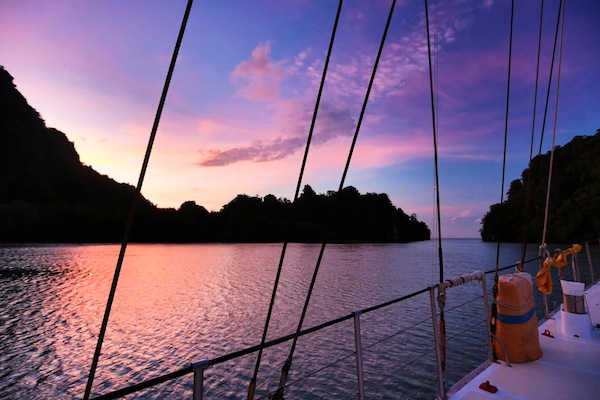 One of my favorite things on our trip on Infinity was the unreal sunsets. Every night it was different, so many colors filled the sky. Originally we were only supposed to stay on the boat until we got to Phi Phi island, but the people, experiences and beautiful scenery kept us on until Phuket. What was meant to be two nights on the boat turned into 6. I was so happy that I had the chance to stay on Infinity while traveling in Thailand, the boat offered a lot more than I had expected. If you're adventurous like myself and my traveling companion Carmen, this boat is exactly what you need.
To find out where Infinity is and where it's going become friends with Infinity Expedition on Facebook.