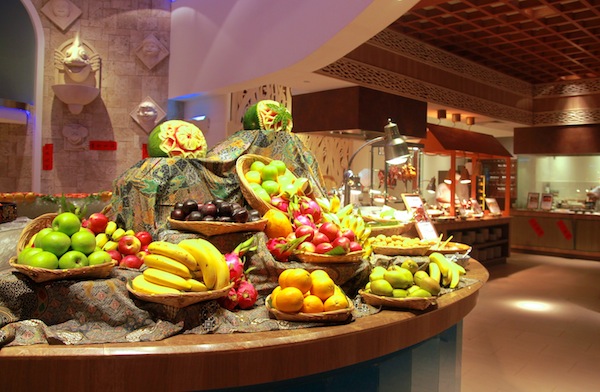 Every Tuesday night at Shangri-La's Rasa Sentosa Resort, the Silver Shell Café is transformed for the Good Ol' Days of Singapore buffet. With Batik table cloths and staff dressed to suit the era, they recreate a sample of what life was like in Singapore back in the 1960s.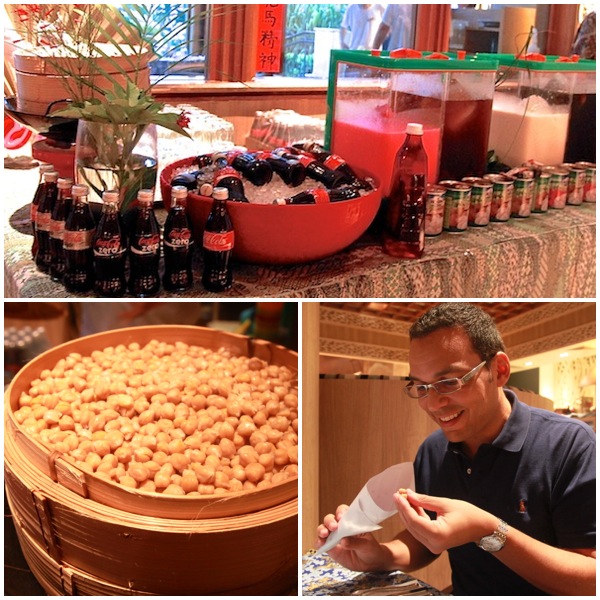 As soon as Tom and I sat down at our table, a waiter rushed up to offer us a drink. As he listed off the varieties, we looked at each other in confusion. The only drink we recognized was the longan drink. The waiter who was obviously used to getting this look, suggested "Let me bring you a sample of different drinks so you can see what you like." We enthusiastically agreed.
I look around the restaurant and saw a bamboo steamer basket on a table. Curious to know what was inside, I opened the lid to find it filled with chick peas. Again with my look of confusion I asked a waitress "What are these for?" "It's like popcorn," she replied, "back in the old days instead of popcorn, we would snack on steamed chick peas, or peanuts at the movie theatre." She went on to explain the chick peas were often served in newspaper rolled into a cone. Then scooped some into a paper cone for me try. Excited about my new discovery, I had to share my popcorn alternative with Tom.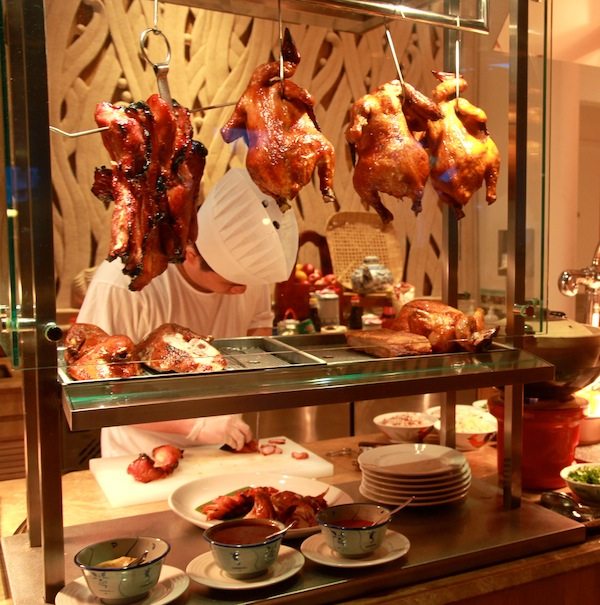 We wandered around the Indian, Malay and Chinese food stations to scout out our food options. The cooks came out from their stalls to tell us all about the different dishes. From behind a glass with hanging poultry, a cook encouraged us to try different dishes "We have roast duck, also Singapore Laksa. Choose your different noodles from here. We put prawns and fish cakes in the Laksa. It is made with prawn paste, coconut milk and bean curds. Or Loh Mee with (boiled) egg and pork." He went on to show us many different dishes including Chinese Herb Chicken, and the classic Chilli Crab.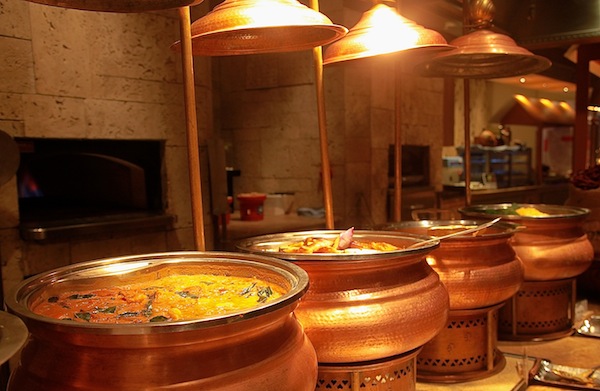 As we continued walking around, I found one of my favourite Indian dishes Assam Fish Curry and a few new dishes I was eager to try including Vegetable Dalcha, Tumeric Rice and Roti Jala.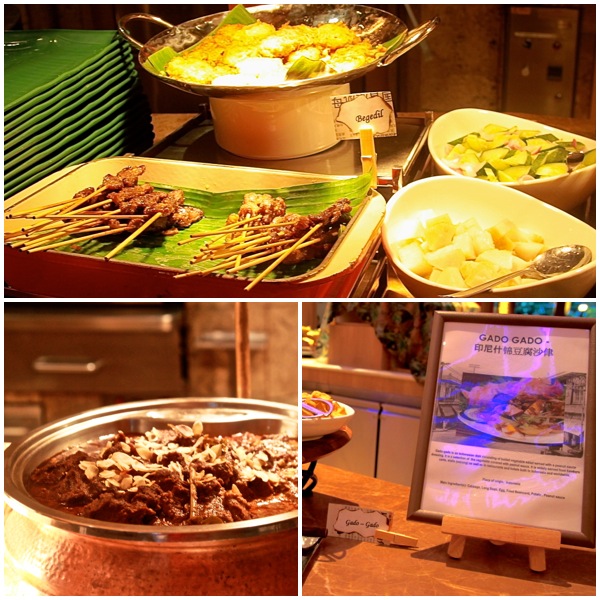 In the Malay section, Tom found his absolute favourite dish, Beef Rendang, as well as Satay, Begedil and Prawn Crackers, while I found my favourite Malay dish, Gado Gado. Throughout the restaurant, diners not familiar with a dish or wishing to learn a bit more about it could refer to a sign with a description of the food, it's origin, and the main ingredients.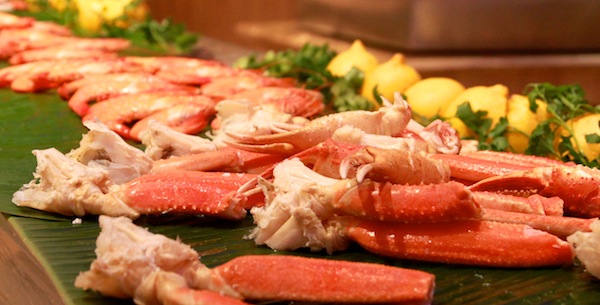 For us, the highlight of the buffet was the cold seafood section with Alaskan King Crab legs. So easy to open with no additional flavouring needed, it will be hard for me to go back to trying to scrape out little pieces of meat from Mud crab legs, the crab often used in Chilli Crab.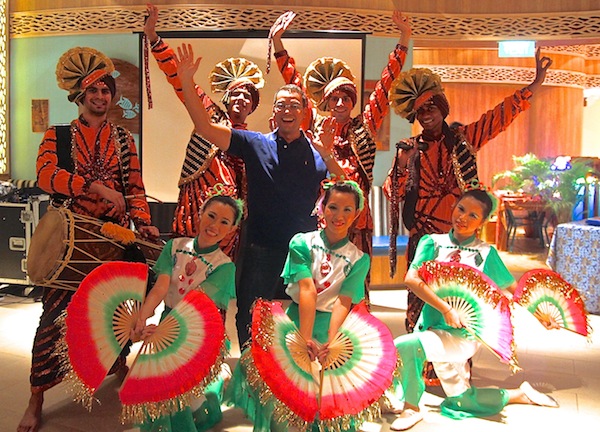 With our plates full, we headed back to our table to arrive just in time for the entertainment to start. Out came three women to perform a Chinese tissue dance swirling around red circles of fabric, while dancing and smiling. Next came out a Bhangra troupe followed by a Malay group. Each performance displayed a very distinctive style unique to their cultures. At the end, the Bhangra team invited people up to try out a few dance moves and Tom couldn't resist but to take part in the fun. They had him "changing light bulbs" and "cleaning windows", clever ways to describe the dance movements. At the end, the dancers posed for photos with diners.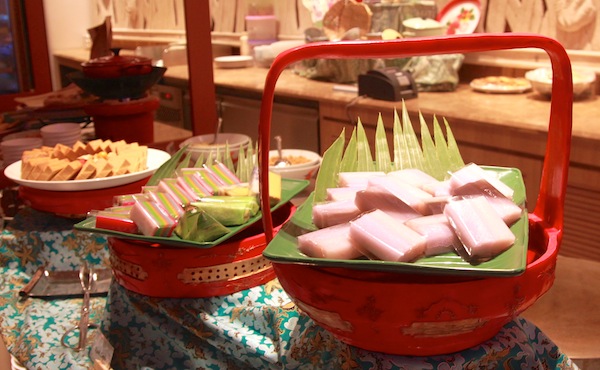 We finished our meal with a sampling of the different desserts available. Durian Cream Puffs, Sugar Rolls, Agar Agar, Egg Tarts and Kueh. A mixture of Chinese and Malay desserts.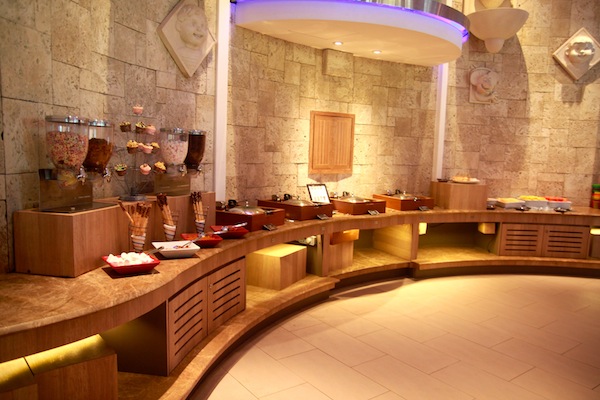 One of the things I found very unique about the buffet was the kids' station where a height friendly counter was filled with mains, desserts and sweets kids would love. I especially enjoyed having the the dishes prepared right in front of me as I got to see the friendly gentleman that was showing us the Chinese station make Carrot Cake (no carrots in this dish).
The Good Ol' Days of Singapore is a fun way to experience different dishes popular in Singapore in the '60s and today. Whether you are a Singaporean food enthusiast, or are trying it all for the first time, you are sure to have a great time and leave full of great food and memories.
Good Ol' Days of Singapore
Shangri-La's Rasa Sentosa Resort
Silver Shell Café
Every Tuesday from 6pm-10pm
$42++ per adult
For reservations, please dial +65 6371 1966 or email fbreservation.sen@shangri-la.com.