Hippopotamus
Wellington's premier French restaurant is located on the 3rd floor of the trendy Museum Art Hotel. Award winning chef Laurent Loudeac will take you on a visual and mouthwatering journey from the moment you walk through the doors 'til the last crumb of your petits fours. With its beautiful arrangement of bright and mismatched decor, hand painted menus, stunning views of the harbor and not to mention extensive and impressive cocktail and food list; you'll be anticipating and delighting in everything set before you.
Upon arrival we were greeted by Antoine our Maître d' of the night. An exceptional and bright gentleman who was nothing but attentive and knowledgeable when it came to assisting us with his own personal recommendations and to answer any questions we might have. We were shown to a beautiful window side table just as the sun was setting and directed to Maciej for his expertise in wine pairings and specialty cocktails. He was so talented, he was even able to whip me up his tasty take of my favorite cocktail, a Rhubarb Mojito, which was really something special.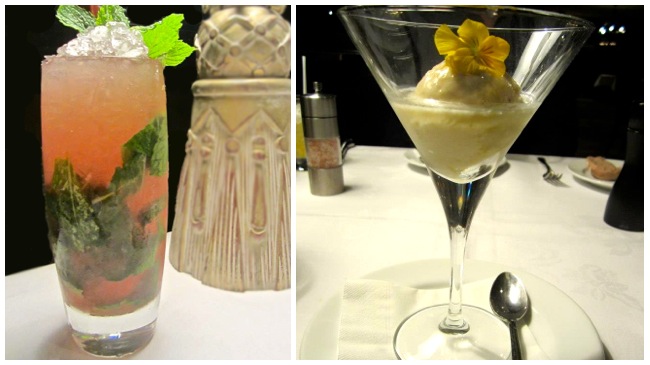 We started the evening with champagne cocktails, a mix of a sparkling French champagne and blackcurrant liquor, along with fresh New Zealand bluff and rock oysters. Some say bluff oysters are the best in the world and I can definitely attest to that. The were beautifully presented and accompanied with soft warm walnut rolls.
Once our starter was whisked away, we were surprised with a palette cleanser of smooth peach sorbet in vodka. The cute little flower detail made for a beautiful touch.
For my main I went for Faux-filet au beurre Café de Paris which was a gorgeous cut of Prime Angus sirloin cooked to medium rare perfection topped with a melting "Cafe de Paris" butter, served on a bed of sauteed mushrooms and spinach.
My partner went with the seasonal New Zealand rack of lamb stuffed with garlic and wrapped in parma ham, served with potato fondante, lamb sweet bread and a mint and lemon meringue. The saltiness of the parma ham really complimented the juicy flavor of the tender lamb and all the little accompaniments made for a colorful and tasteful delight. Both mains were perfectly presented with a taste to match.
For a sweet end to our stunning meal we ordered the Crème Brulée Traditionnelle, a great little dessert with a lavender ice cream and honeycomb accompaniment which really stole the show. My next choice, had I been able to fit another delicious morsel of food in me, would have been the Crêpes Suzette which they flambée right at your table! The petits fours are also a perfect choice if it's just something small and sweet you're after. Be warned once you've tasted the richness of that dark chocolate you may be looking for a few more petits fours!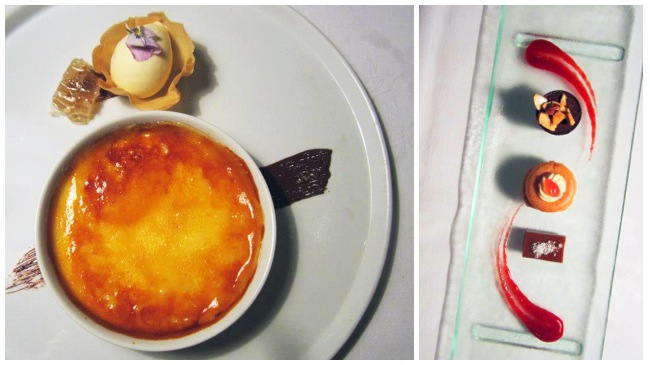 Our Say
A dining experience that is not to be missed. Whether you're a Wellington local or visiting from afar this lux little eatery is sure to impress. Amazing food, gorgeous presentation and above and beyond service. With seasonal menus, you'll be finding any excuse to come back and visit again. A special thanks to Museum Art Hotel, Hippopotamus and especially Antoine and Maciej who were a fresh reminder that 5 star dinning can still be served with personality, flare and genuine hospitality. You really made our night!
Hippopotamus
Museum Hotel
Level 3, 90 Cable Street
Wellington New Zealand
T: +64 4 802 8935
W: www.hippopotamus.co.nz