The Restaurant
Nestled in the corner of the 70th floor of Swissotel The Stamford is the fine dining establishment, JAAN. The elegant dining room for up to 40 discerning patrons occupies a prime spot with views towering over Marina Bay Sands. JAAN is basking in the marvels of their relatively new chef, Julien Royer, and we had the opportunity to taste some of his creations.
To try out JAAN's Artisanal Menu, Tom and I were joined by our friends and fellow foodies from 9to5 Travel Gary and Taya and our wonderful hosts Susie and Jin who proudly told us all about Chef Julien. He is from a family of 4 generations of farmers from Central France, and he learned to appreciate quality organic produce and humanly treated animals, a trait he brings to his dishes at JAAN. One of their proudest accomplishments for him yet is his award for World Gourmet Series "Rising Chef of the Year" 2012.
Artisanal Menu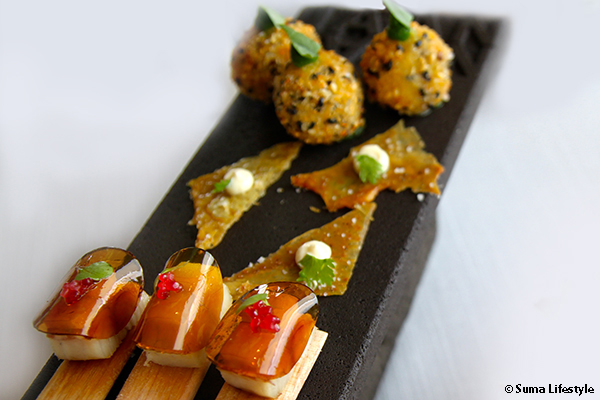 Smoked Unagi, Tarragon Crispy Chicken Skin and Cantal Cheese Cromesquis
Our over 5 course Artisanal Menu journey began with the menu's description of 'snacking', gourmet snacking to be exact. Tiny bite sized 'snacks' on a black stone pedestal were placed on our table: Smoked Unagi, smoked eel topped with pickled apple and seaweed jelly, Tarragon Crispy Chicken Skin, chicken skin topped with a lightly curry flavored yoghurt, and Cantal Cheese Cromesquis, a warm potato ball flavored with Cantal cheese, a cheese from the chef's hometown. Each bite size portion was a delight. The stage was set for an afternoon of surprises.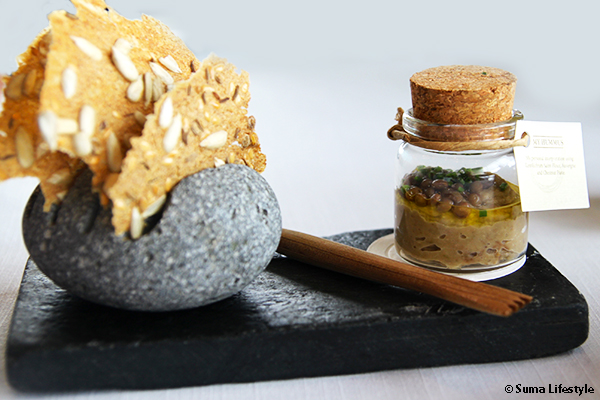 'Le Puy' Lentil Hummus
The snacking continued with 'Le Puy' Lentil Hummus, a soft slightly sweet hummus made with lentils from Auvergne, France served with seeded cereal crackers. The crackers were delicate and a tasty accompaniment to the hummus.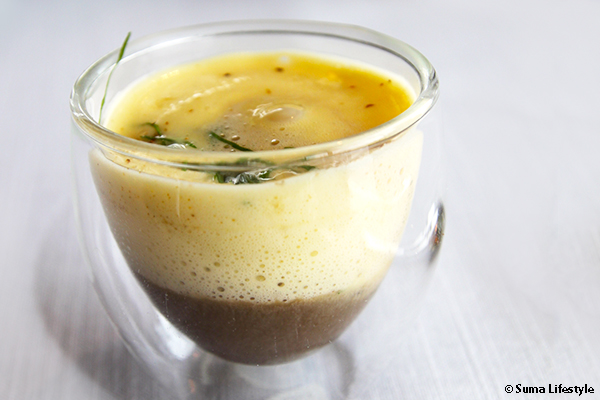 Wild Mushroom Tea
Served alongside the snacks was a hot glass of Wild Mushroom Tea, a flavor filled almost soup creation of cep sabayon topped with a bit of portobello mushroom, crunchy walnuts, a frothy mushroom tea and a touch of lovage. A dynamic delight of sweet and salty flavors.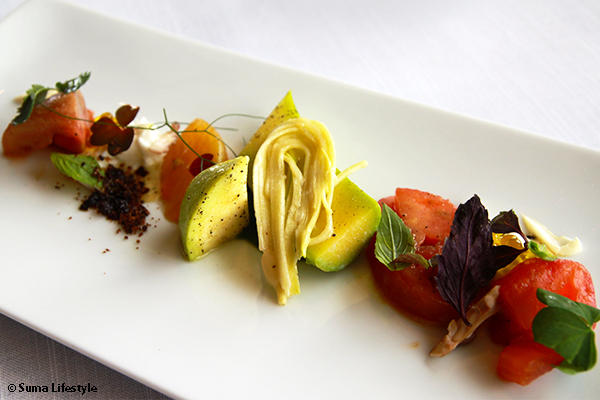 Sicilian Trumbetta Zucchini
The first main, the Sicilian Trumbetta Zucchini lets the flavors of the quality vegetables from Italy and France shine. The dish combined trumbetta zucchini, heirloom tomatoes from South of France, courgette spaghetti, burrata 'artigiana' a young mozzarella, with black olive sugar, shaved walnuts and a touch of basil puree. The basil puree hidden under the zucchini added just the right amount of flavor to the dish allowing the characters of the vegetables to be appreciated.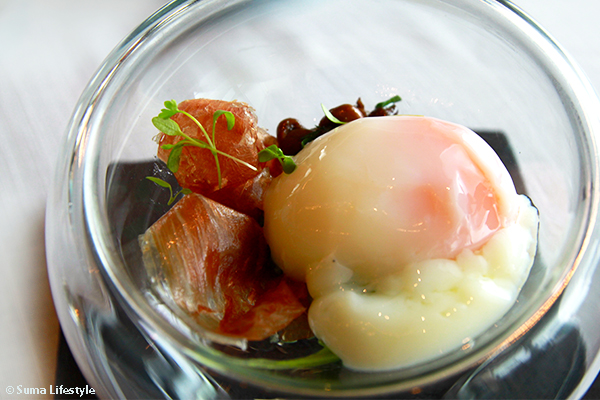 55' Rosemary Smoked Organic Egg
Next came the 55' Rosemary Smoked Organic Egg served in a glass bowl with rosemary smoke filling the underside. The egg is cooked for 55 minutes at 64 degrees, a technique based on the Japanese Onsen Egg, a process of cooking an egg in volcanic waters to allow it to retain it's softness. Served alongside our smoked egg was bellotta ham from a farm in Salamenca, Spain, firm garden peas, chanterelle mushrooms and a touch of rosemary. The egg was so soft and was contrasted nicely by the crunchy peas.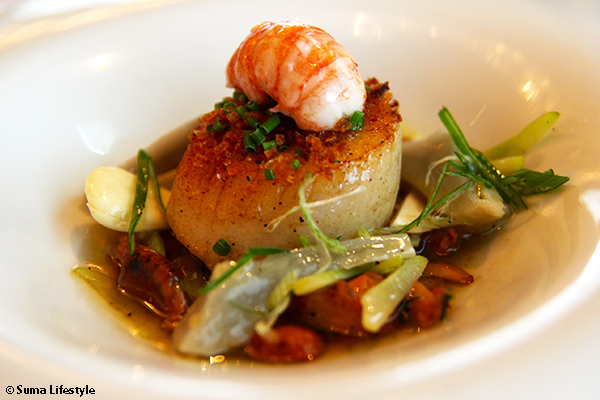 Hand-dived Scallop
To my delight as a scallop lover, our next dish was Hand-dived Scallop, a cold water scallop from Norway topped with a crayfish tail. Surrounding the scallop were chanterelle mushrooms, Japanese artichoke, and a touch of cauliflower puree in a 'beurre noisette' broth (Hazelnut butter broth). The dish was absolute perfection, the scallop was cooked perfectly and the flavors had me proclaiming to the table "This... is... INCREDIBLE."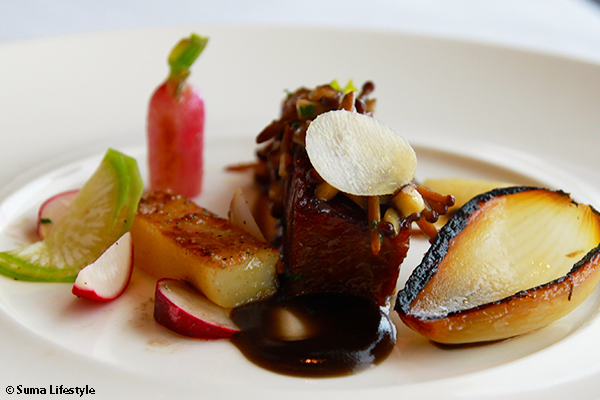 2 Day Confit Tajima Beef Short Ribs
While I had a pescatarian alternative of artic char, which was amazing by the way, the rest of the table enjoyed a Wagyu beef short rib. Cooked for 48 hours, it was perfectly soft, so I was told. The Wagyu beef was topped with Japanese mushrooms and mushroom ketchup, and surrounded with radish 'primeurs', smoked 'ratte' potato, and finished with Cevennes onions slightly burnt for a bit caramalization.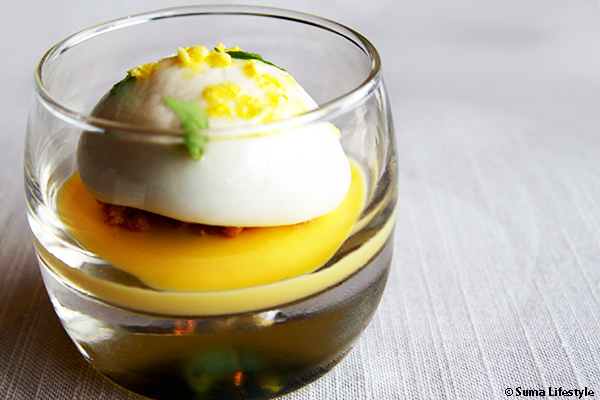 Pre Dessert
Next we were presented with our 'Pre Dessert'. Don't you just love the idea of a dessert before the main dessert? Our pre dessert was an organic lemon panna cotta served with Thai basil sorbet, finished with tiny lemon meringues on top. It was beautifully light and creamy, and the basil leaves made it very fresh.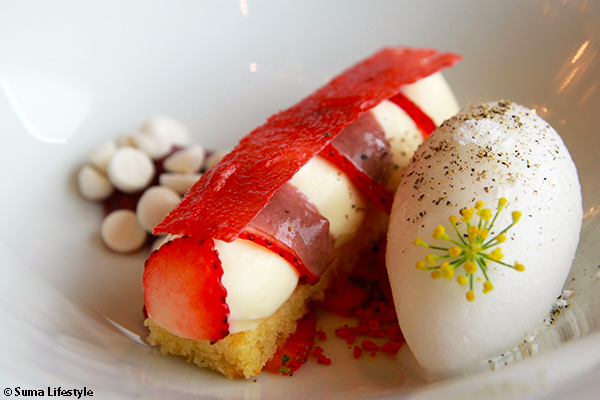 Mara des Bois Strawberries 'Comme un Millefeuille'
Then came the main dessert. Mara des Bois Strawberries 'Comme un Millefeuille', a base of almond sponge topped with lemon curd, freshly sliced strawberries from France, and a strawberry crisp. On the sides were strawberry puree and ginger meringues, and cardamom sorbet, finished with black pepper ground at the table. A stunning mixture of flavors that worked perfectly together making this another raving favorite of mine.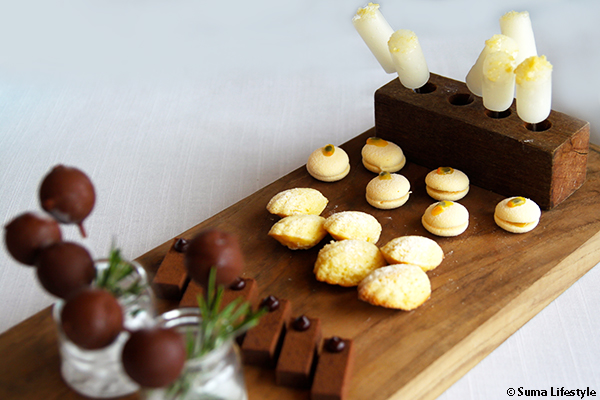 Mignardises
For the grand finale a butcher block of 'mignardises' spilling with dry ice smoke was placed on our table showcasing an assortment of smoked rosemary and ice cream lollipops, lime mint sorbet, passion fruit and banana marshmallows, and lavender chocolates. Each bite was full of surprises, but I will let you find out on your own what the last surprise was.
Our Say
The JAAN Artisanal Menu is a theatrical journey of mouth-watering dish after jaw-dropping dish. A true experience from the first glance around the restaurant and the views of Singapore, to the service. I highly recommend the Artisanal Menu for an unforgettable celebration.
Jaan
Level 70, Equinox Complex
Swissôtel The Stamford
Singapore
T: +65 9199 9008