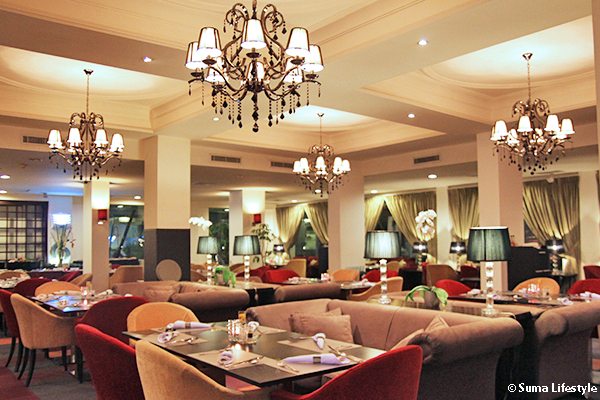 Hidden in the back of our hotel GrandKemang, we found an amazing seafood buffet dinner. When I say hidden, I mean we thought the hotel stopped at the end of the lobby as I am sure many do. It was my curiosity that paid off, as I was wondering, "What is around that corner?". What was around that corner was another lounge, a wine bar, the entrance to the pool and at almost the end of the hallway Sperta, an all day dining restaurant and I was to find out the next day, also where our buffet breakfast was to be served.
Lured in by a display of desserts and a sign promoting a seafood buffet, we had to take a look around. After drooling over the desserts and a scan of the restaurant we decided this would have to be our dinner. Plus we figured it was a sign that we happened to be staying at GrandKemang on a Friday night, the only night the seafood buffet is offered.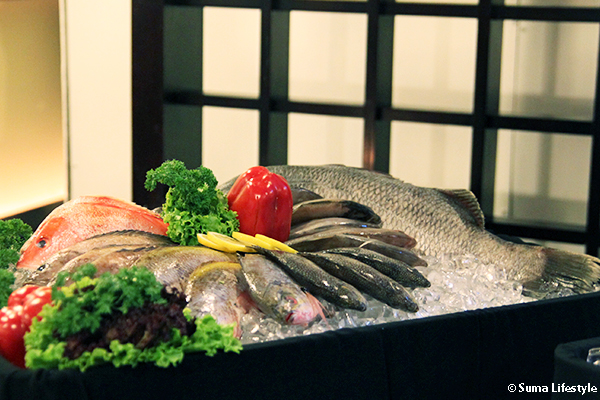 After making our selections of fresh fish fillets, seafood skewers, prawns and steaks from a seafood spread on ice, the helpful staff asked how we would like our meat cooked then whisked our plates off to the chefs in the back.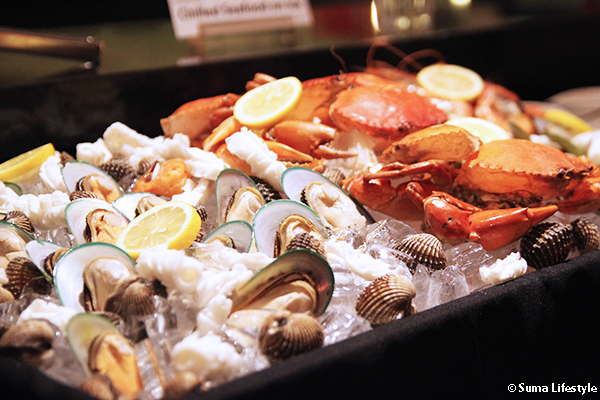 While the food was cooking, we continued our walk around the room and filled our plates with even more seafood. On the other end of the restaurant was cooked crab, muscles and clams on ice, sushi and a variety of salads including Thai seafood salad. This was definitely going to be a seafood feast.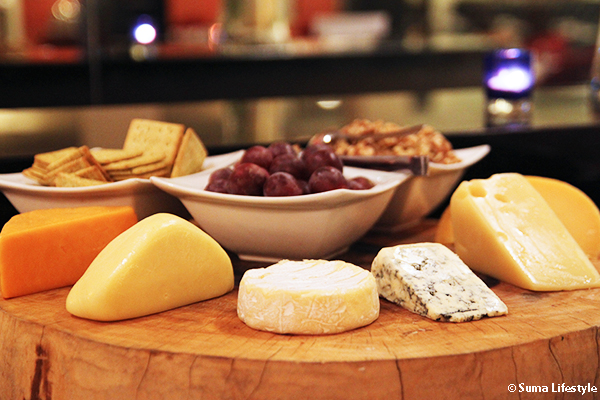 Even a BBQ Seafood Buffet has other dishes besides seafood. A line of hot dishes was tucked in the corner with a selection of rice and pasta dishes, and one of my favorites, Broccoli au Gratin. Another row displayed salads and blocks of gourmet cheese.
With our plates full, we headed back to our table to find our barbequed meat ready and a waiter eager to add sauce to them. We decided to flavor the meat ourselves and took our plates to a table full of 6-8 different sauces including mushroom, BBQ and Padang. The Padang sauce was sweet and one I highly recommend trying.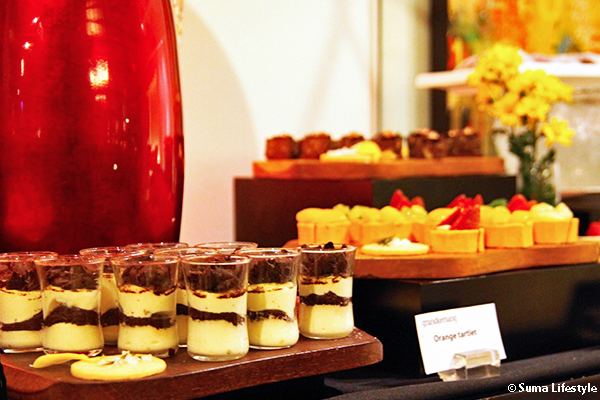 Then came time for dessert. Now everyone has a different "strategy" when it comes to buffets, some stay away from the "fillers" and only go for the protein, others, including myself try a little bit of everything, then other people save lots of room for dessert. This is one of those buffets where you definitely want to save room for dessert. Besides small servings of mousse, pudding, tarts, cakes and fruit, there was a crepe station and our favorite, the ice cream station. Having been to a lot of buffets, I find that the ice cream is usually pretty basic and not the best quality. Not this time. One taste of my husband's ice cream, and I was marveling over the creaminess and the flavor. I had to ask the waiter where the ice cream was from. He proudly informed me "It's New Zealand Natural, the same ice cream you would get if you ordered a la carte or from room service". I gasped in delight, and ordered two more scoops of mango ice cream.
Sperta BBQ Seafood Buffet
GrandKemang
Jl. Kemang Raya 2-h
Kemang 12730, Indonesia
T: (0)21 719 4121
Seafood BBQ is every Friday from 7pm-10pm
Rp 168,000 ++ per person (USD$17.90 per person)