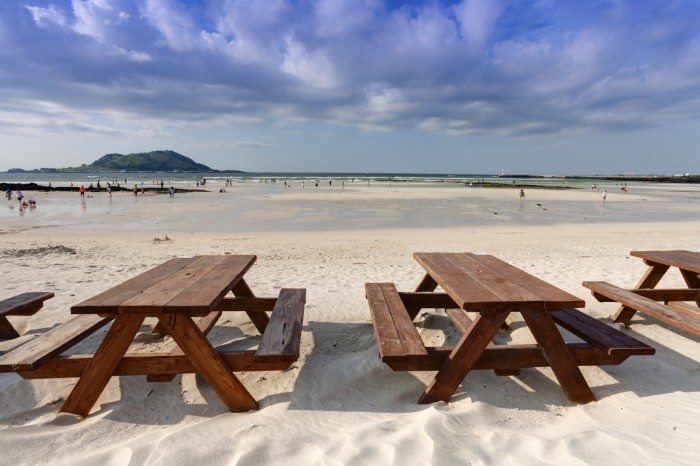 While my husband and I were living in Seoul, we had the opportunity to spend our summer vacation on Jeju-do. Jeju is a subtropical island located off the southern coast of the Korean peninsula. It's known as the 'Hawaii' of South Korea because it's a volcanic island, has swaying palm trees, a warm climate, and sunny beaches. Here are some of the places you can visit during a trip to Jeju island.

Hyeopjae Beach
Hyeopjae Beach (another is Hamdeok Beach) is one of the best beaches on Jeju - located next to Halim Park in the southern part of Jeju Island. The sand is very white and deep blue and emerald waters are shallow, calm and perfect for swimming. Shower facilities, private lodging, restaurants and a campground, are located right on Hyeopjae for convenience. Don't forget to bring your Suma beach towel! In the summertime, waters are crystal clear and there's a view of Biyangdo Island in the distance.
Hyeopjae and Ssangyong Caves
In the adjacent Halim Park, you will find Hyeopjae and Ssangyong Caves. Ssangyong (means 'double dragon') and is the only two-dimensional cave in the world - a cave that has another cave inside.

Manjanggul
Manjanggul is one of the longest lava tubes in the world. Manjang is situated at Donggimnyeong-ri, 30 km east of Jeju City.

Mt. Hallasan
Hike Mt. Hallasan (UNESCO World Heritage Site), a shield volcano and the tallest mountain in South Korea.

Cheonjiyeon Waterfall
Visit the beautiful Cheonjiyeon Waterfall, that is accessed by a landscaped trail.

Olle Walking Path
Jeju Olle is a series of walking trails that stretch across the southern coast of Jeju Island. The trails pass through small villages, beaches, farms and forests giving visitors an opportunity to enjoy the island's beauty and culture.
How to get to Jeju Island
Fly Asiana Airlines or Korean Air from direct from Seoul. Then from Jeju International Airport → Take bus no. 100 or 200 from the airport and go to Jeju Cross-Country Bus Terminal → Take a cross-country bus to Seohoeseon Ilju Road (passes every 20 minutes) → Get off at Hallim Park (45 minutes) and you will find Hyeopjae Beach directly adjacent.
Tip: For beach weather, the best times are July and August. The rest of the year is a little too chilly to swim. However, watch out for the occasional torrential downpours during these hot and humid summer months!
Originally published by Taya in December 2010, updated by Elaine in April 2016.