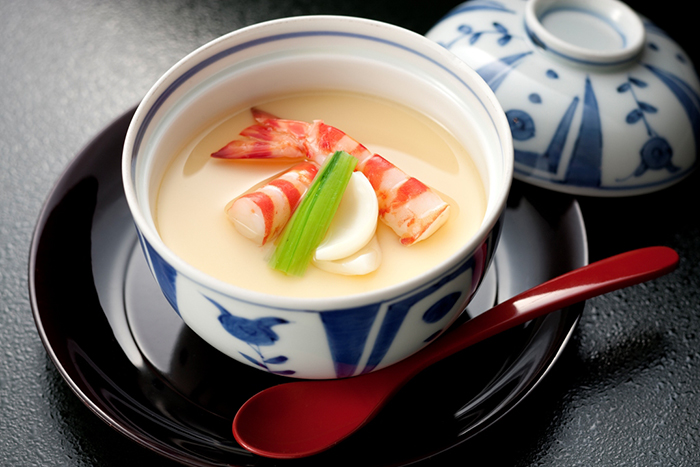 Who doesn't love Japanese cuisine? With everything from fresh and healthy sashimi and sushi to curry, teppanyaki and tempura it's hard for the pickiest eater to not find something to love about Japanese food. So what if you love ALL of the different types of Japanese food and always have a hard time deciding what to get? That is always my dilemma and exactly why I love Japanese buffets. I can get a bit of everything and not have to decide between being "good" or "indulging".
Showing up on the opening night of the 10-day Osakan food extravaganza at Swissôtel Merchant Court's Ellenborough Market Café, I quickly find out I'm not the only one excited for freely flowing Japanese cuisine. Not only is the inside of the restaurant full, the outside patio is filling up fast too.
The nice thing about a busy buffet, is the food is constantly replenished with freshly made fare. As I walk around inspecting the different stations (as I always do so I can plan my attack) one of the guest chefs from Swissôtel Nankai Osaka is busy frying up tempura and transferring the finished product straight to a serving dish where dinners are scooping up piping hot tempura to take to their table. Yes that's right, a Japanese chef cooking up your food, and there are a few of them visiting just for this event to bring us authentic Osakan flavours.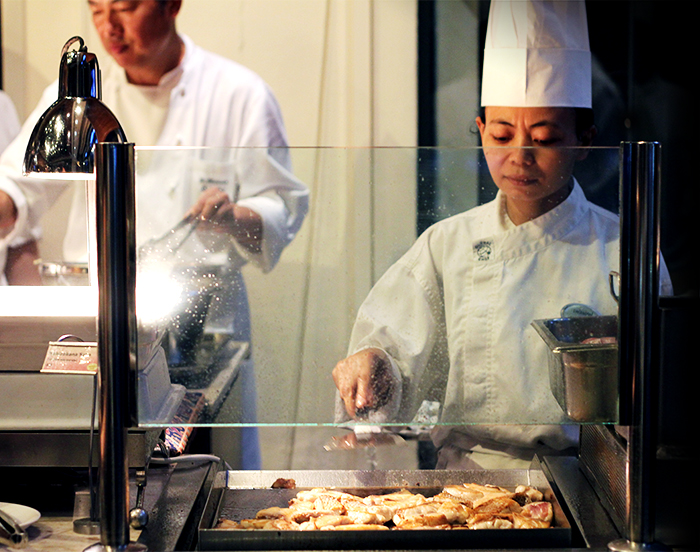 Next to the tempura station another chef is grilling Yakizakana Saba (grilled mackerel) and it's drawing a crowd.
As I continue to walk around I realise my method of attack for the night will be small potions of pretty much everything because there is just too many dishes I want to try.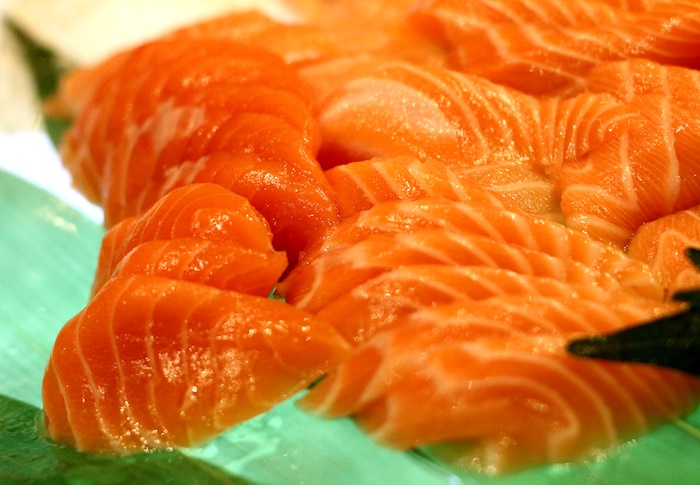 No Japanese buffet (or really any buffet) is complete without sushi. During this event the sushi corner gets bulked up with mounds of varying sashimi along with rows of different sushi including Tempura Rolls, California Rolls, White Fish Sushi, Tuna Sushi and Tamago Sushi.
As I walk down the rows of chaffing dishes, I pass Breaded Hokkaido King Scallops, Yakisoba (fried noodles), Chicken Kare (Japanese curry), Beef Katsu (breaded deep fried beef) and a large platter of a whole Threadfin Fish in Wasabi Cream.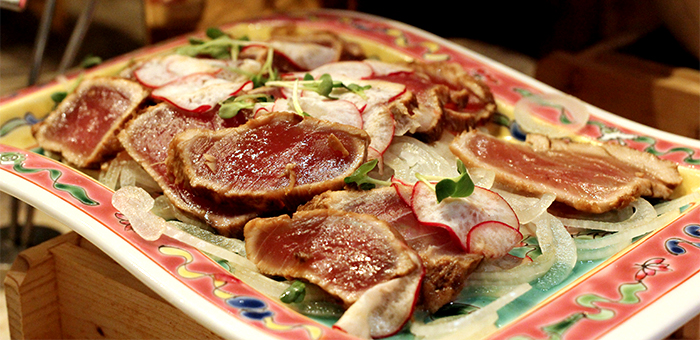 In the centre island is a variety of Japanese soups, stews and salads along with Tuna Tataki (seared tuna pictured above), Takoyaki (cooked flour balls filled with octopus), and Yakitori Skewers (grilled chicken).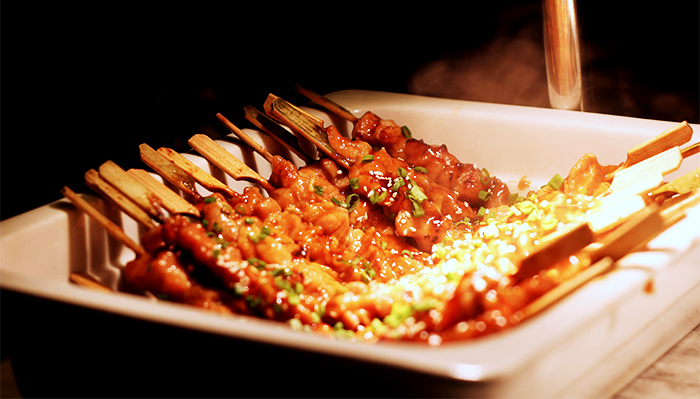 Yes, a little bit of everything if I want to be able to walk myself out of this restaurant. Then looking over at a table, I see a lady contently cracking into snow crab legs and I'm reminded of the whole cold seafood station in the other room. I'll definitely have to save a bit of room for at least 1 crab leg.
Not only does the adjoining room have a selection of prawns, oysters, and crab on ice, it's also where fans of Ellenborough Market Café's Peranakan food can still enjoy their much loved Ayam Buah Keluak and Babi Pongteh.
With my head spinning with options, I start making my way around the buffet lineup picking out small portions of my favourite dishes: Tempura, Kare, Takoyaki, and a variety of seafood dishes.
Everything I try is excellent, with the Threadfin Fish in Wasabi Cream and Yakizakana Saba being so good I have to go back for seconds. Even with my strategy to take small portions, I'm still not able to try everything. Only more reason to go back right?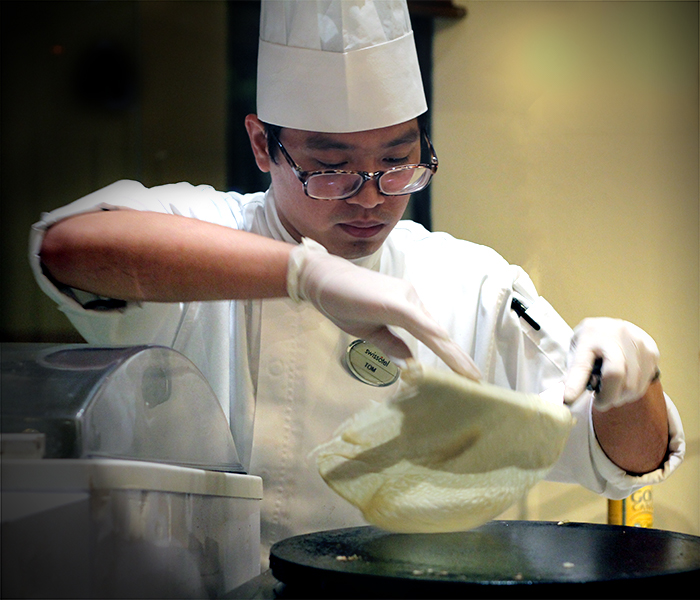 I can't give myself too hard of a time since I did manage to save room for dessert. The freshly made crepes topped with green tea ice cream and assortment of mochi are too good to pass up. A sweet ending to my tastebud tour of Osaka. One I will definitely have to repeat.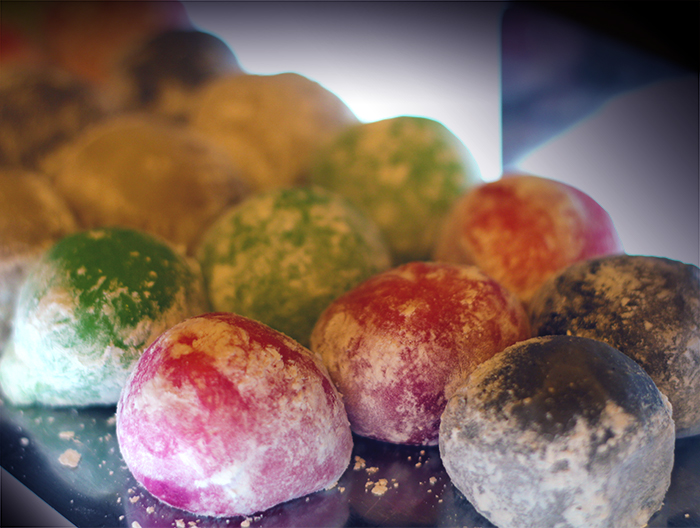 How do you strategise your Japanese buffet dinners? Head straight for the sashimi or stock up on Yakitori?
Details
Flavours of Osaka
7 to 16 June 2013
Lunch (Saturday & Sunday) Adult $52++ Child $26++
Dinner (Daily) Adult $58++ Child $29++
Exclusively for HSBC cardholders, one dines free with every three paying adult buffet diners.
Ellenborough Market Cafe
Swissôtel Merchant Court
20 Merchant Road
Singapore 058281
T: +65 6239 1848
This was an invited food tasting. As always, opinions are our own.