Read our 2014 Plaza Brasserie Crab Feast Review here.
Fellow crab lovers, this ones for you. Plaza Brasserie at PARKROYAL on Beach Road has brought back its popular Crab Feast from last year. This time around new crab flavours have been introduced along with a new look to the hot dishes and desserts section.
On display the night of my visit are EIGHT different flavours of crab. Big chaffing dishes overflowing with mouth wateringly delicious crab. It's definitely my idea of heaven.
New to the crab lineup this year is the Steamed Crab with Tang Gui and Baked Crabs. As a lover of crab covered in juicy sauces, e.g. Chilli Crab, I was curious to see how these turned out. The Steamed Crab with Tang Gui is to die for. Just the right amount of flavour without the mess as the flavours are infused right into the meat. A must try. The baked crab is also good, but the Tang Gui is my favourite.
Besides these two dishes are the faithful Chilli Crab and Black Pepper Crab, as well as Curry Crab, Crab Nonya Style and Butter Crab. Wowzers.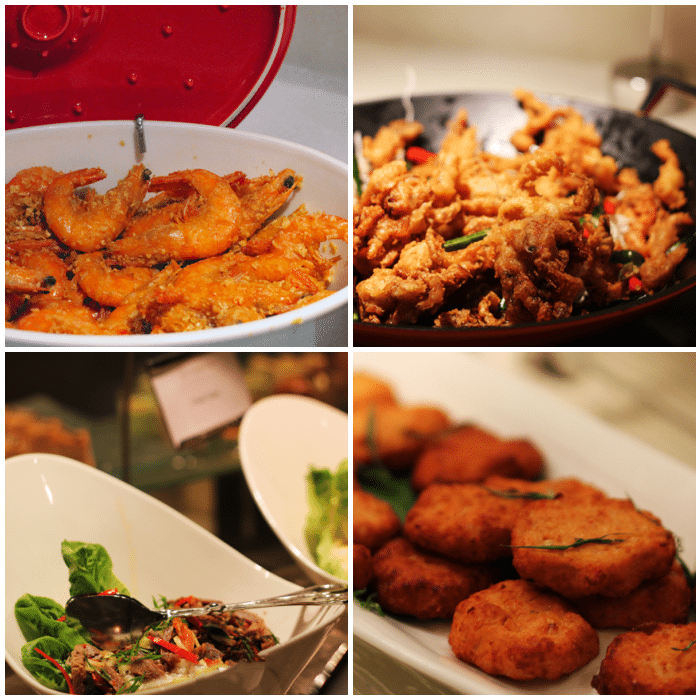 Plaza Brasserie regulars will notice a new look as they turn the corner to the hot dishes section. Now the fare is served in classy red Le Creuset dishes. With the new look are a few new offerings including Oatmeal Prawns (a must try) and Plaza Brasserie favourites of Crispy Soft Shell Crab and Sea Cucumber with Mushrooms.
During the Crab Feast the salad and appetisers section is full with Dijon Crab Cakes with Coriander Paste, Chicken Salad with Pesto, Tang Hoon Salad, Spicy Tuna Salad, Bread Crab Claw, Mini Crab Meat Samosas and Olive & Potato Crabmeat Balls with Pesto. Also available is the much loved Baked Whole Salmon with Spicy Dip. Something I get every time.

Chocoholics will rejoice with the addition of a streaming chocolate fountain with speared fruit next to the ice cream station. If I eat fruit with my chocolate it's healthy right?
Then in the dessert section are Plaza Brasserie staples of American Style Cheese Cake (my favourite), local delights of Sweet Potato, Water Chestnut, Bubur Cha Cha, as well as bite sized cakes and fruit tarts.
As if that wasn't enough dessert options to turn you diabetic, there is always the Prata Station where the chef will cook up Chocolate Prata with bananas, chocolate sauce and sprinkles. I saw a very happy young boy walking away with a plate full of Chocolate Prata as he headed over to the ice cream station to top it all off with a scoop of ice cream.
A visit to Plaza Brasserie's Crab Feast is not the time to count calories, but instead indulge in freely flowing, great tasting crab, seafood and desserts.
Let us know what your Plaza Brasserie favourites are.
Details
Crab Feast Buffet
5 June to 31 August 2013
Buffet Dinner
Mondays to Thursdays
Adult S$55++, Child S$33++
Fridays to Sundays
Adult S$58++, Child S$35++
PARKROYAL on Beach Road
Plaza Brasserie
7500 Beach Road
199591, Singapore
T: 6505 5710
This was an invited food tasting. As always, opinions are our own.