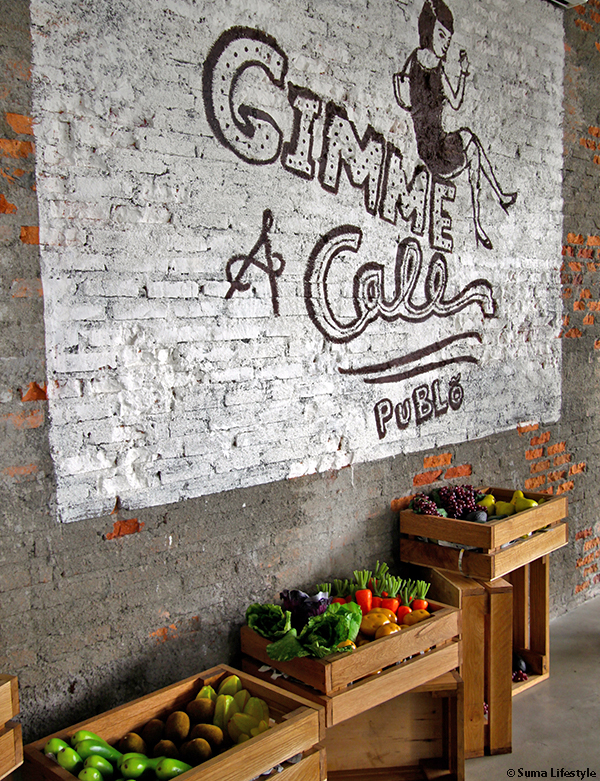 A walk around Jakarta's Kemang neighborhood will bring you past countless restaurants and cafes. Italian, Japanese, Indonesian, sandwich shops, bakeries... it's definitely hard to decide on a restaurant. As my husband Tom and I walked around, a tall building with roman columns and full height glass walls caught our attention.
As I stepped inside Publo Kitchen and Bar, my eyes darted around the main floor taking in all of the details and funky decor. Wood herringbone flooring, pebble clad walls, and soaring ceilings with a contemporary brass chandelier. A bar on the left ready was to mix your drinks, while a patisserie counter on the right showcased colorful desserts. This is the kind of place I like to spend my afternoon.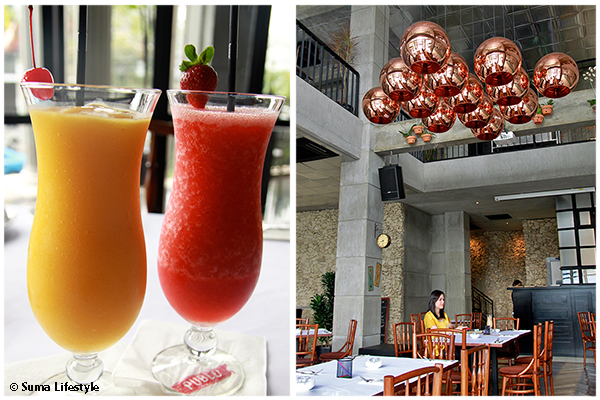 The menu consisted of a large selection of pizzas, pastas, desserts and drinks galore. We settled on pizza, pasta and two fruit smoothies (Rp 27,000 / USD$2.80 each).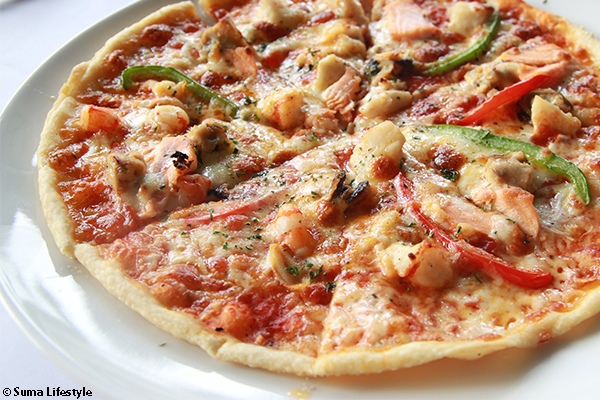 After debating back and forth between the pizza and pasta, I decided on the the Marinara Pizza (RP 75,000 / USD$7.90). It came covered in gooey cheese, prawns, muscles, scallops and salmon on top of a light thin crust. Delicious. A couple slices in and I was full. It's a good thing pizza is great hot or cold as it made for a great snack later.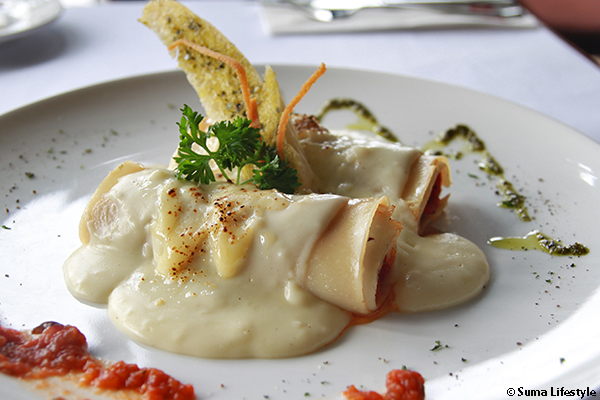 Tom loves stuffed pasta so tried their Cannelloni (Rp 65,000 / USD$6.90). Layered in a creamy white sauce and cheese, the sheets of pasta were filled with a slice of meat and more sauce. It was rich and creamy, and the presentation was beautiful.
After finishing the cannelloni, and packing the remaining pizza, we blame the smoothies because as appetizing as the desserts looked, we just couldn't find room. Next time we will be back for desserts and to try out one of their signature cocktails.
PUBLO Kitchen & Bar
Kemang Raya 1 no1
T: 021-7193455
OPEN every day MON-SUN 10am-2am