Families with young kids looking for a hotel that will not only meet the needs of today's tiniest travellers but will also entertain them all day long, should look no further than Sheraton Bandung. This hotel recently underwent renovations and is now donning sparkling new rooms, a great kids club and lots of kids activities. Best of all, it's a short car ride (traffic dependant) to Bandung's famous shopping, restaurants and activities while being able to offer an oasis to retreat to after a day of sightseeing. Here's why you and your family should stay at Sheraton Bandung on your next visit to Bandung.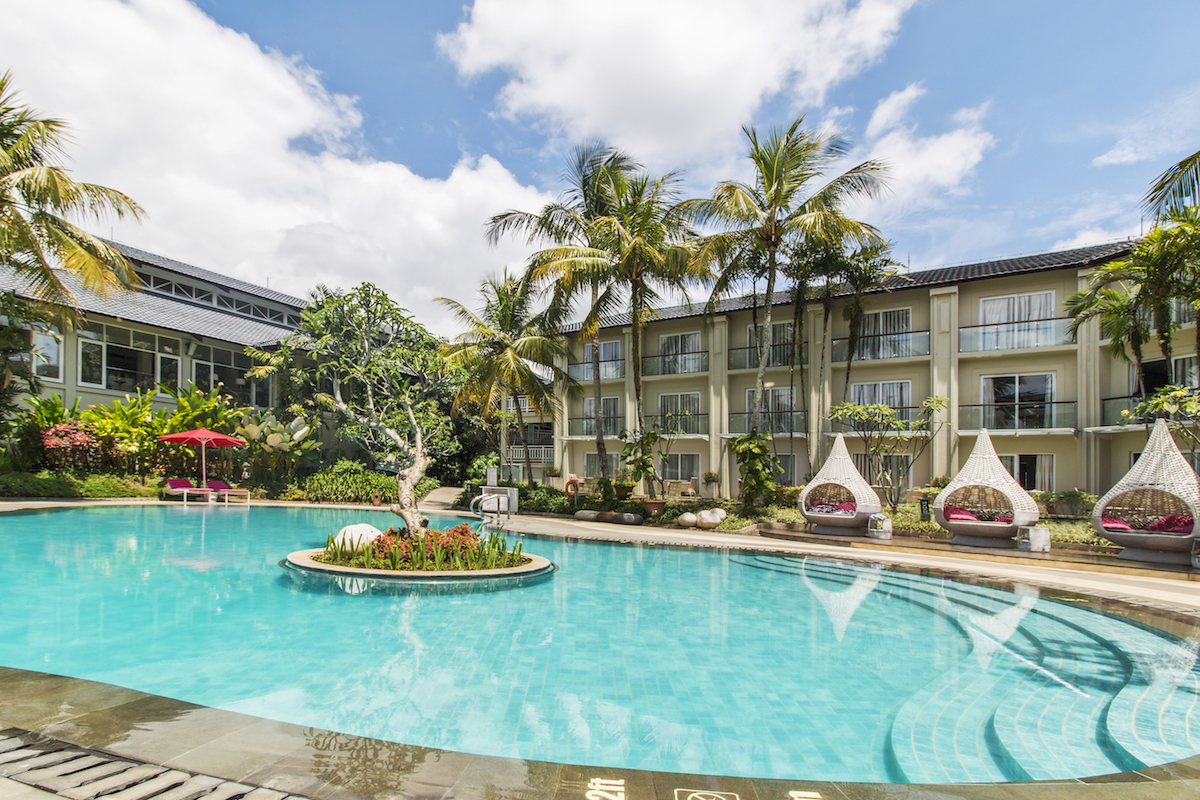 Sheraton Bandung Hotel & Towers
Once inside this sprawling property, it feels like a getaway miles away from civilisation, but instead is close to many of the area's attractions while offering a retreat from the city. There are plenty of spots to relax and unwind in seating nooks in the lobby, restaurants, in the gardens or around the pool.
When it's time for a swim, toddler will enjoy the kid's pool while older kids and adults can swim in the main pool. The pool side cabanas are a great place to relax between swims. The large gardens offer views over the valley and room for the kids to run around and play.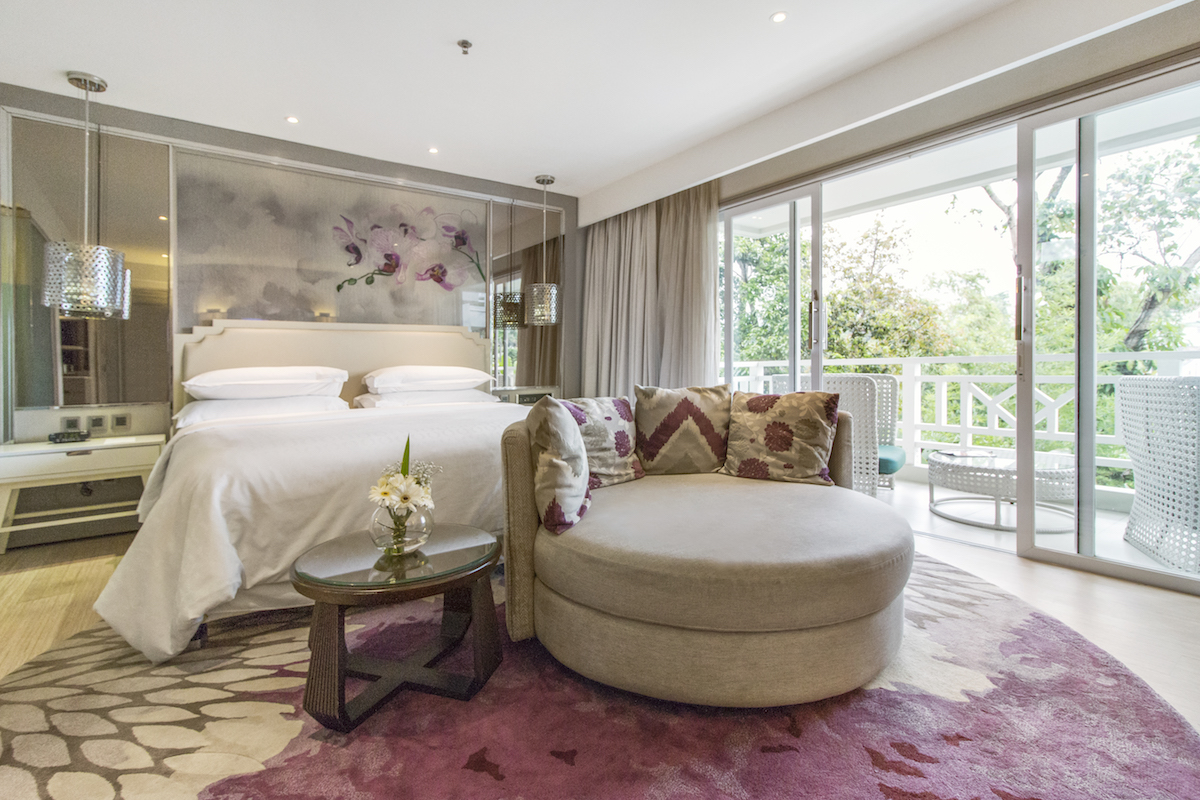 Sheraton Bandung Rooms
The rooms start at Deluxe Rooms at 32 meters squared in size all the way up to a Presidential Suite at 135 meters squared. If you want a comfy stay in a large room with extra perks, opt for the Towers Rooms. Usually a modest amount more in price than a Deluxe Room, guest not only get a larger room at 42 meters squared but also Towers Lounge access and nicer views of the valley or gardens. The beautifully designed Tower Rooms also have a large round chaise lounge to relax on which makes staying in the room a treat, and the large balconies are perfect for reading or enjoying a morning coffee. The bathrooms are almost larger than some rooms on the market!
Tower Lounge access is a perk you'll want to enjoy. Not only can you have a continental breakfast with a hot buffet item from 6am in the lounge (occupancy dependant), you'll also get tea, coffee and snacks throughout the day as well as evening cocktails from 4.00pm - 7.00pm. The canapés and cocktails alone are well worth the upgrade.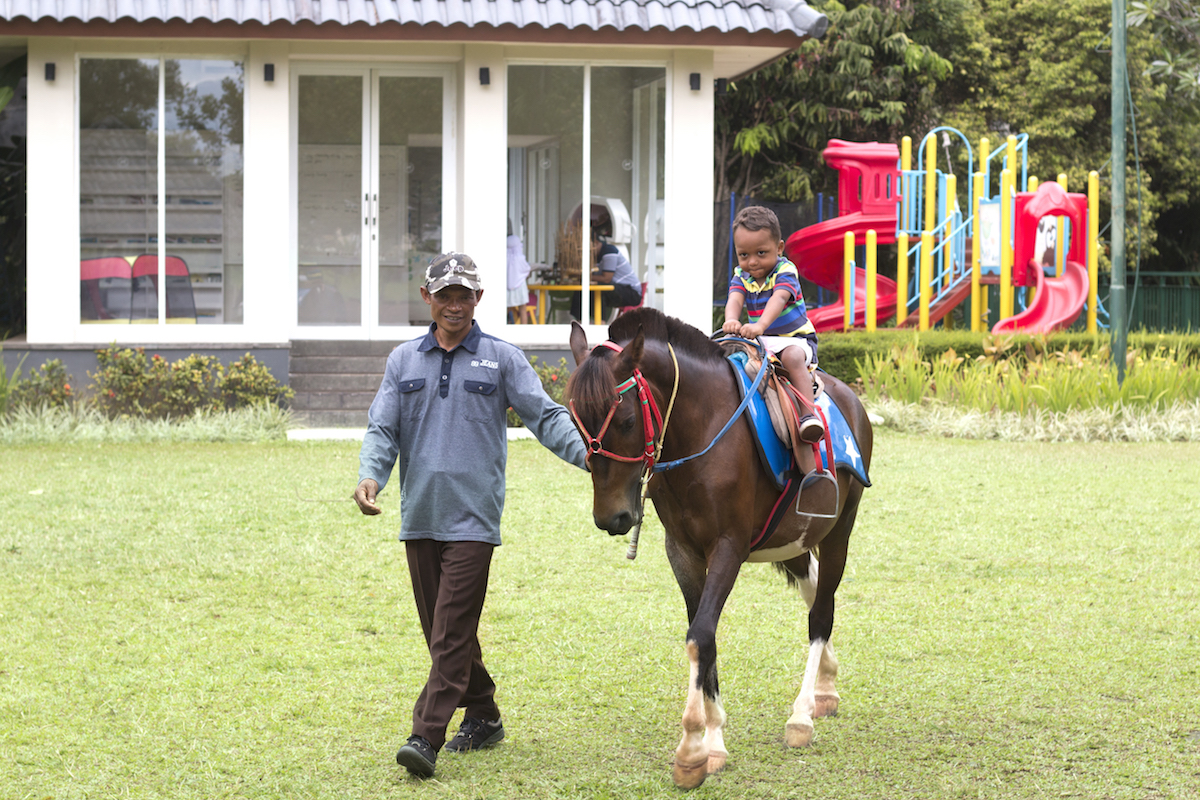 Kids Activities at Sheraton Bandung
Kids of all ages love animals and at Sheraton Bandung, children can spend hours petting the rabbits or going for a horse ride on the weekend. The rabbits have their own little grassy area where they can run free in an enclosed space with plenty of tunnels for them to hide. Fun for the kids and fun for the bunnies. On Saturday and Sunday mornings, ponies are brought in to take kids for a ride around the grounds while being securely lead by the horses's owner.
When kids want to burn some energy, they can run around the playground or bounce on the trampoline. Indoors at the kids club, there are more games and ongoing activities including video games for the older kids. The free ice-cream in the kids club is another feature the kids will love. When it's time to venture out of the hotel, read our list on Things to do in Bandung with Kids.
Adult Activities at Sheraton Bandung
Adults don't get left out at Sheraton Bandung. Sunday mornings are when you can enjoy a complementary yoga session on the lawn or under the gazebo with beautiful views of the grounds. When it's time to relax, head to Shine spa for an indulgent massage or spa treatment. The onsite gym will come in handy when trying to burn off extra calories from your getaway.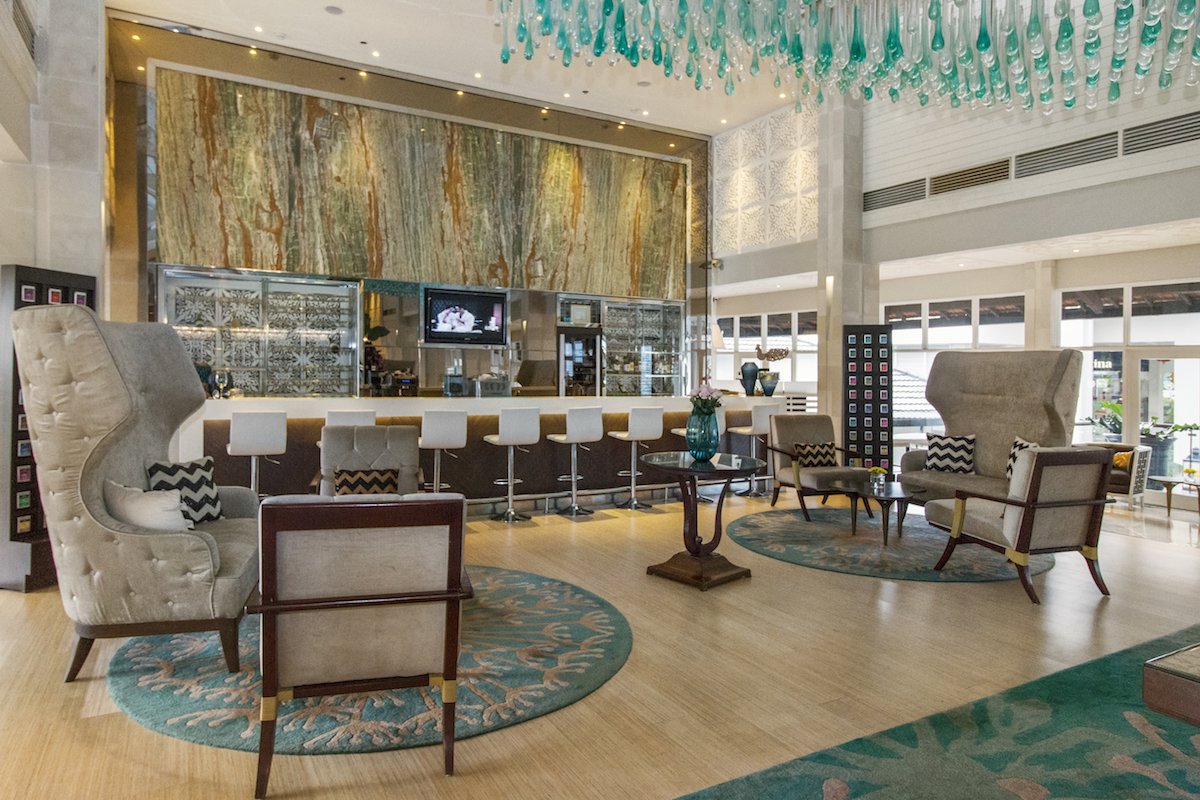 Drinking and Dining Options at Sheraton Bandung
Let's face it, weekend traffic in Bandung can be pretty bad, so why not relax in your resort and enjoy the amenities and restaurants instead? Sheraton Bandung's all day dining restaurant Feast not only has breakfast and dinner buffets so you can 'feast' on all of the meats, seafood and dessert you want, but also a great a-la-carte menu. We can highly recommend the Lamb Shank where the meat just melts off the bone and their signature burger is one that any burger lover will appreciate.
In the morning, Sheraton Bandung's breakfast buffet is full of treats everyone will enjoy. There's a mixture of Asian including stir-fried vegetables, noodles and rice, as well as western cuisine of potatoes, eggs and sausages. The always revolving selection includes a great dessert table and fruit section, so save some room for sweets!
Café lovers will also appreciate having a Toastina Pastry & Coffee House on site.
Feast Sunday Brunch at Sheraton Bandung
Whether you stay at Sheraton Bandung or not, stop by on Sunday afternoons from 12pm to 3pm for a Sunday brunch the whole family will love. Not only is there a large spread of delicious cuisine including seafood, BBQd meats and dessert, there's also an outdoor area for the kids where they can choose from kid friendly snacks like mini burgers, popcorn and candy floss as well as play with toys, draw or play video games. Besides playing in the kids corner, the Feast Sunday Brunch at Sheraton Bandung also includes free access to the kids club and the opportunity to play in the pool during your visit.
What's Close to Sheraton Bandung
When it's time to explore, Bandung's shopping, restaurants and nature escapes aren't far away. Within a 5km radius you can reach Dago Dream park for an outdoor excursion with the family, Paris Van Java mall with not only shopping and dining outlets but also multiple indoor kids playgrounds and a rooftop petting zoo as well as Rumah Mode Factory Outlet for all of your outlet shopping needs.
Sheraton Bandung Hotel & Towers
Jalan Ir. H. Juanda 390
Bandung, Indonesia 40135
T: 62 22 250 0303
W: sheratonbandung.com